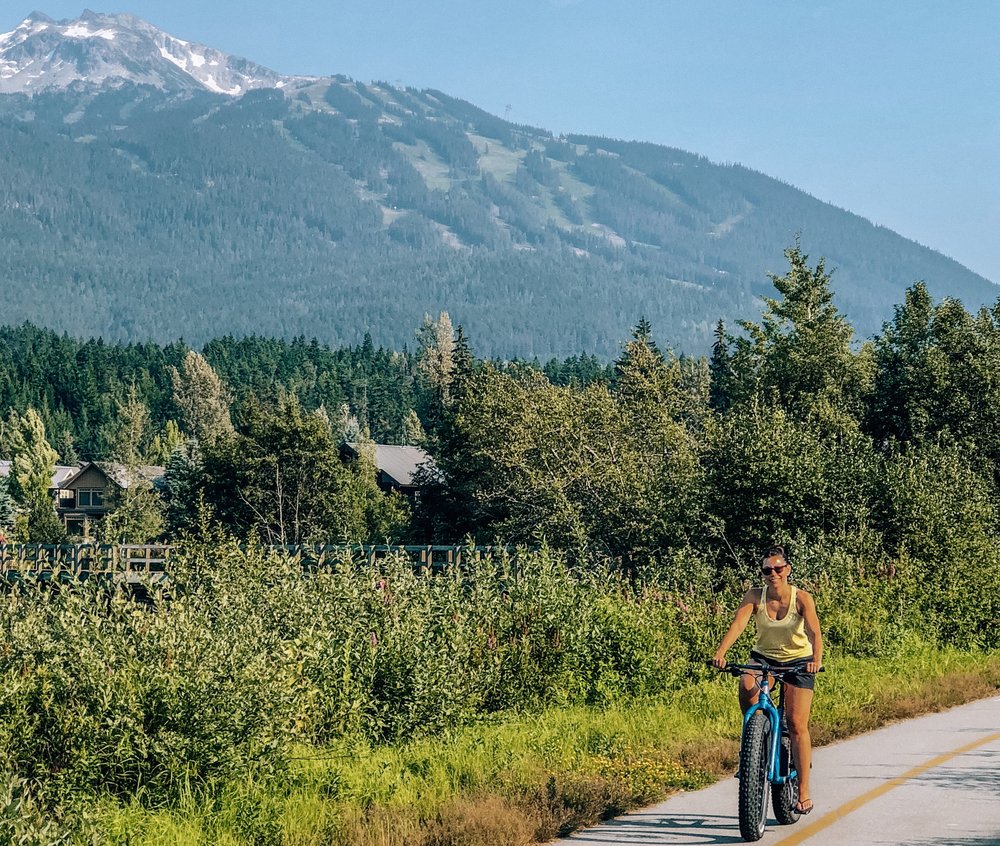 UPDATED JULY 2020
Considering how often I'm asked for a Whistler weekend itinerary, you'd think I would have written this ages ago. But alas, I have FINALLY put pen to paper to share my Whistler recommendations of everything there is to see and do in Whistler, where to stay, and of course the best restaurants in Whistler whether you're looking for breakfast, lunch or dinner on your next summer vacation or long weekend getaway.
FRIDAY
If you're looking for a unique alternative to a hotel, then I highly recommend a little Canadian glamping in a yurt at Riverside Resort. This luxurious camping option provides all the essentials, from bedding to heat and electricity, in such a cool mountain setting. If rustic cabins or traditional tent camping is more your style, they offer that too! You can read all about my recent stay in a Whistler yurt here.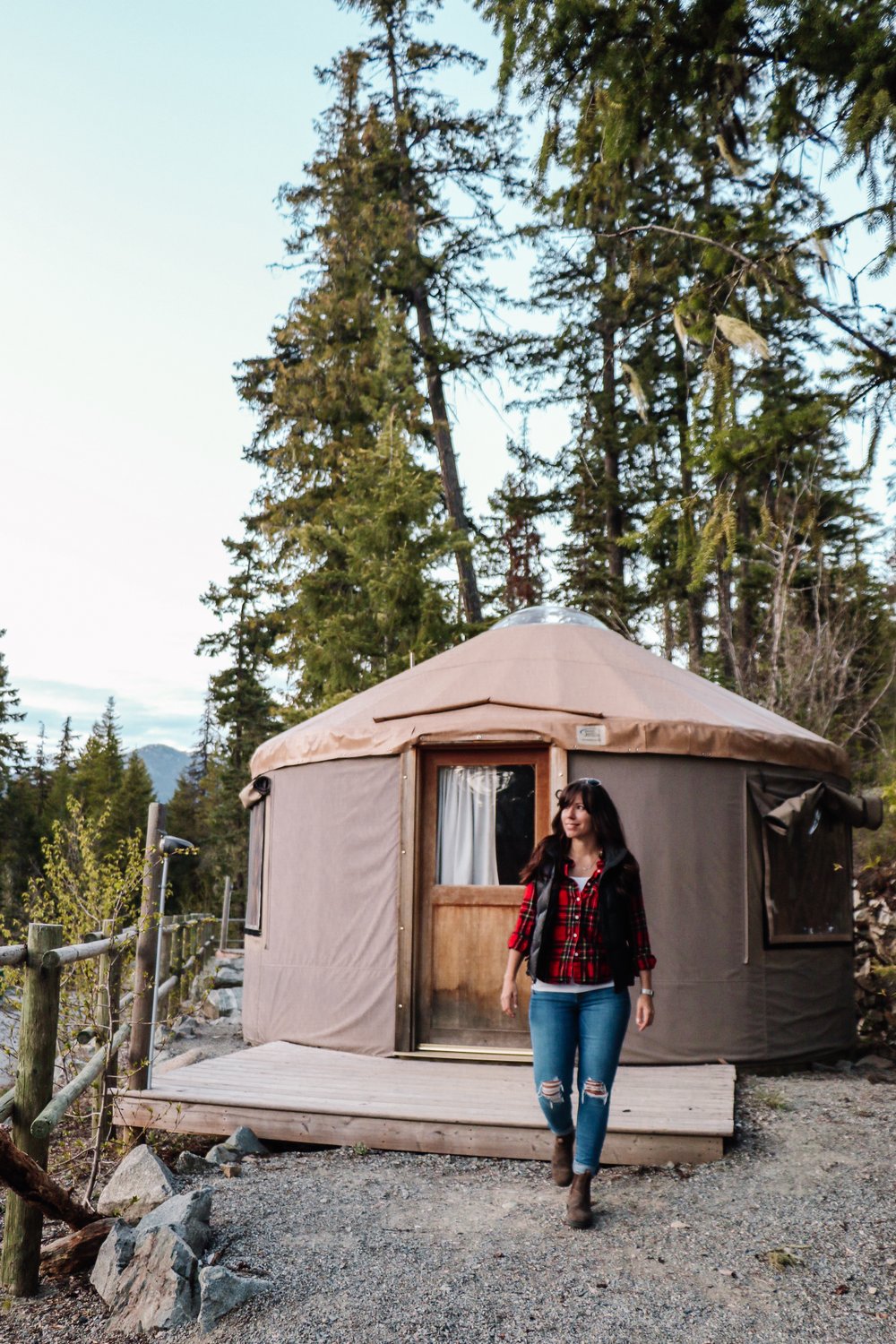 Just a few steps away is Scandinave Spa, Enjoy your evening and relax from your travels with hydrotherapy – soaking in the warm pools, sauna or steamroom, then a quick plunge in the cold pool, followed by resting in the solarium, hammock, or by a fire. This really is a must-do activity in Whistler that I always recommend. You'll feel like a new person, I promise!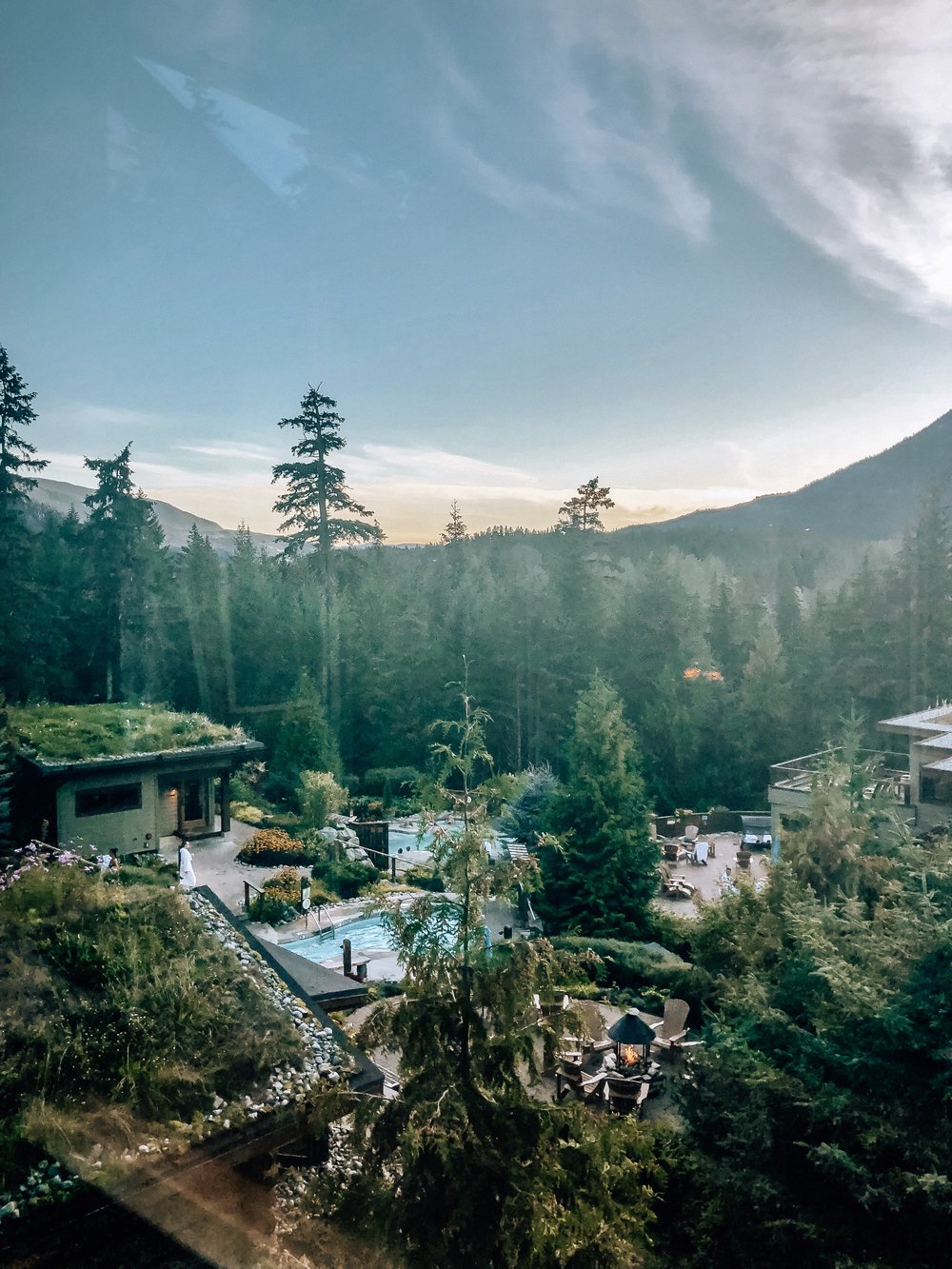 I always say that we eat very well here. Considering the Whistler population is only 12,000 permanent residents, we are spoiled for choice of excellent restaurants. If you're looking for a casual dinner option, head a few minutes north to Alpine Café or Cranked Espresso Bar, or into the village at one of these places where you don't need dinner reservations in Whistler.
SATURDAY
One of my favourite parts of Whistler is totally off the radar for everyone but locals – Function Junction. It's a cool industrial area on the south side of Whistler. There's everything from art galleries to breweries, and everything in between, to check out.
First up, grab a coffee at Camp Lifestyle and just try not to buy an armload of cool mountain-eque décor, clothing, and jewelry – I dare ya. Enjoy your cuppa next to the fire and waterfall outside on their patio in one of the comfy Adirondack chairs.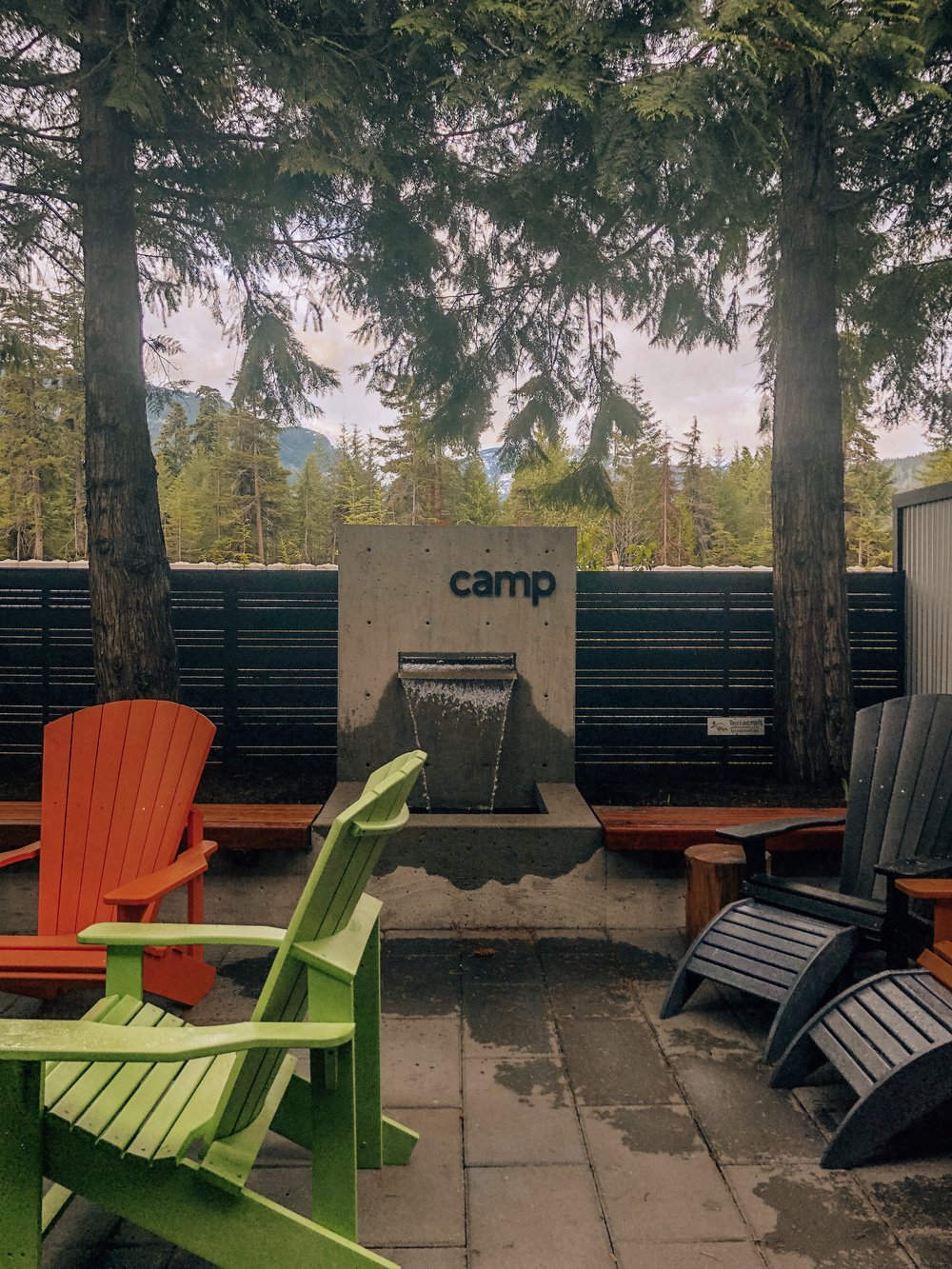 Next, fuel up at the Green Moustache which is a locally owned café offering 100% organic, plant based, gluten free meals that are insanely delicious. My fave breakfast item is the Smoothie Bowl but if you're there for lunch, the Veggie Chilli is my go-to. Or the Pad Thai. Honestly, you can't go wrong with anything on the menu. Also, highly recommend you get some yummy raw, vegan treats, like the Bliss Balls, to go.
From Function Junction cross over highway 99 to the Cheakamus neighbourhood and look for the sign (on the right) for Train Wreck. This is a cool hike to an abandoned train derailment from the 50's that's now covered in graffiti. Up until a couple years ago this hike was a hidden gem – literally – as you needed to find the trailhead by walking along the forested train tracks. Despite the warnings from authorities to stay off the tracks (for obvious reasons), the hike got busier so a suspension bridge was built over Cheakamus River to provide a safe trail for visitors. The hike is still cool with the new access point (and whobdoesn't love a beautiful suspension bridge over a roaring river?) and it's very accessible for all ages and abilities. Allow yourself at least an hour, more if you're planning to take a lot of pictures.
After your hike, treat yo' self at the original Pure Bread located back in Function Junction. They have an abundance of the most delicious baked goods. And it's not a typical bakery; think more like what your grandma used to make – squares, tarts, cake, shortbread, cookies – but then there's magical fairy dust added so they're absolutely perfect. Sound too good to be true? Just trust me when I say you cannot come to Whistler and not go to Pure Bread. You'll thank me later. (There's also a Pure Bread location in the main village near Olympic Plaza should you want to visit a more central location.)
Axe Throwing and Yoga – you couldn't have two more different activities but knowing how different y'all are, both are suggestions I highly recommend. Hit up Forged Axe Throwing for a fun activity with friends and family – or a unique bachelorette party idea – then find your balance and head over to YYOGA for a flow, power, or hot yoga class. If you think you'll hit two or more yoga classes while on your Whistler vacation, get the Intro Offer for $49.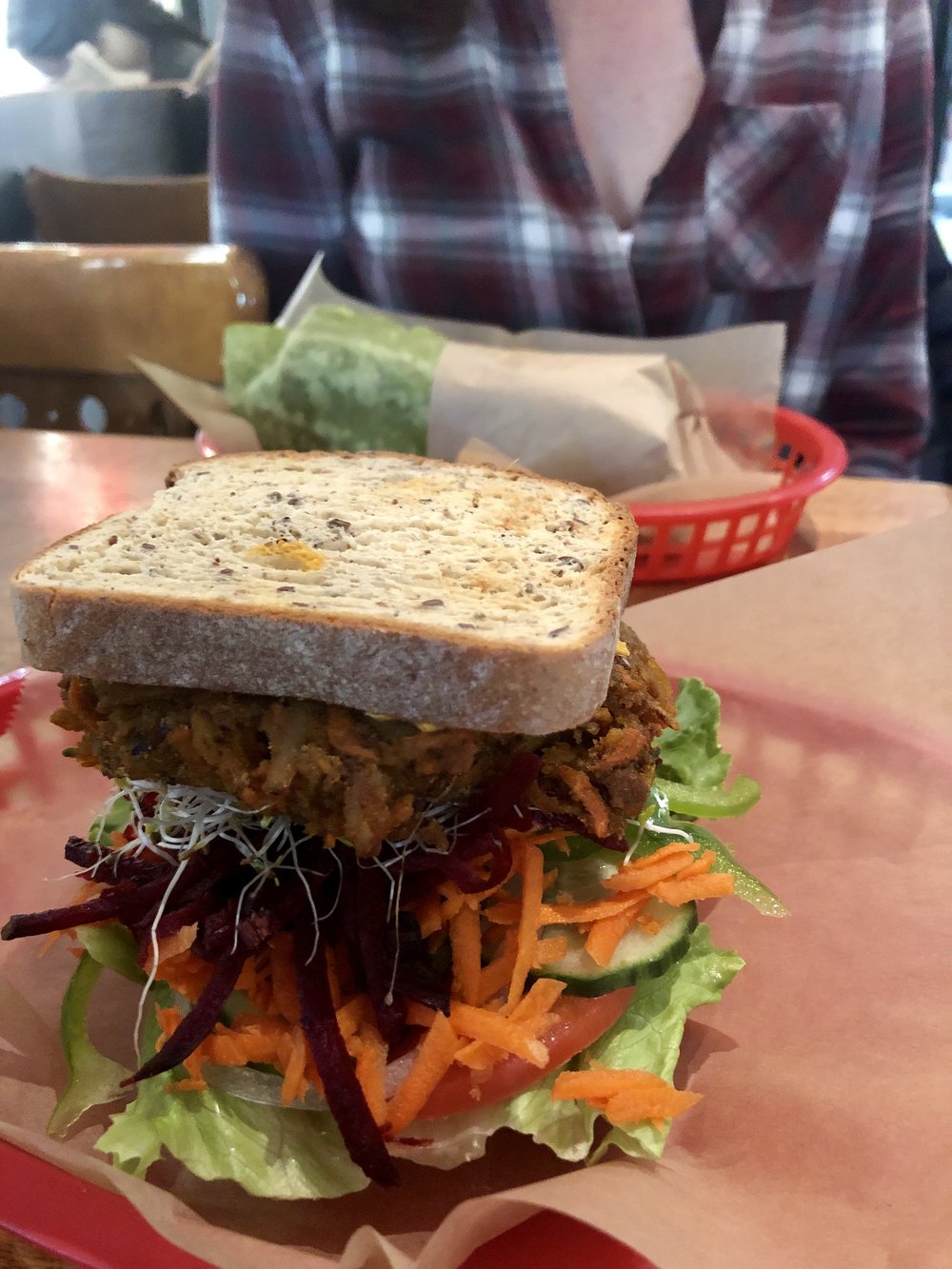 Once you're back in the village, lunch at Ingrid's Café is a local's go-to for delicious and hearty sandwiches, soups, salads, and burgers. They also have great vegan, vegetarian and gluten-free options. Ingrid's is a Whistler institution and locals have been going here religiously for 20 years.
My favourite way to spend an afternoon is exploring the 5 Lakes in Whistler. Follow the Whistler Valley Trail by bike or on foot to get to all of them. You can rent a bike almost anywhere in the village but Cross Country Connection is a great locally owned Whistler business (and they also offer bike lessons and tours). If stand-up paddling (SUP) is your jam, then head straight to Lakeside Park or Wayside Park, both on Alta Lake, to rent a SUP.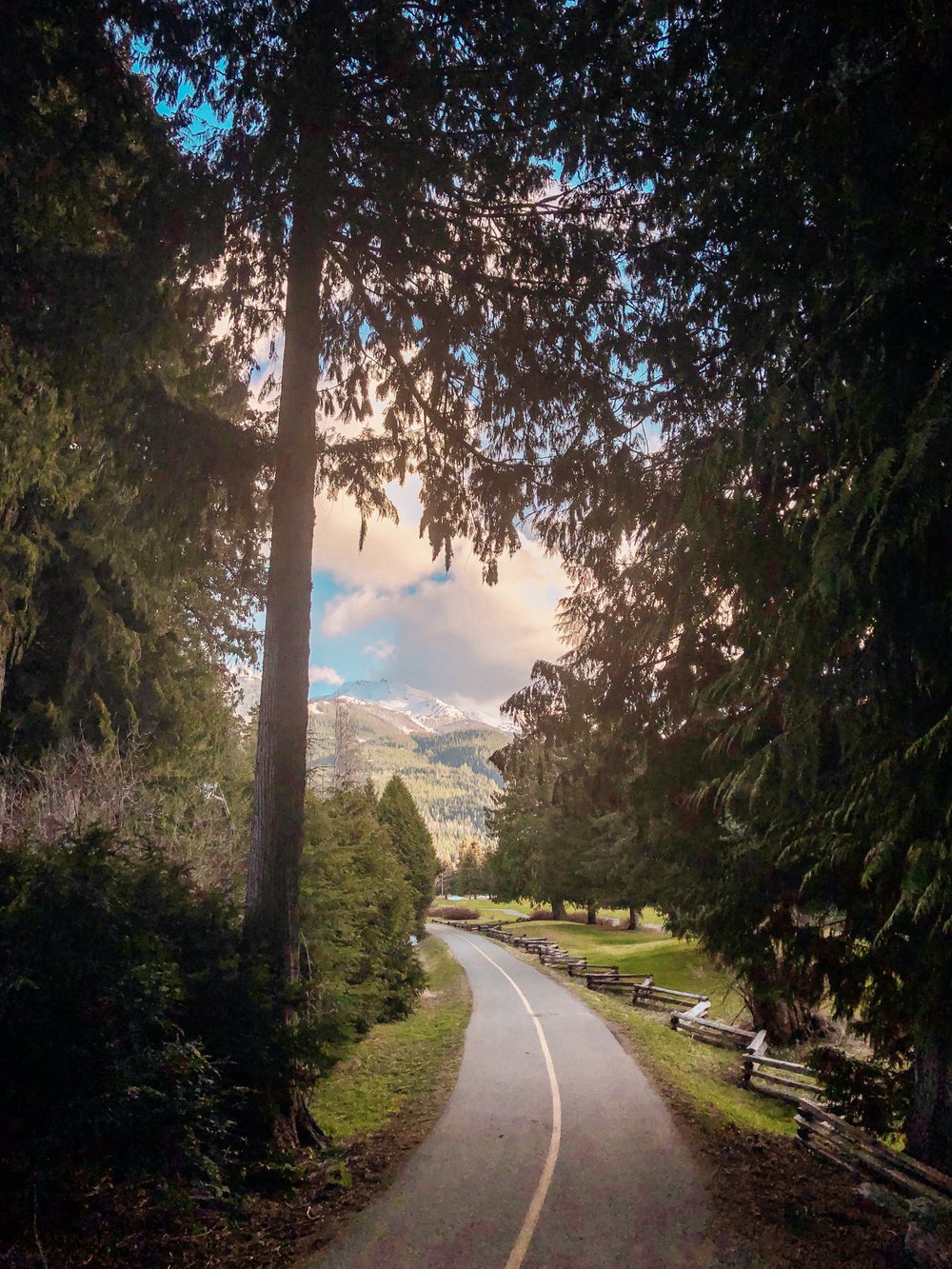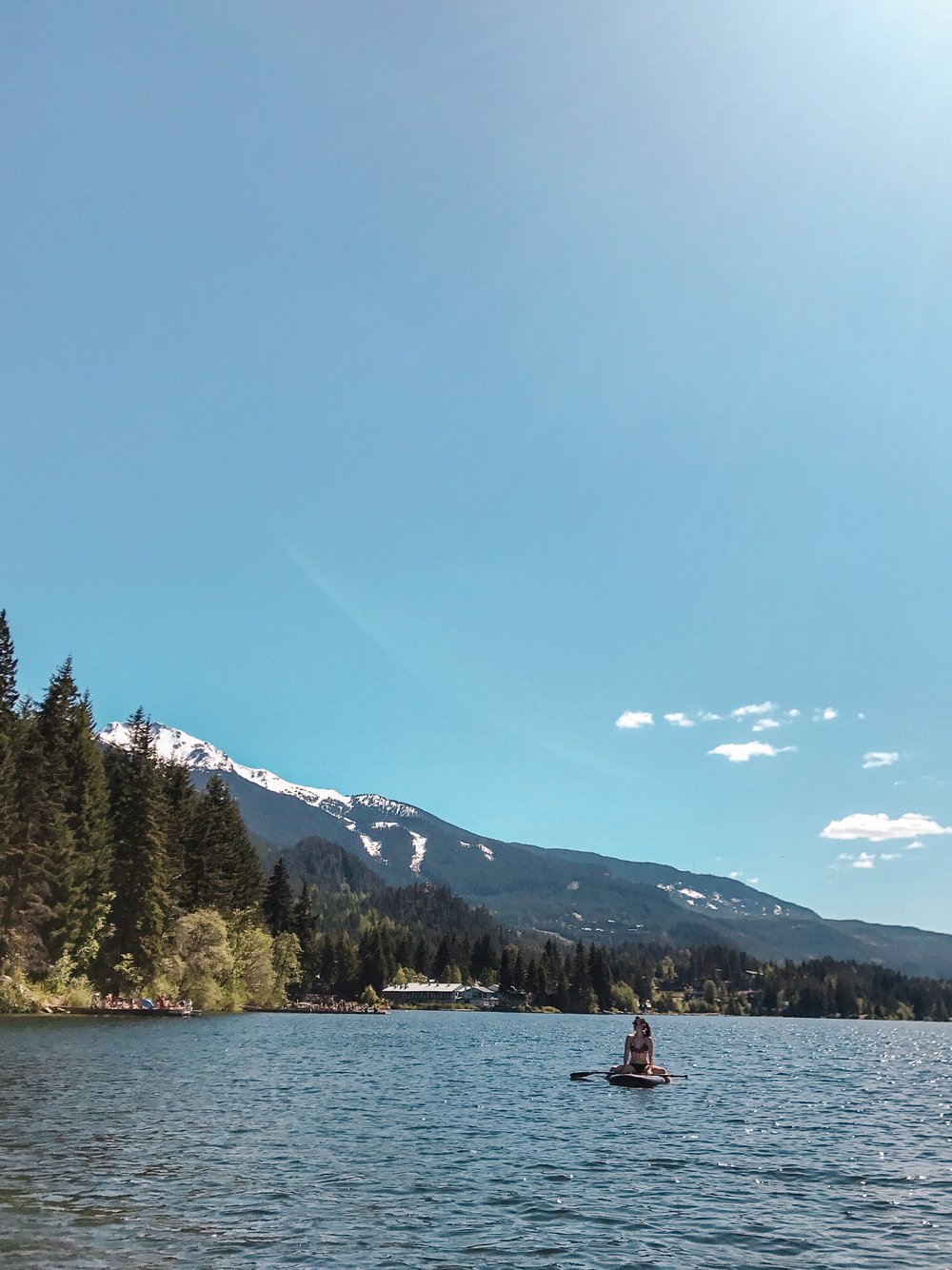 If you really want to do it up like a Whistler local then you need to go to Sushi Village for dinner. The sushi is pretty epic but so are the strawberry sake margaritas. Consider yourself warned. Also, it tends to get a bit rowdy here so go earlier if that's not your scene.
Following dinner, definitely check out the new Vallea Lumina. It just opened last summer and I initially thought it wouldn't be something I'd like but it ended up being a highlight for me. Positioned as a "multimedia night walk in pursuit of hidden wonders" it's a cool, animated experience that guides you on a walk through the woods with stunning lights and campy songs that will stay in your head for weeks.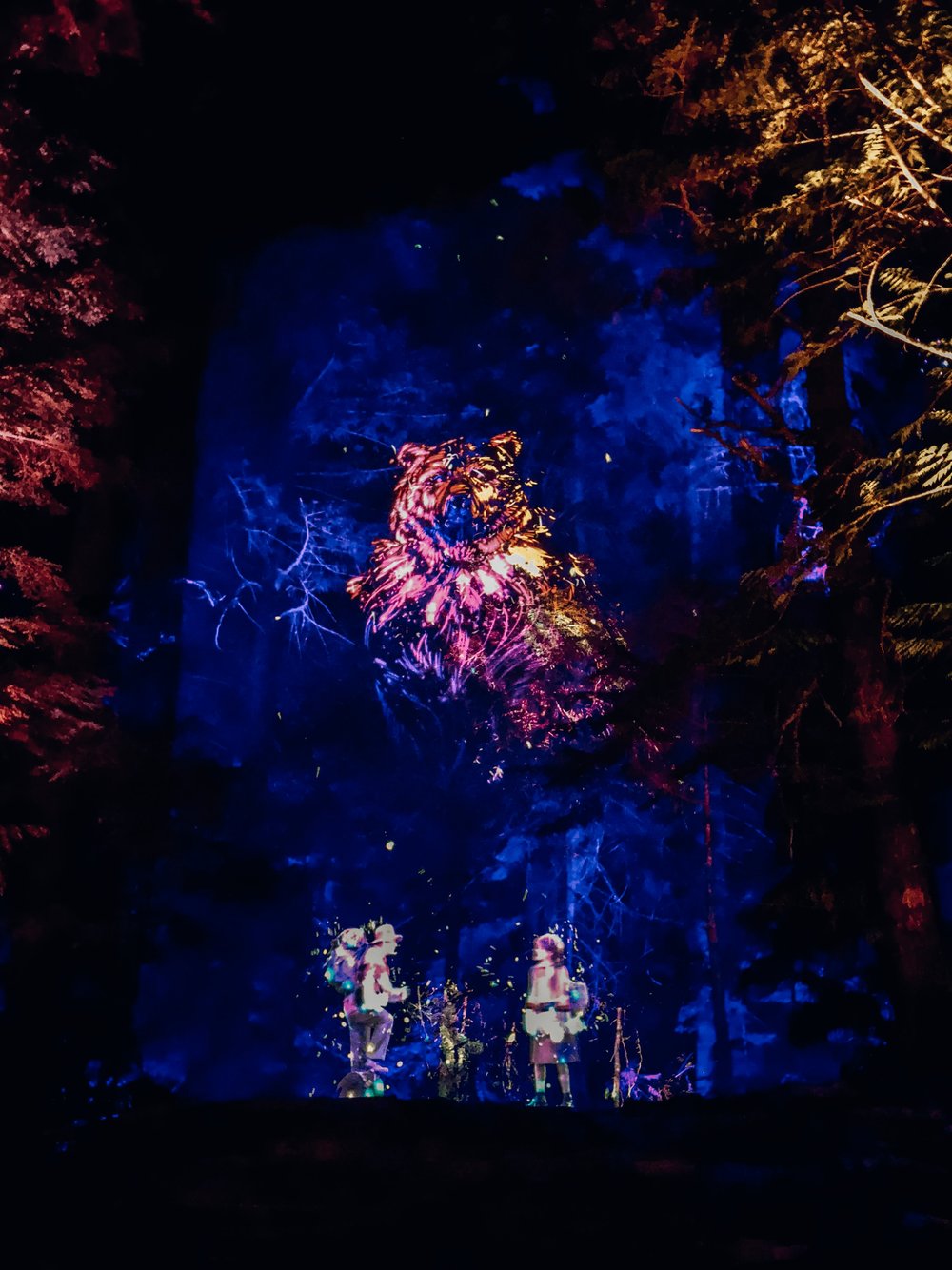 SUNDAY
There's some great hidden gems if you're looking for great Sunday morning breakfast spots in the Whistler Upper Village at the base of Blackcomb Mountain. Try the Wildflower Restaurant at Fairmont Chateau Whistler or head over to their Clubhouse at the golf course for delicious breakfast with a view (try the Salmon Bowl, it's amazing!) or for something unique, visit the Thunderbird Cafe at the Squamish Lil'wat Cultural Centre.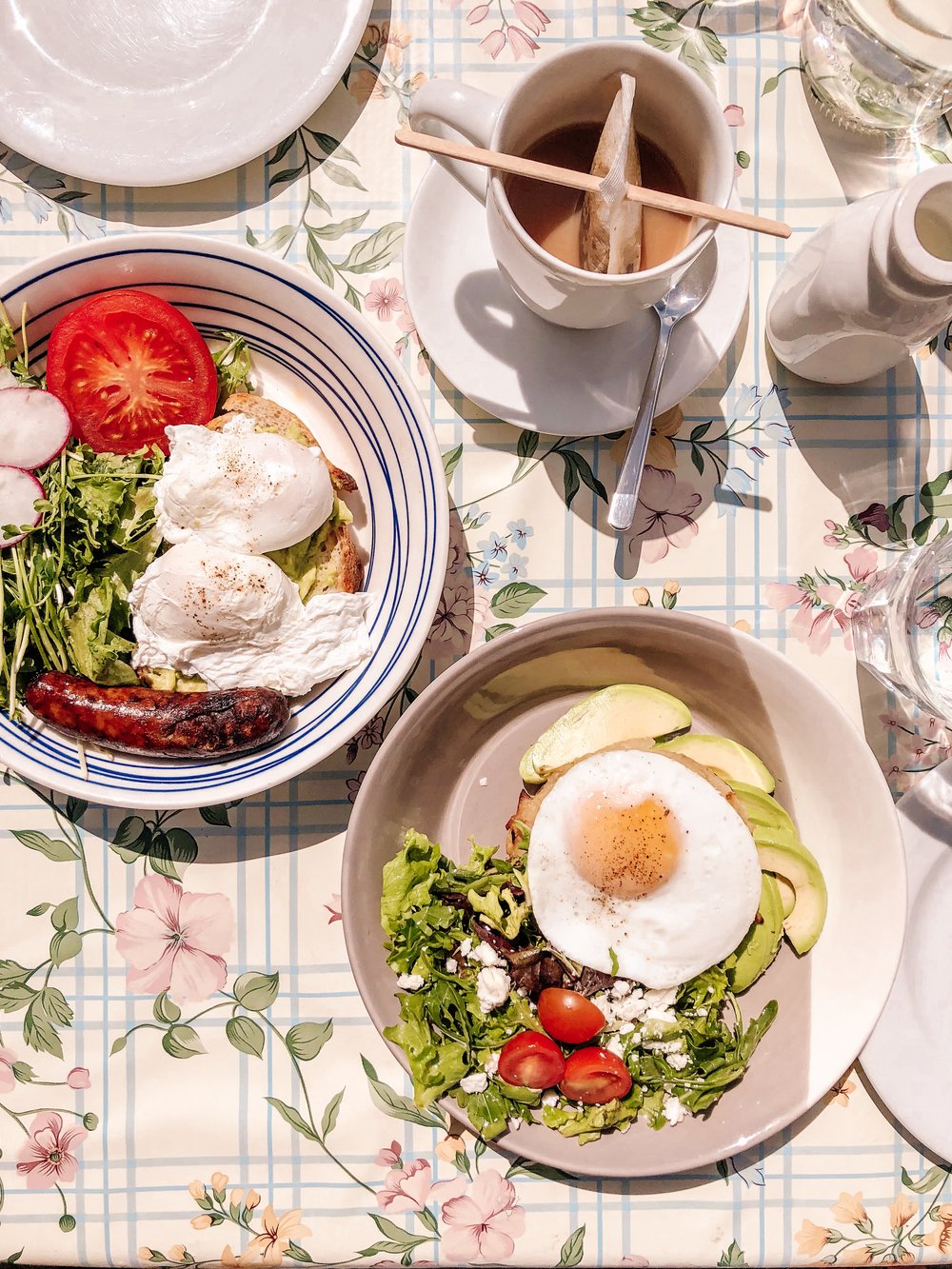 Parking can be tricky in the Upper Village so I suggest biking, walking or taking one of Whistler's free shuttles. If you've biked here, there's a complimentary bike valet where you can store your bike is a secure area.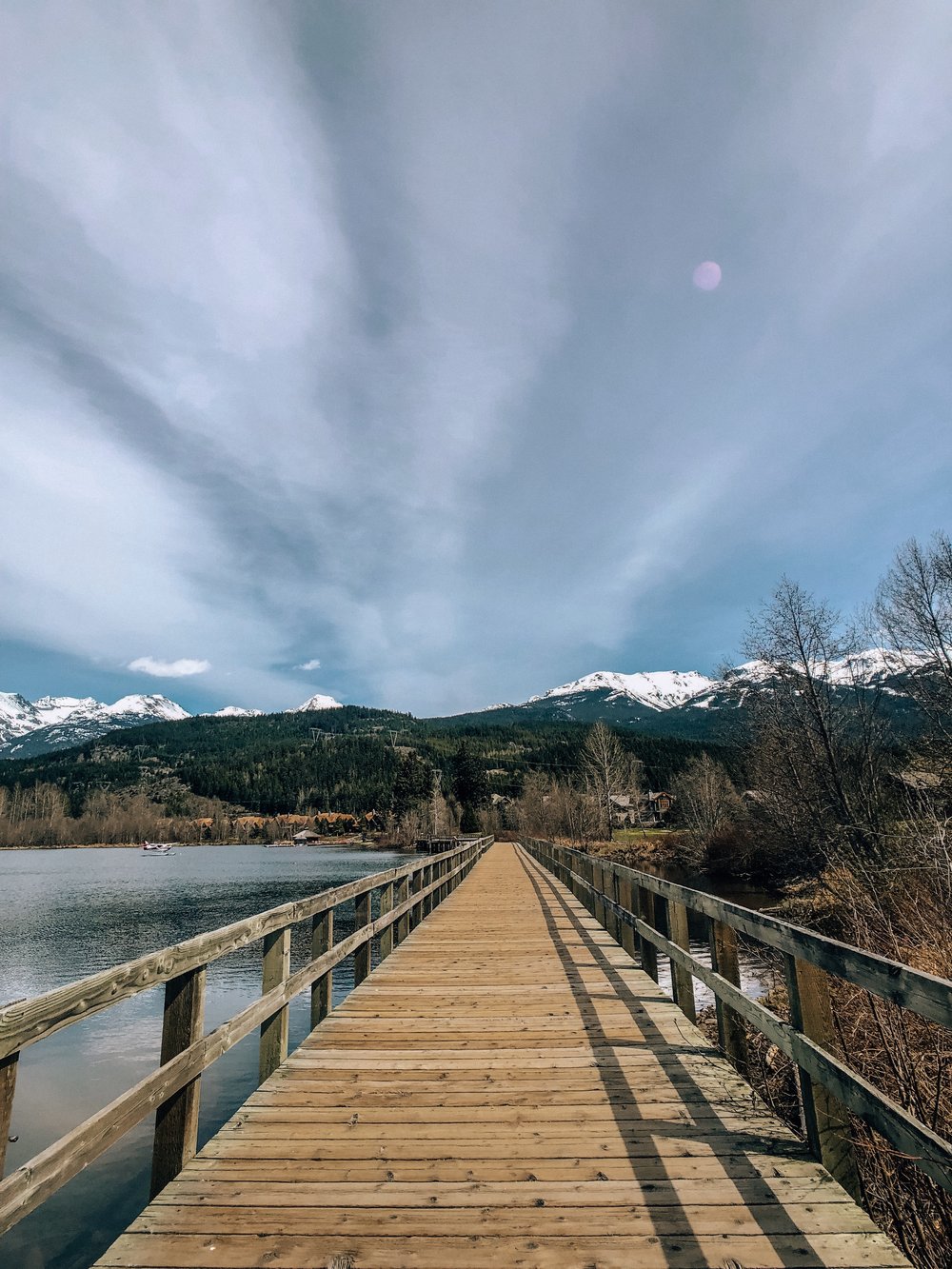 After breakfast, wander through the Whistler Farmer's Market. There's an abundance of local farmers, entertainers, artisans, and bakers with their wares for sale. This is one of my favourite things to do literally every Sunday. There's also a great kids adventure zone.
Hit up Portobello Deli at the Fairmont Chateau Whistler for sandwiches and pastries, and take your picnic to go. Steps away from the Fairmont is the new Blackcomb Gondola. Head up for some incredible sightseeing or hiking. Take this to the top of Blackcomb Mountain, and then take the Peak 2 Peak Gondola across to Whistler Mountain. From here, I highly recommend you check out the new Cloudraker Skybridge suspension bridge on Whistler Mountain. Take the Peak Chair, an open air chairlift, all the way to the peak of Whistler Mountain to experience the new suspension bridge and lookout points. You can read more about my experience on the Whistler Mountain suspension bridge here.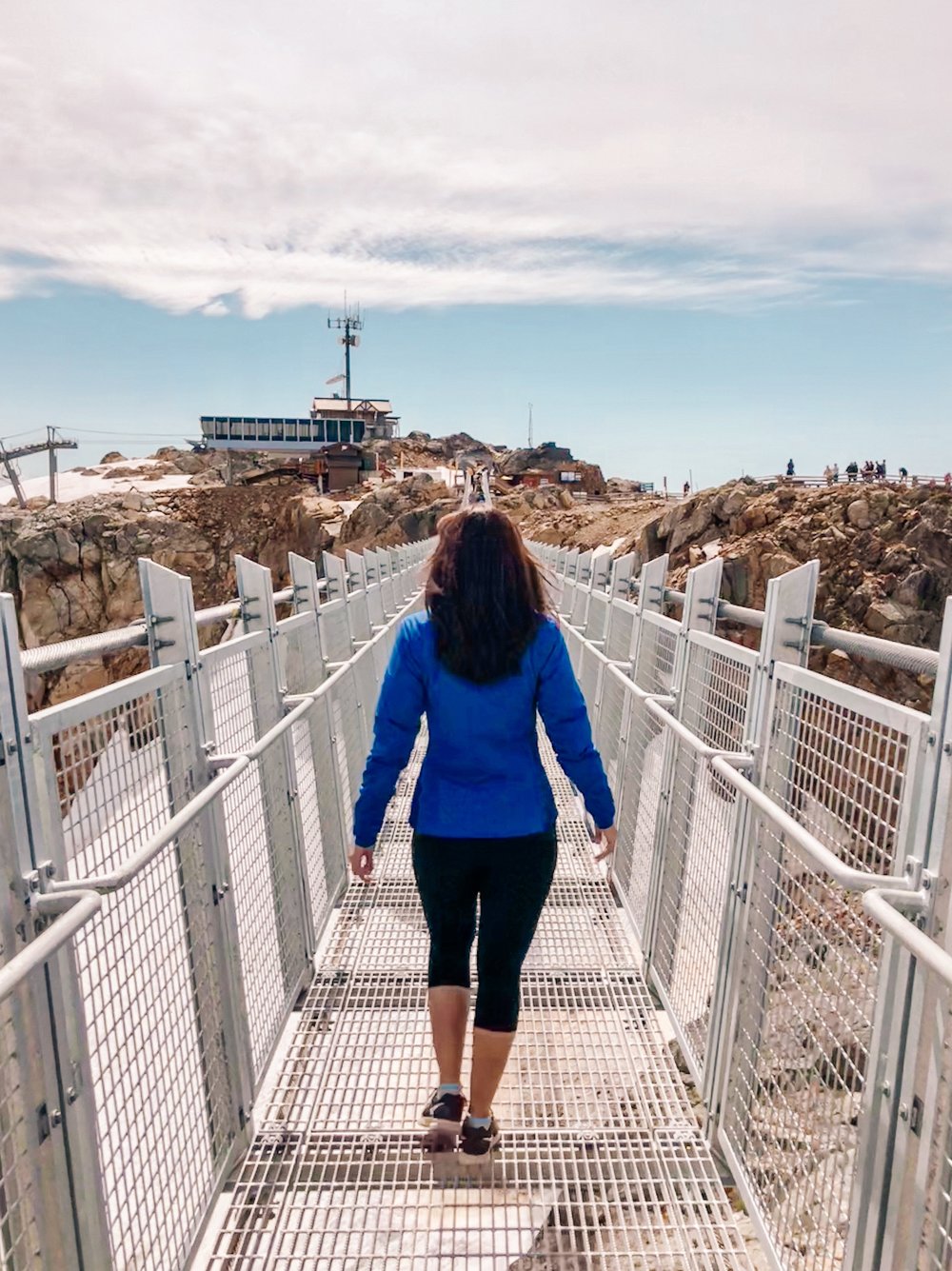 One of my favourite hikes from here is the High Note Trail (or Half Note Trail if you're pressed for time). You'll need to give yourself at least four hours to do this hike so make sure you have food and water, and proper footwear too. The High Note Trail offers some of the most picturesque views in the area, including Garibaldi Lake. Due to snow levels, it doesn't open until July but my favourite time to go is in August once the alpine flowers have bloomed.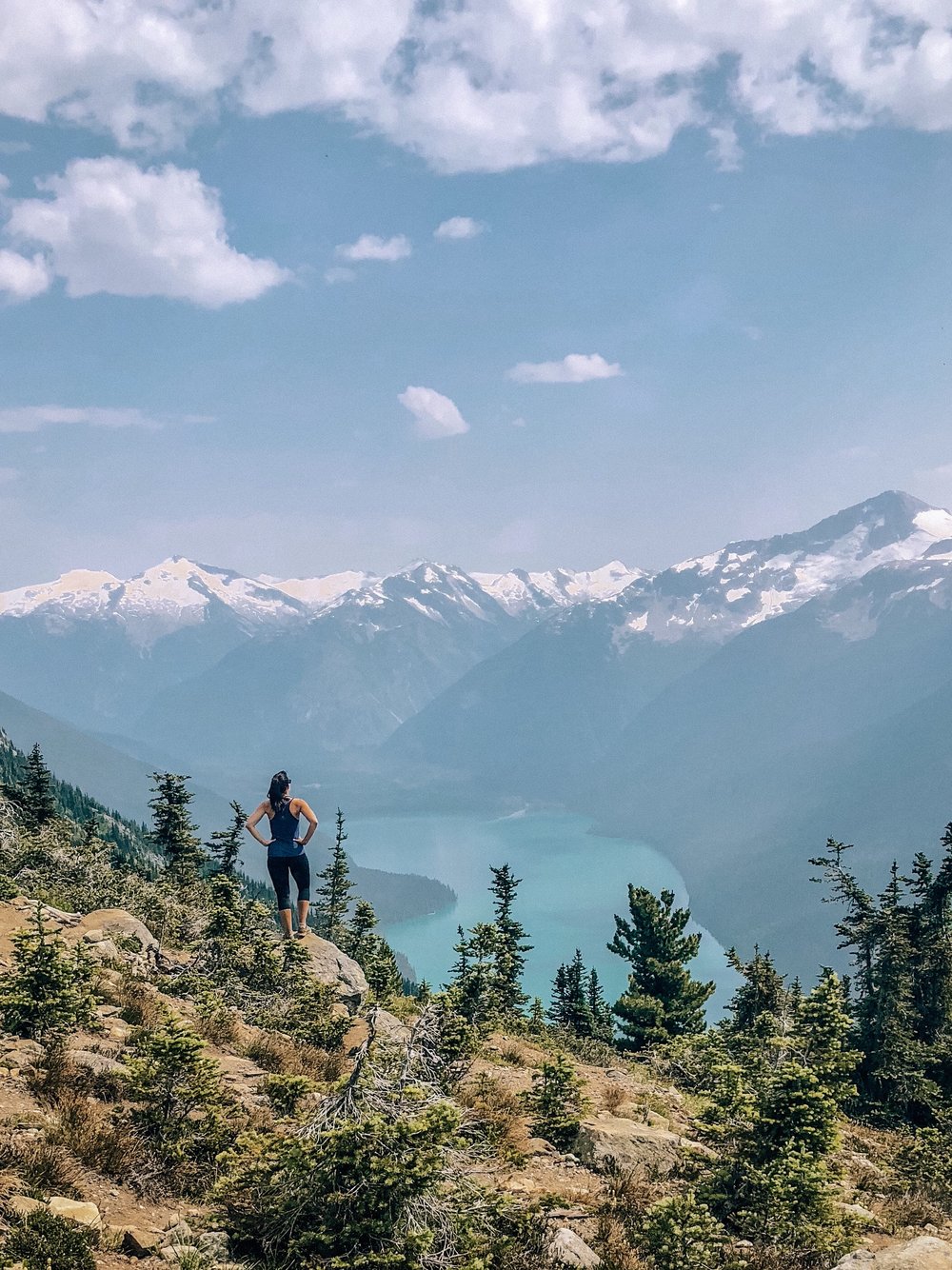 If you didn't hit up Scandinave Spa when you arrived (or even if you did), now is the time. It always feels SO good to go for a soak after a big day of hiking.
For your last night in Whistler, treat yourself with dinner on the Araxi patio. They specialize in fresh, Pacific Northwest cuisine and it's a hit every single time. This is Whistler's longest standing fine dining restaurant and its right in the heart of Whistler village (read: awesome for people watching).
MONDAY
Grab a quick breakfast at Riverside Café where you can get a solid classic breakfast – I love me a good eggs benny – then get that adrenaline pumping before you depart Whistler and head back to your regularly scheduled programing. You really can't visit Whistler without ziplining but if you're an adrenalin junkie like me, then you need to add bungee jumping and skydiving to the list too. Read about my favourite Whistler adrenaline activities here.
Whistler is such a pretty mountain resort, you'll definitely want to have some time to just wander around and take in the sights.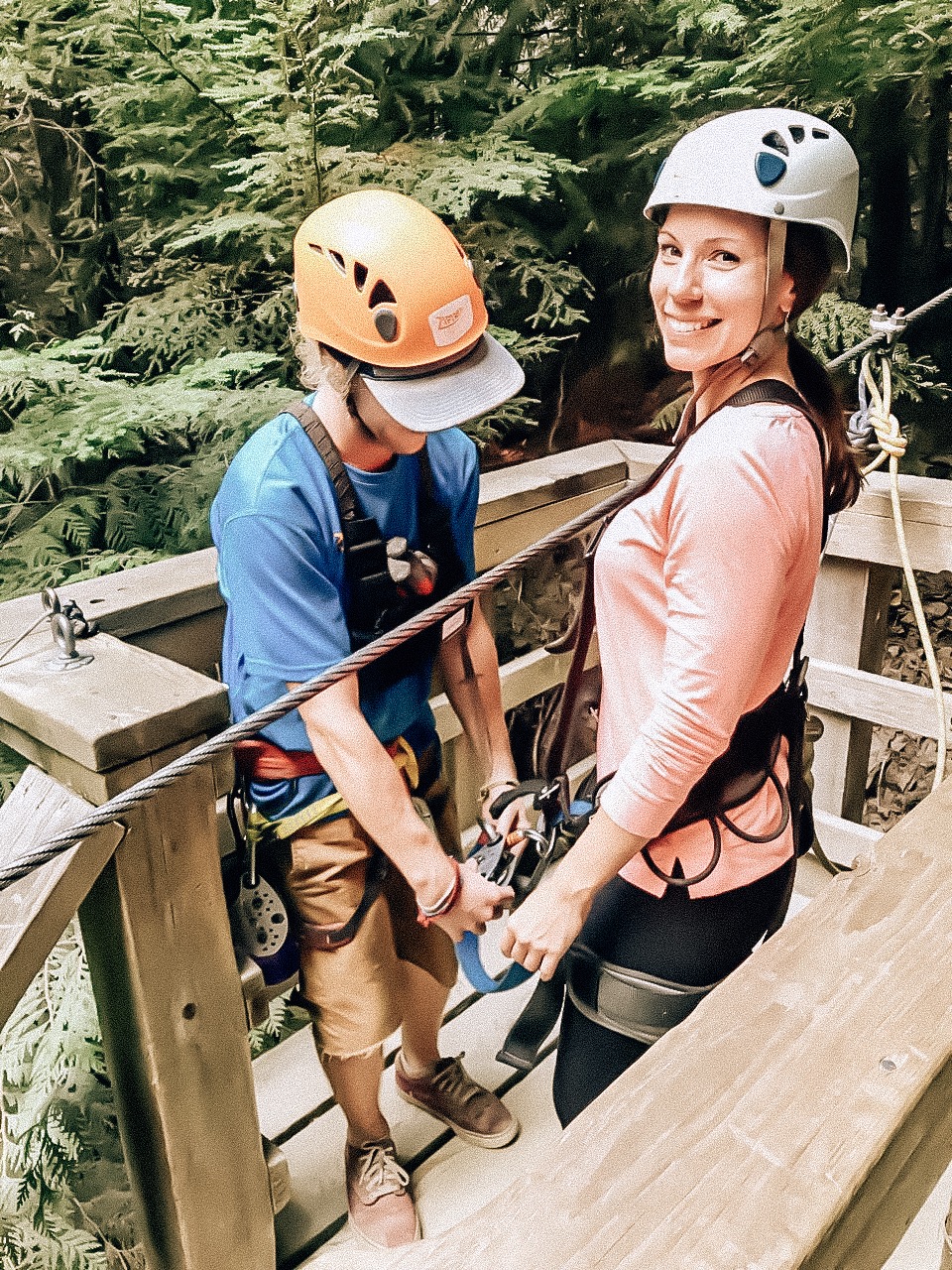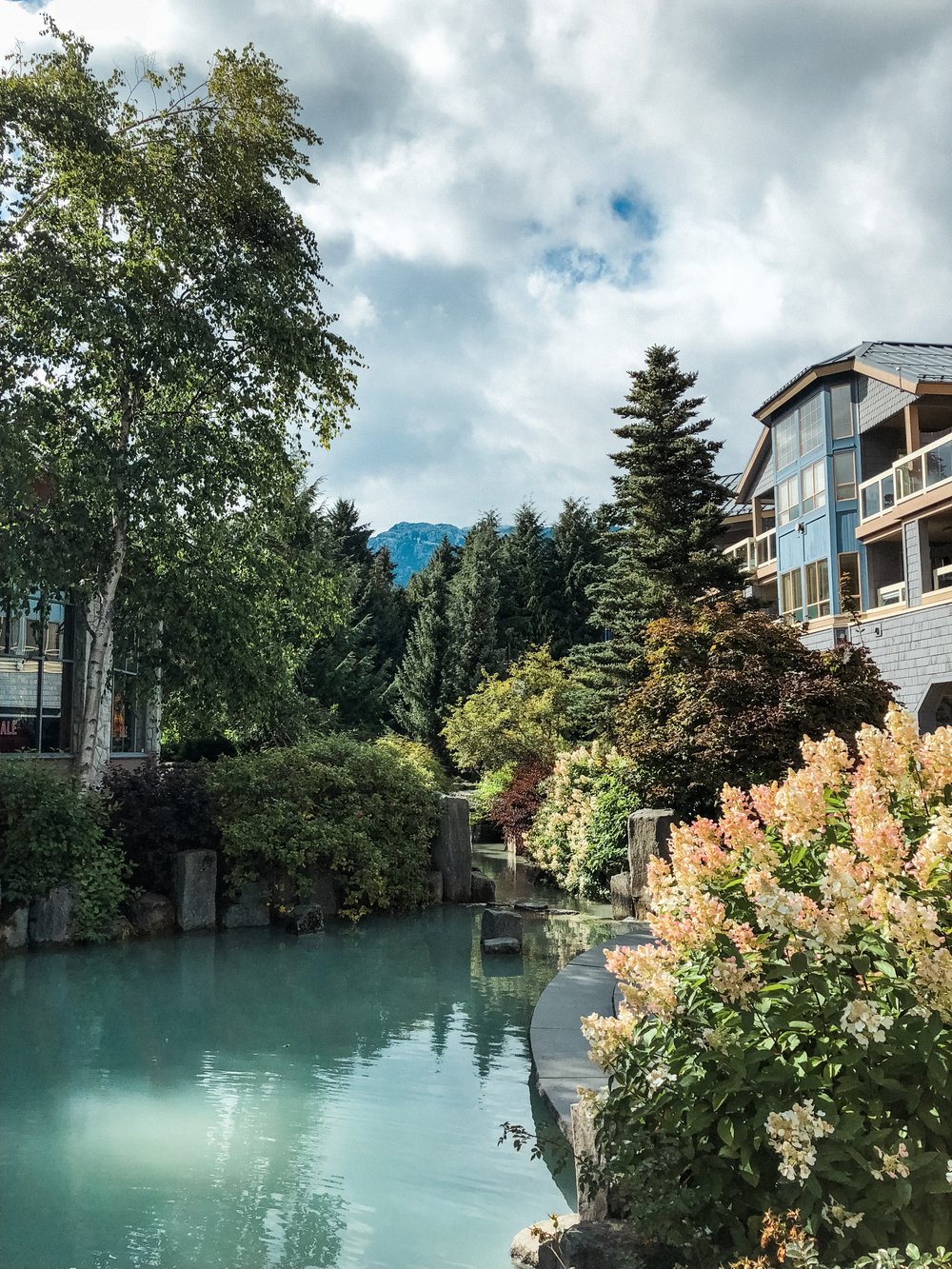 Phew! Ok, I think I've covered most of my favourite places in Whistler. I could seriously go on and on I love this place so much but that's why I live here after all. Have I missed any spots that you'd recommend? Drop me a line and let me know, or send me a note if you've visited any of these places and tell me what you thought!
SAVE THIS TO PINTEREST FOR EASY REFERENCE