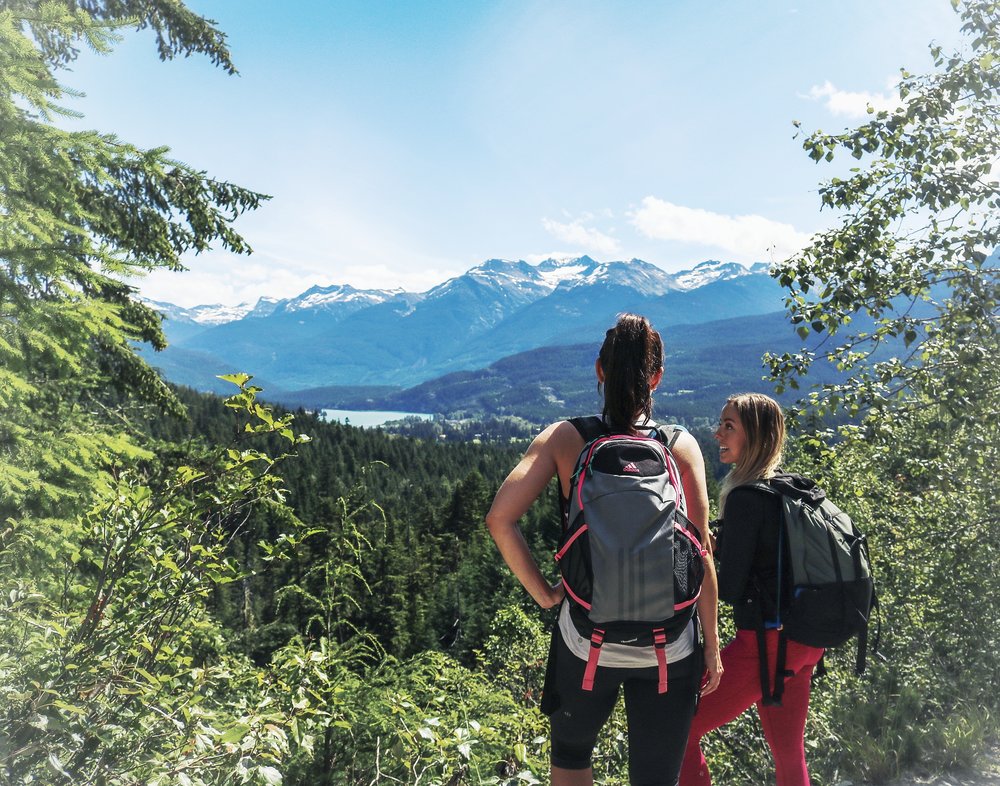 Welcome to Hike 3 in my Summer Hike Series in collaboration with Peak Training Whistler. If you follow me on Instagram, you probably saw my stories about needing to up my hiking game in order to keep up with Meaghan, owner of Peak Training, because no matter how fit you think you are, your trainer is always fitter. Much, much fitter.
This brings me to our recent hike to Rainbow Lake, which is 16 kilometers (10 miles) round trip and sees an elevation gain of 850 meters (2700 feet). It took us 3 hours to hike up and about 2.5 hours on the way down, including lots of stops for photos along the way.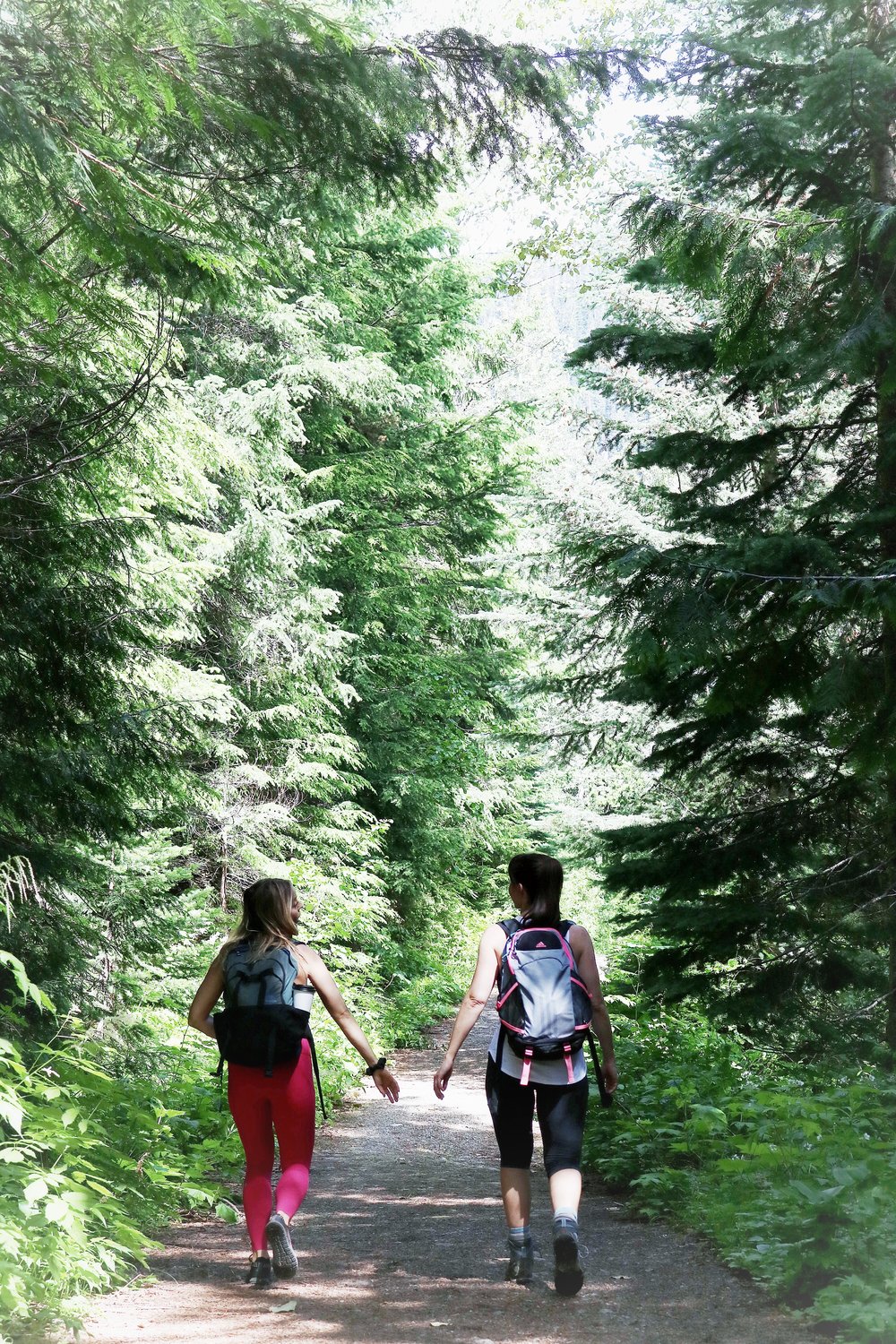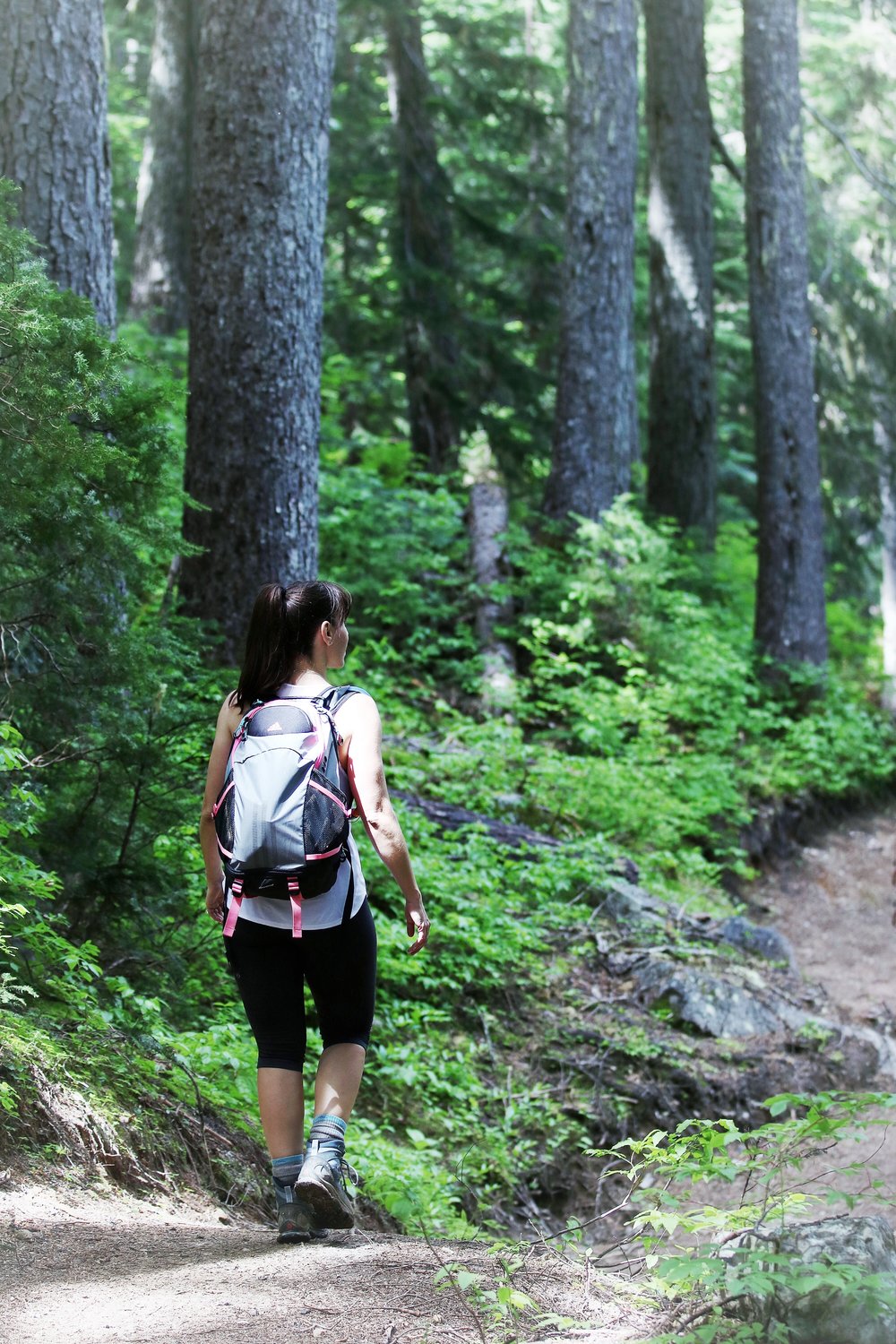 The first hour of the hike is straight climbing. There has been a new hiking trail created over the first few hundred meters (previously you'd walk up a road) and there's been a lot of trees slashed. You can see that it was done intentionally for controlled burn however it's not very pretty to look at, unfortunately.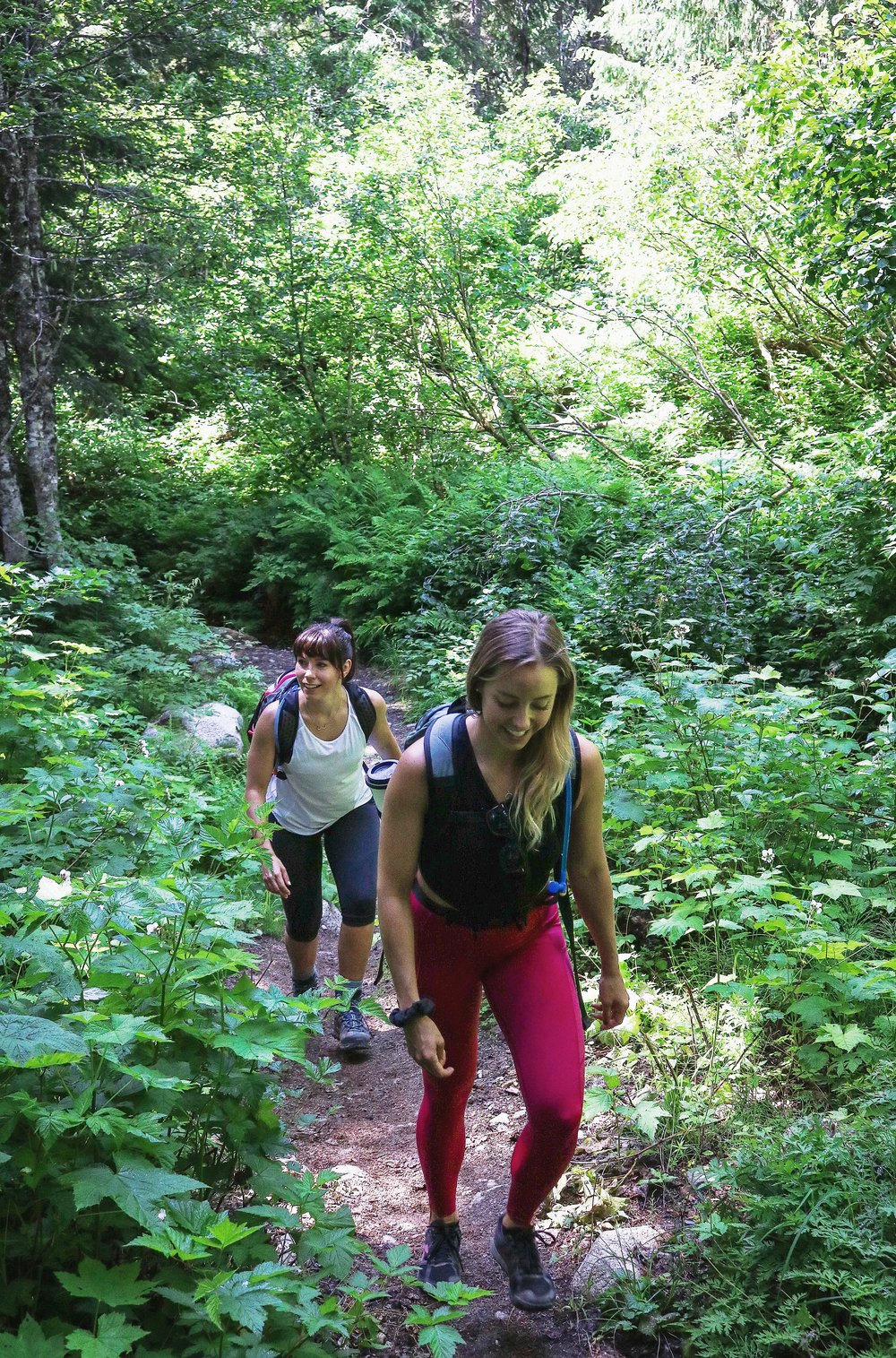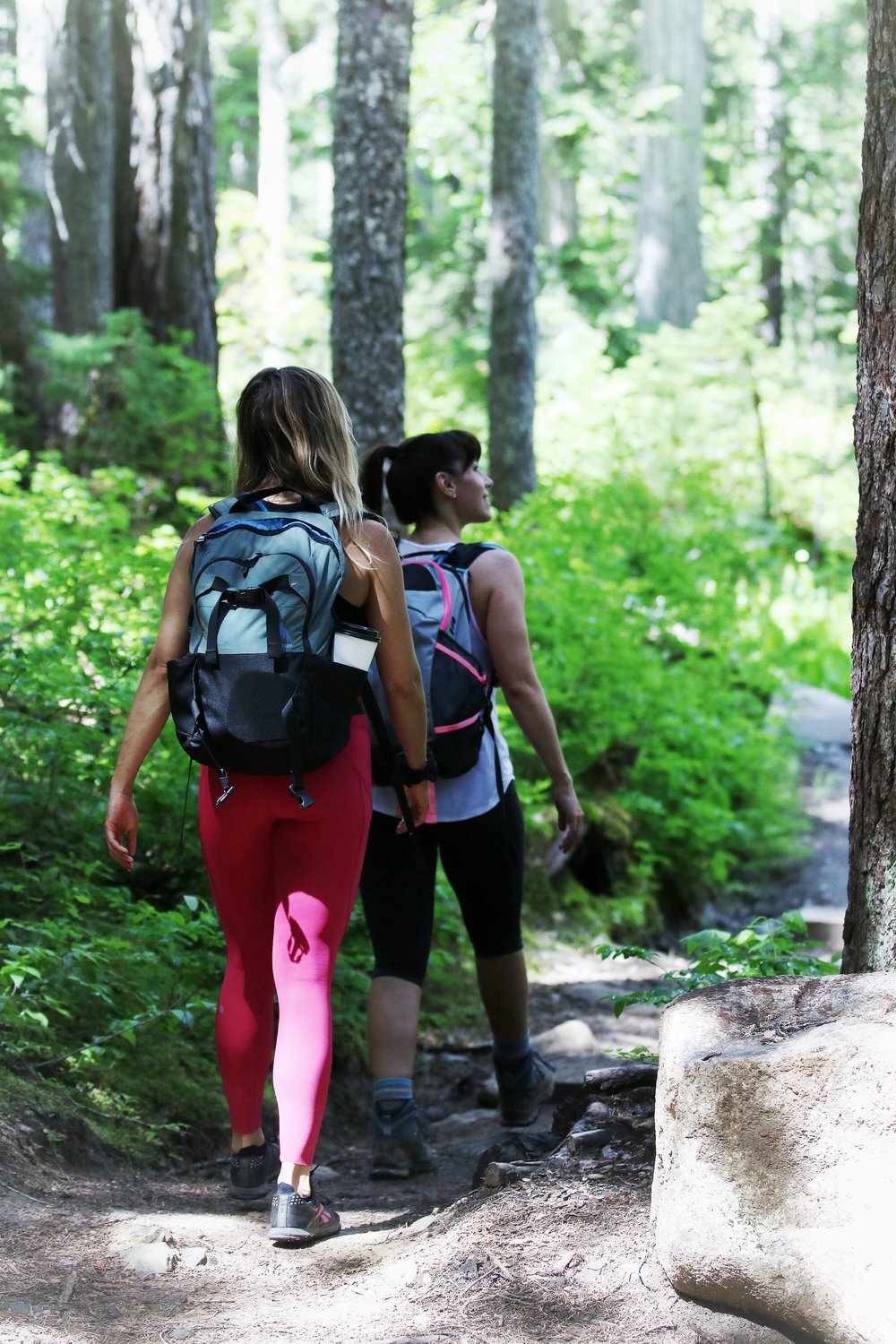 You'll come to a junction that directs you right to Rainbow Falls but you'll want to stay left where, a few meters away, you'll then see signage for Flank Trail and Rainbow Lake. Stay right to take the latter. You'll be on a wide gravel path which runs adjacent to 21 Mile Creek down below, and within a few minutes, you'll catch your first scenic view looking back towards Whistler and its lakes. I knew whatever views awaited us at the top were going to be spectacular.
In order to protect Whistler's water supply, there are three outhouses along the way. YES! You'll come across the first one just as the trail narrows and heads into the forest. This is where the climbing – or as I call it, keeping up with Meaghan – really begins.
One of my favourite parts of the Rainbow Lake Hike is all the bridges along the way. There are several small wooden bridges, a very cool cable bridge, and a small suspension bridge all overlooking waterfalls of various sizes. They're so beautiful!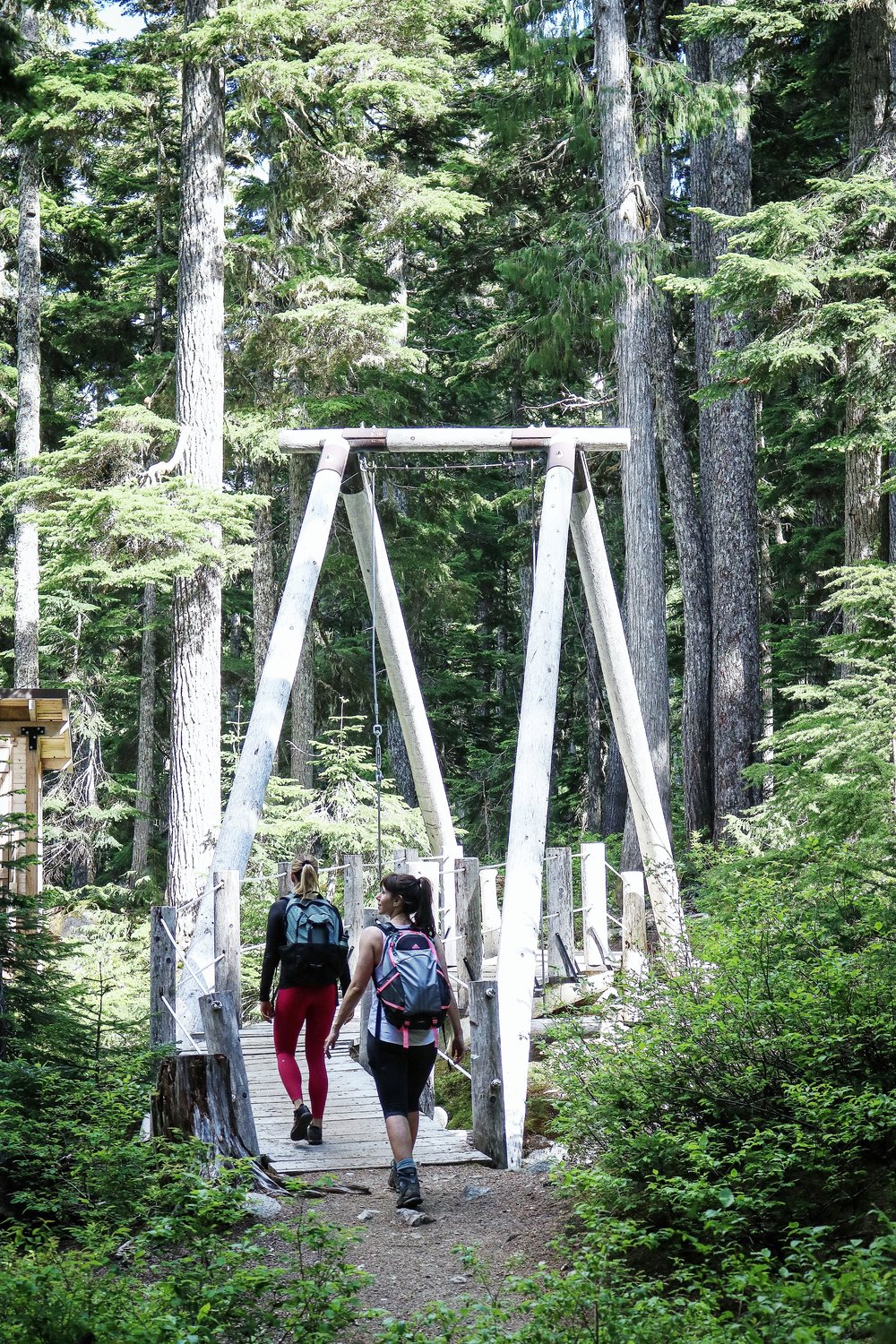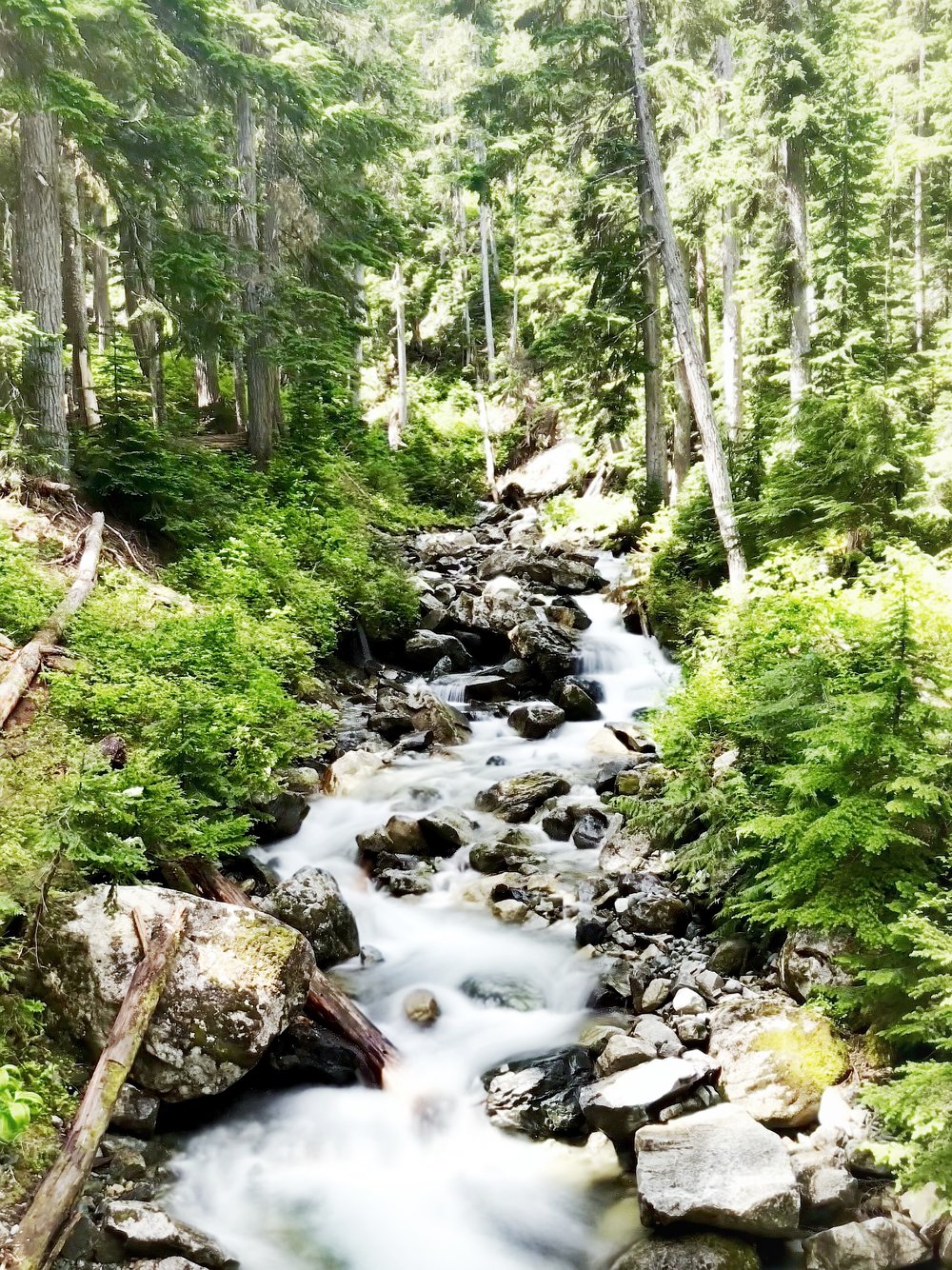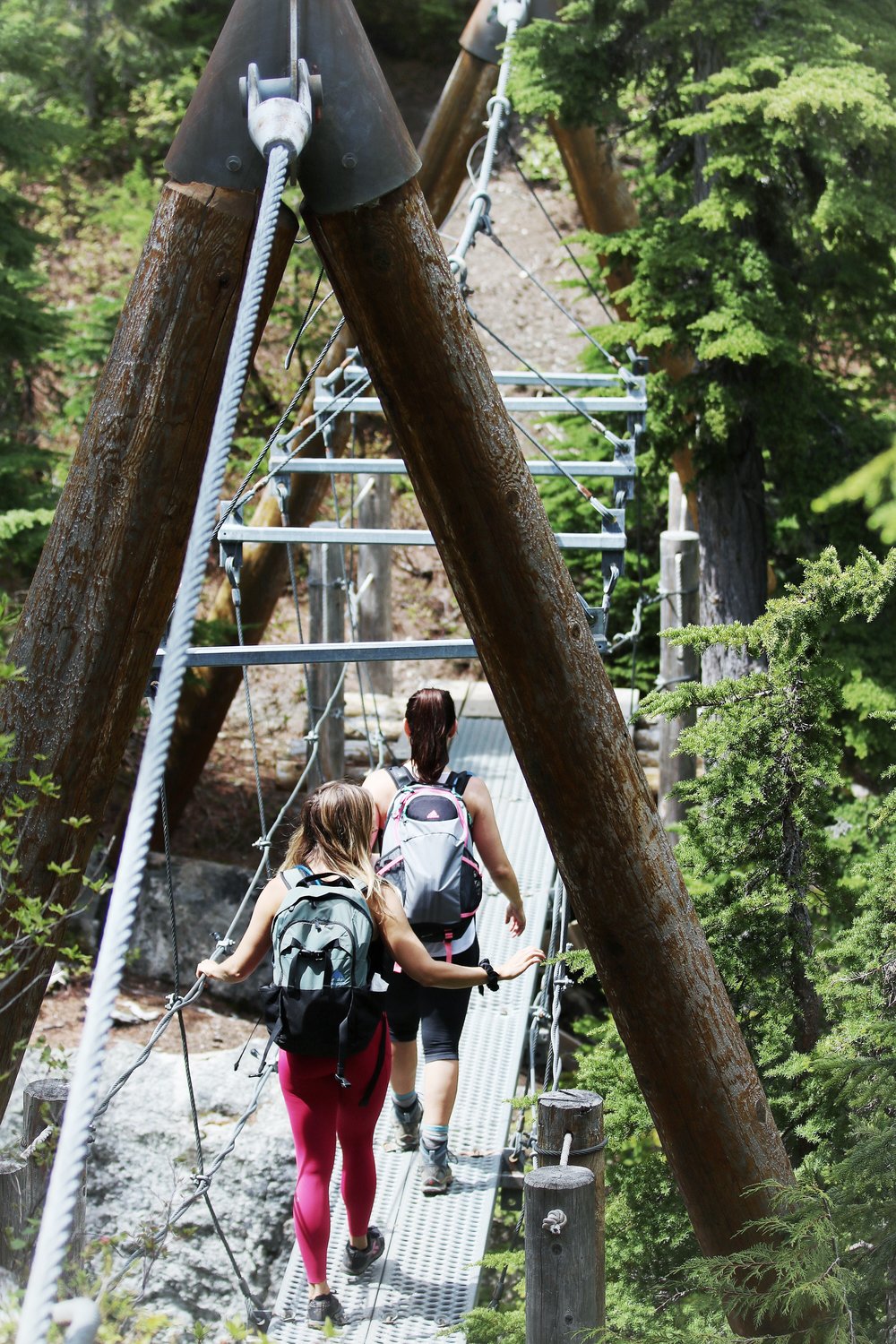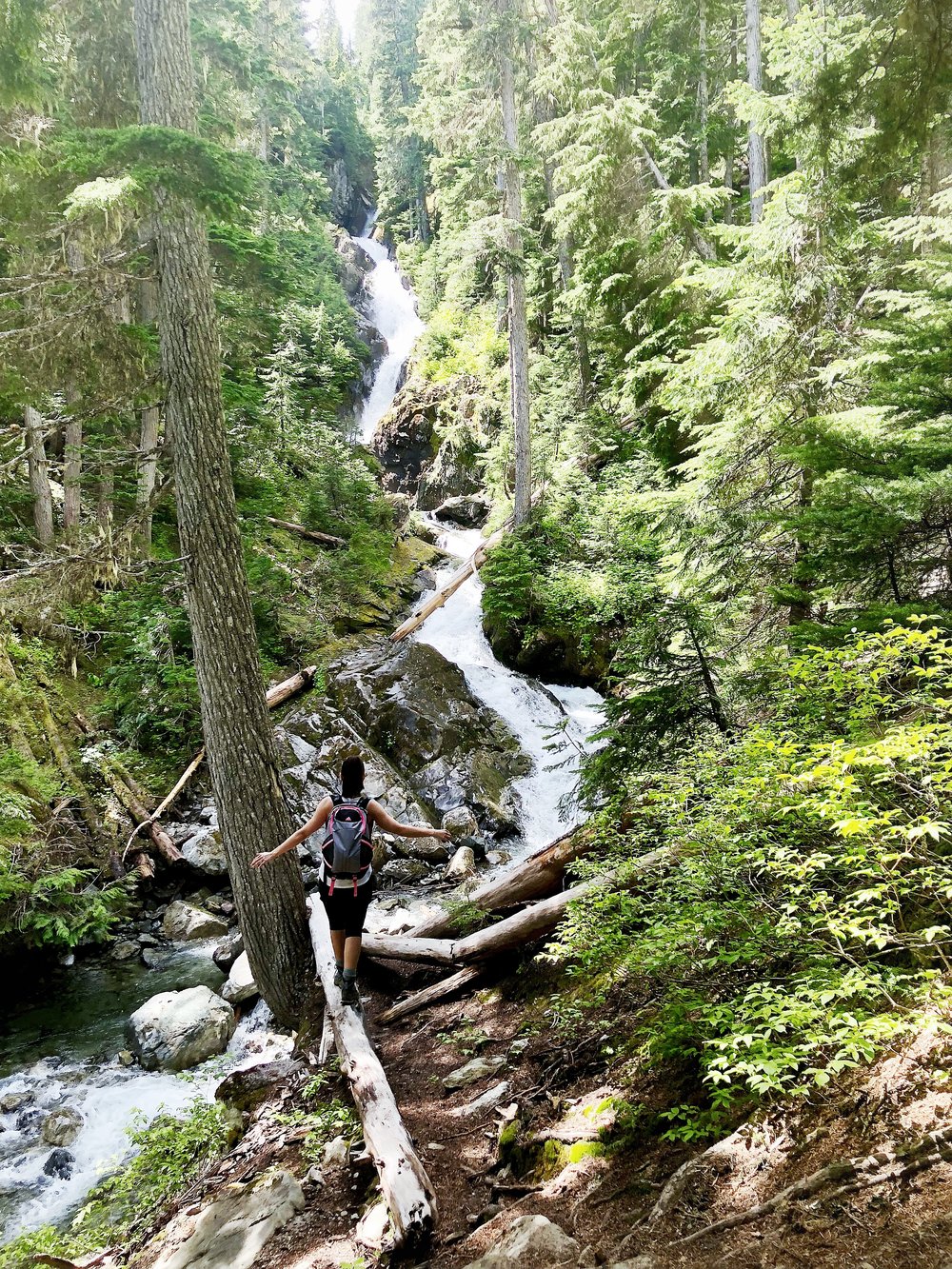 The final stretch leading up to the lake was a beautiful path through a meadow. The views were amazing; you could see Rainbow, Blackcomb, and the majestic Wedge Mountain. Much to my surprise, there was still snow up at Rainbow Lake and a lot of ice covering it. It was melting rapidly and it was quite cool to see the ice cruising towards the bridge we were standing on then breaking up and going down the waterfall. It really doesn't get much fresher than that!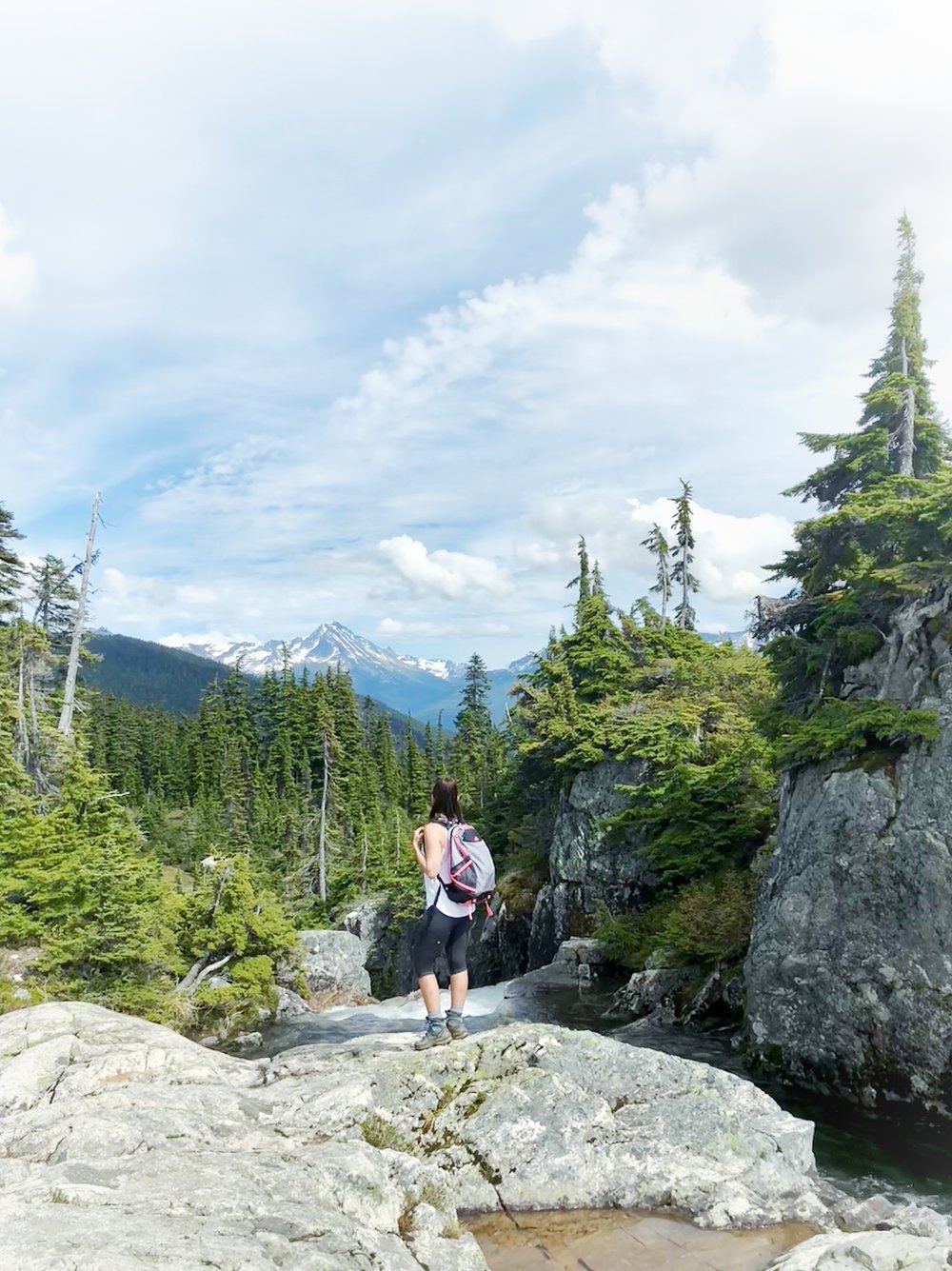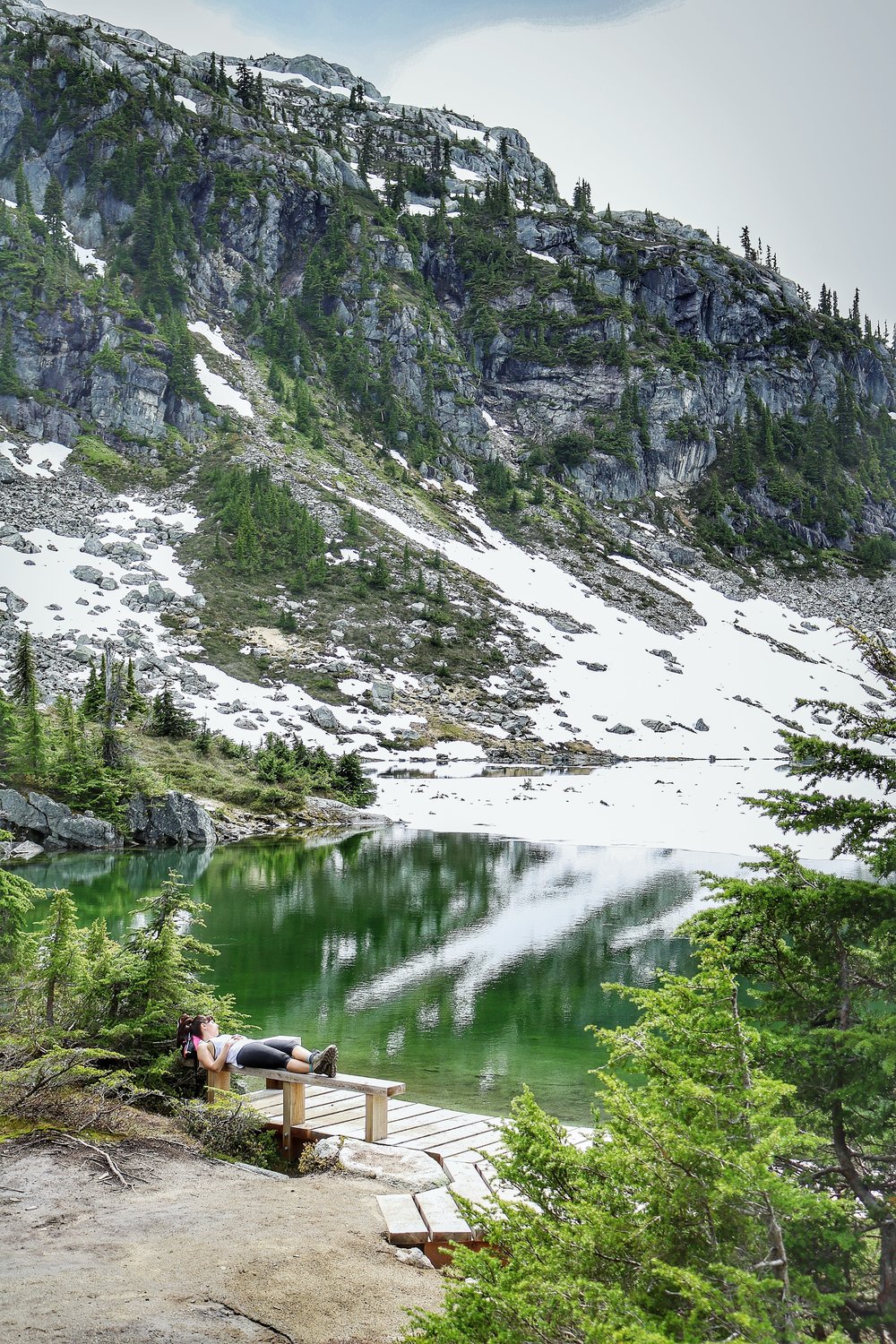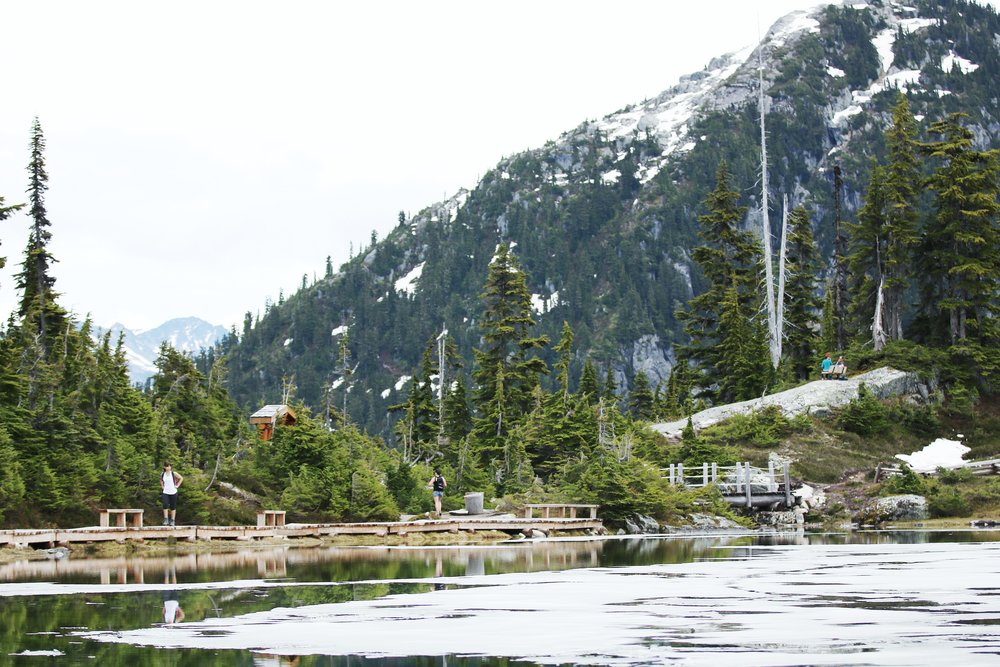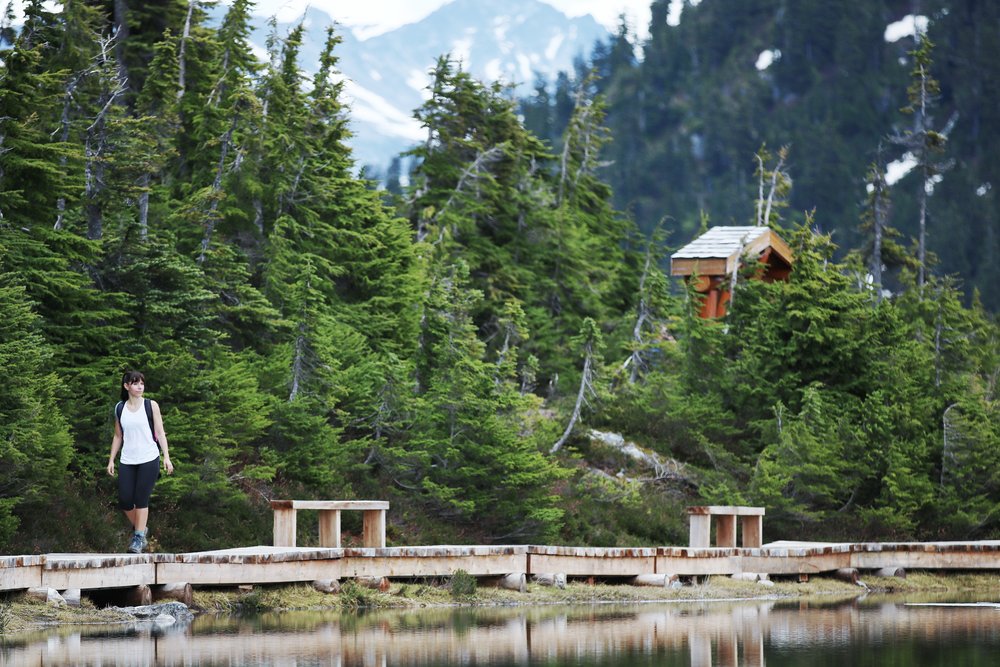 There's a boardwalk that takes you around the lake and you can go all the way to the back and look out over the lake with Wedge in the background. The mountains look enormous. There are benches around the lake and also looking out above it. Be sure to take your time and enjoy the lake. It's the perfect spot to rest and refuel – we spent two hours here(!) – before heading back down.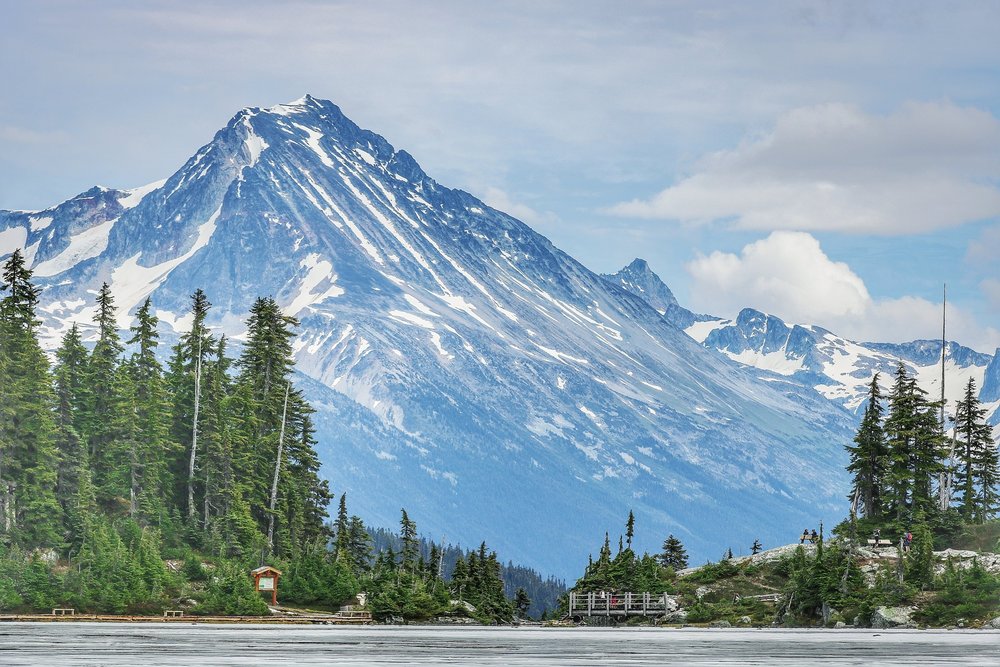 WHEN TO GO
Rainbow Lake is the ideal high-intermediate hike to do in July once most of the snow has disappeared and your hiking legs are ready. There's limited parking, and because the few spots are shared for those simply going to see Rainbow Falls, be mindful that it will seem busy quickly. It's definitely best to go up first thing in the morning to make the most of the day.
WHAT TO WEAR
I pulled out my Salomon hiking boots for the first time this season and I'm so glad I did. I have a tendency to sprain my ankle a lot and given the abundance of rocks and roots on this hike, I was glad to have the extra support. Also, the grip made the descent significantly easier. I wore these boots on my Bhutan trek through the Himalayas and cannot recommend them enough. As always, make sure you're dressed for the mountain climate. It was sunny and hot when we went however the weather can change quickly on the mountain and it's often much cooler than you'd expect. I highly recommend layers like the Arc'teryx Atom LT jacket and Alpha SL Jacket; they're basically bulletproof and I never leave on a hike without these two items in my bag.
THE FINE PRINT
The Rainbow Lake trailhead is on Alta Lake Road and is a short 10 minute drive from the village near the Rainbow Park entrance. The lake provides the water supply for Whistler so there is no camping, swimming, or bathing allowed, and absolutely no pets.
I loved this hike for the challenge but mostly for the scenery. Make sure to check out Meaghan's blog for training tips for this hike over on Peak Training. As the season progresses, we will give you the inside scoop on each hike to make sure you're ready for it. Stay tuned for our fourth hike, coming to you in a few weeks! And don't forget to read about our first and second hikes, Cheakamus Lake Hike and Crater Rim Trail Hike respectively, if you missed them.
Photography by Bryn Peaker + Lynn Gervais
DID YOU DO THE HIKE?
Don't forget to tag #PeakTraining and #WhatLynnLoves
in your post so we can follow your adventures!
#PTxWLL
SAVE THIS TO PINTEREST FOR EASY REFERENCE