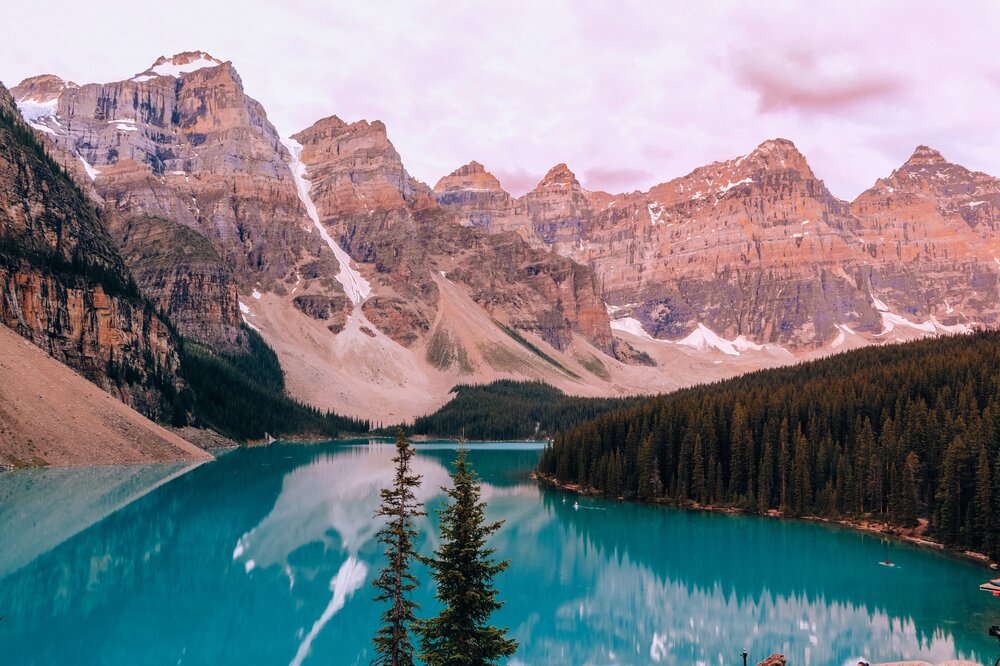 Moraine Lake is hands-down one of the most popular destinations in Canada for visitors and photographers alike. And for good reason. Not only is the vibrant turquoise lake absolutely breathtaking but Moraine Lake is also iconic to many Canadians because it was on the $20 bill for almost 25 years. Going to Moraine Lake for sunrise is one of the must-do activities that I recommend for anyone visiting Banff National Park so it's probably time I share the details of everything you need to know, from how to get to Moraine Lake to the best place to snap a photo at sunrise. I'm also answering your most-asked questions so read on for the details of this bucket list experience.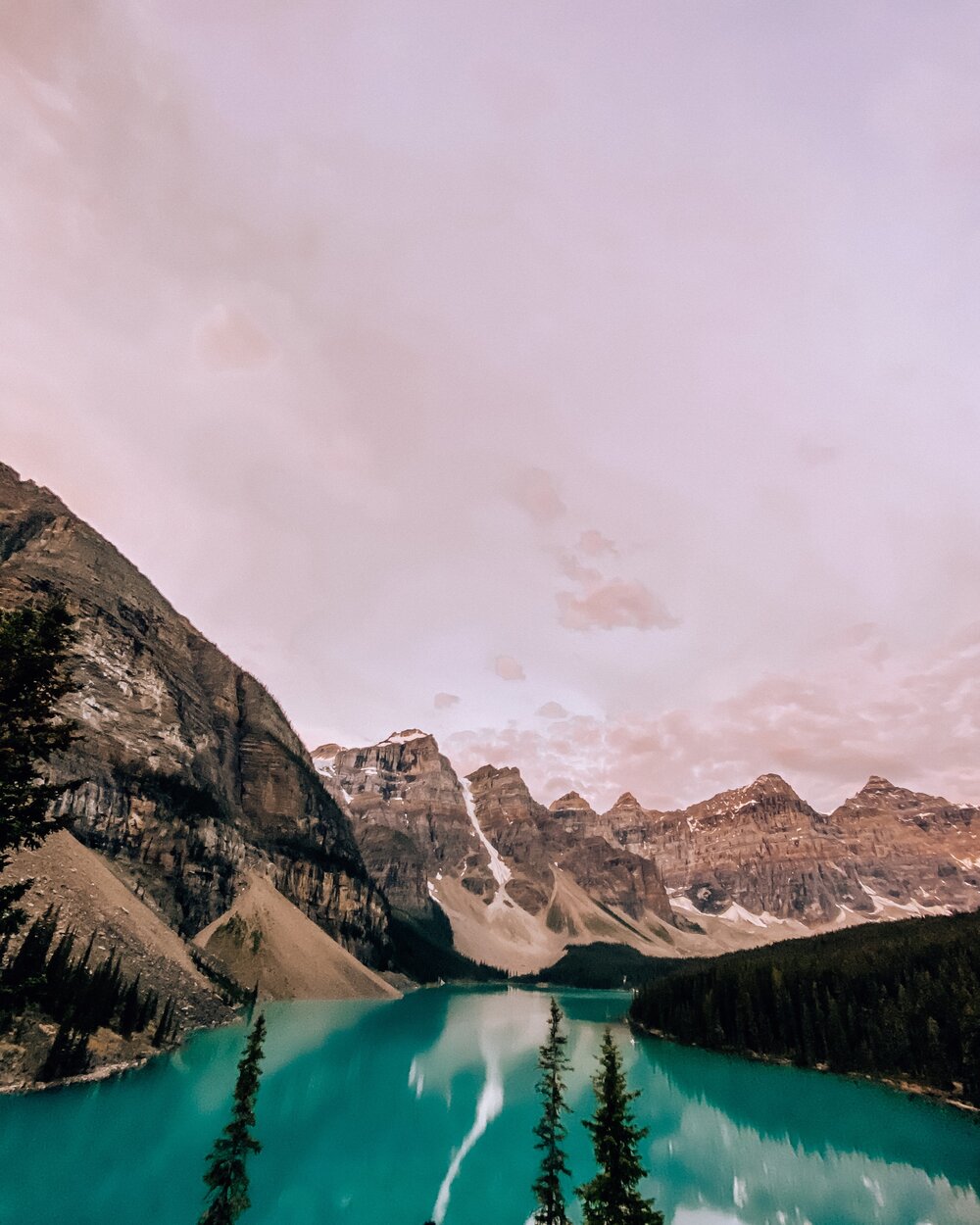 How far is Moraine Lake from Banff?
The drive from Banff to Moraine Lake takes about an hour. You can find the Google map directions HERE.
Due to high traffic volume to Lake Louise and Moraine Lake in the summer, you cannot turn left onto Moraine Lake Road. Therefore you'll need to drive past the turn off then turn around in the public parking lot at Lake Louise. On your way back down the road, turn right onto Moraine Lake Road.
How far is Moraine Lake from Lake Louise?
From the village of Lake Louise to Moraine Lake it is about a 30 minute drive. You can find the directions HERE. From the lakeside of Lake Louise itself (where Fairmont Chateau Lake Louise is situated), it's about a 20 minute drive.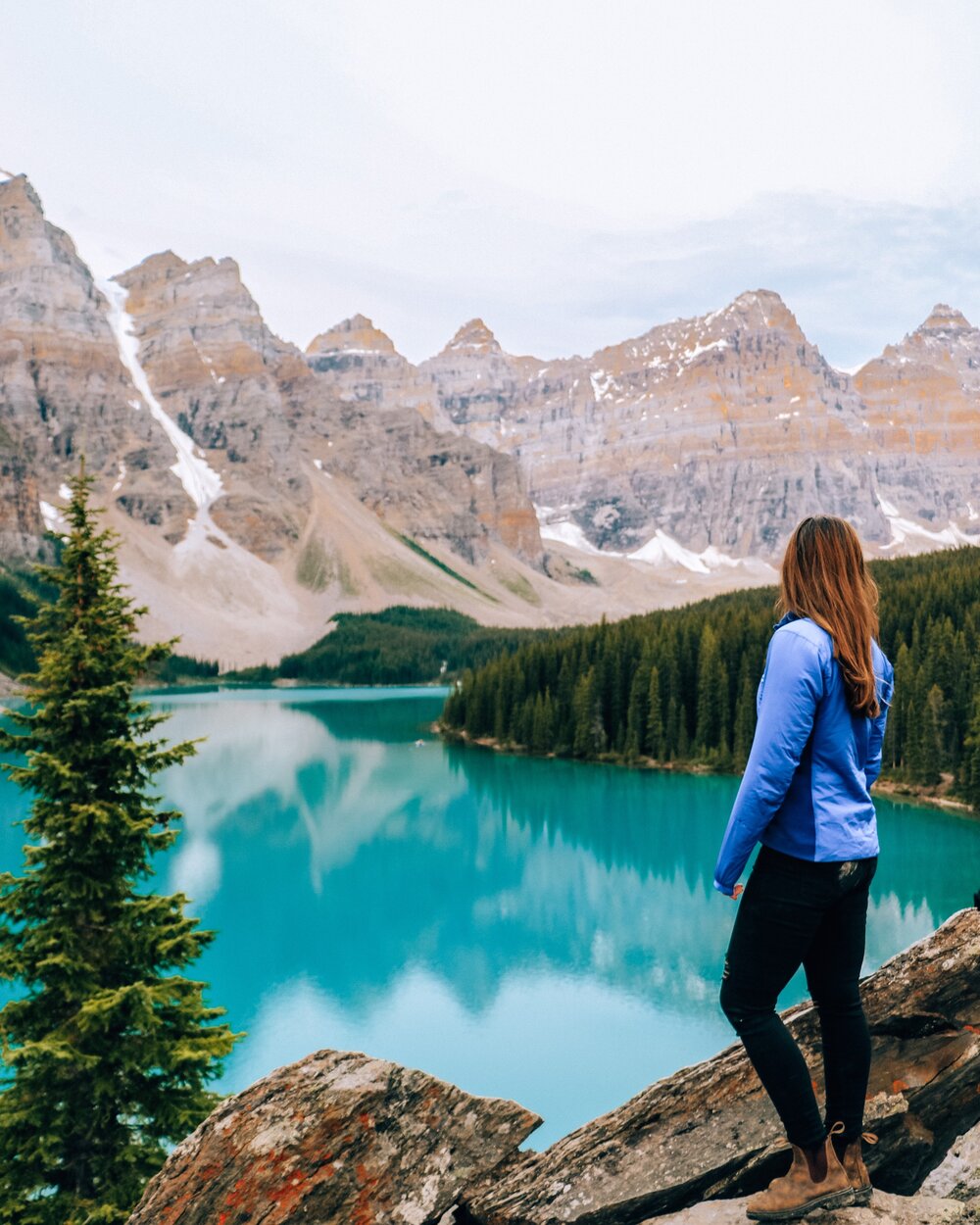 What time should I get to Moraine Lake?
If you're planning to be there for sunrise, you should plan to get there at least 90 minutes beforehand. The parking lot is usually full by 6 am on weekdays and earlier on weekends. We arrived at 5:30 am for a 7:00 am sunrise on a Sunday morning and the parking lot was almost full. Make sure you go early so you don't miss this incredible bucket list experience.
Where should I park at Moraine Lake?
There is a large, paved parking lot at Moraine Lake and parking is free. However, it fills up early and quickly in the summer. Once the lot is full, you will be denied access to Moraine Lake Road and there's no parking allowed along that road or Lake Louise Drive. I'll say it again, go early.
Click HERE to find Moraine Lake Parking Lot on the map.
What to bring to Moraine Lake?
If you're aiming for a sunrise photo at Moraine Lake, it's going to be cold outside even in the middle of summer. So wear lots of layers and bring a blanket, a toque (beanie), gloves, and ensure you're wearing sturdy footwear like hiking boots or running shoes so you don't slip or twist your ankle. Also, you'll want to bring a headlamp or flashlight because it is super dark and it'll be challenging to find your way up the trail without a light.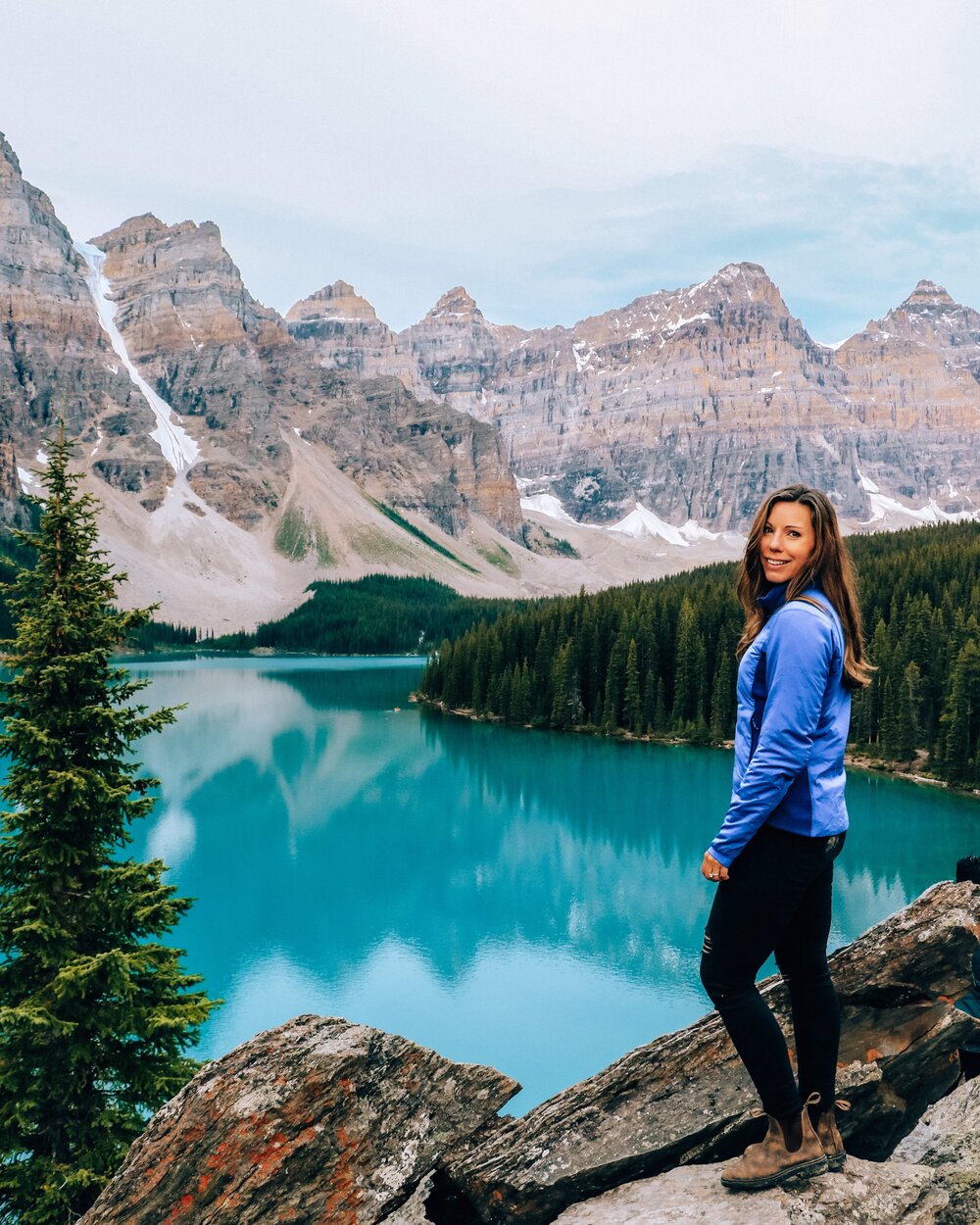 How do I find the iconic photo spots at Moraine Lake?
Once you've parked at Moraine Lake, you'll want to head from the parking lot in the direction of the left side of the lake. Behind a cluster of toilets, you'll find signs at the trailhead "Rockpile Tail". The Rockpile is what you're aiming to be on top of. (Apparently people try to scramble up the rocks which is not only dangerous but silly since there is a well marked trail that goes around to the left then up the rockpile.)
Rockpile Trail is about 500 metres long. It's gravel and winding with steps that take you up to the top. You'll likely see others ahead of you already and once you get to the top, there will likely be photographers already set up. Ensure you move in further along the trailhead so you're to the right side of The Rockpile. Here you'll have a clearer view without the obstruction of the trees, and the perfect Moraine Lake sunrise spot.
Once you've got all your photos of the sunrise (also: don't forget to look behind you and see the sun coming up over the mountains – it's stunning), then head back down and walk along the Moraine Lake Lakeshore Trail for more photo opportunities.
Can you walk around Moraine Lake?
Sure can! The Moraine Lake Lakeshore trail is an easy hike (more of a walk, really) that is super flat and takes about 45 minutes round trip. You can find the details HERE.
Can you swim in Moraine Lake?
While technically I suppose you could, these are glacier fed lakes (read: they're literally freezing) so not only is swimming in them not fun, it's incredibly dangerous. Instead, I recommend you rent a canoe at Moraine Lake Lodge and go for a paddle.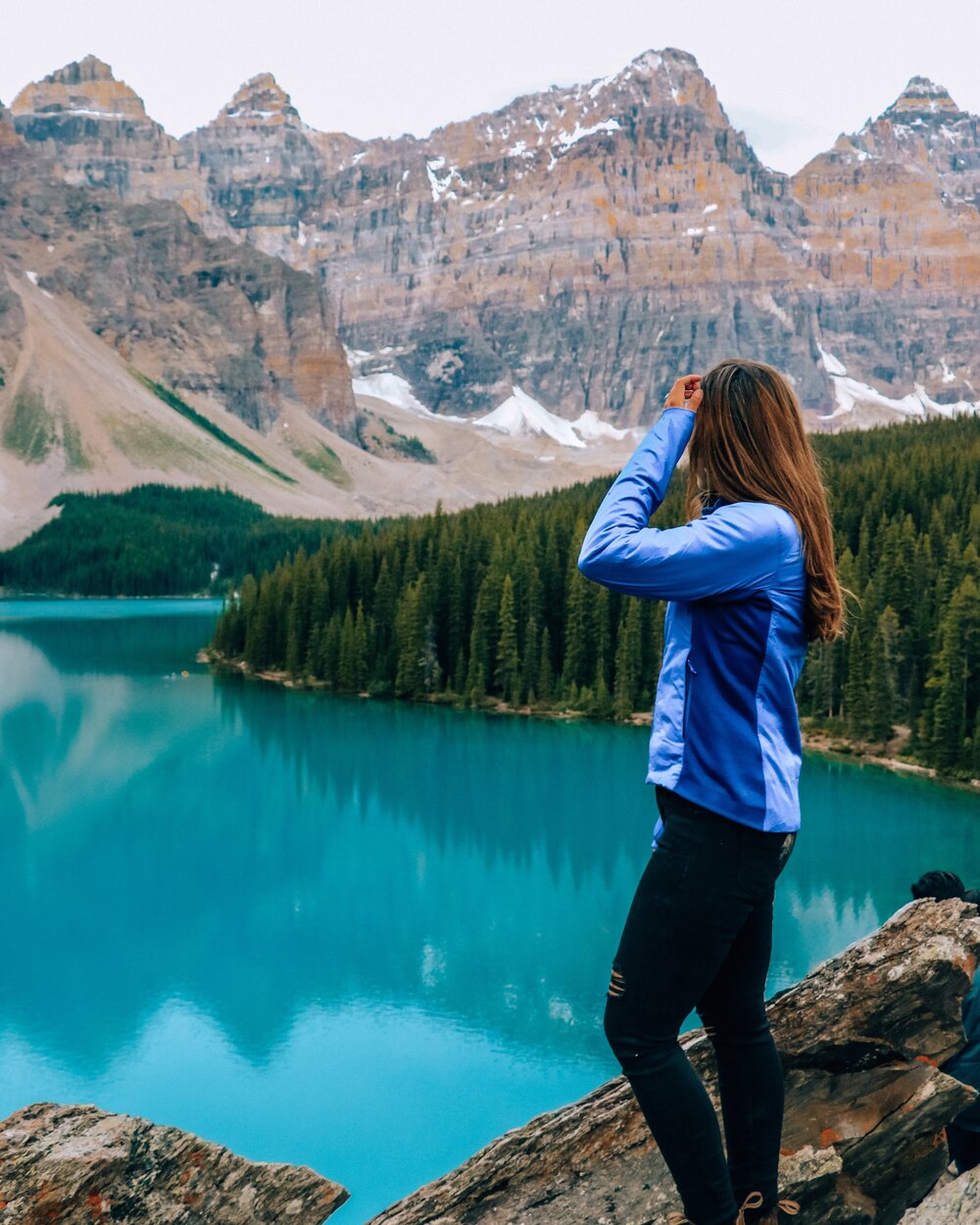 Where do you fly into to get to Moraine Lake?
The closest airport is Calgary International Airport (YYC). It takes approximately 2.5 hours to drive from the Calgary airport to Moraine Lake in Banff National Park.
Fun Facts:
A "moraine" is a ridge or mound of rocks or debris that is pushed up by a glacier or laid down directly by it. When you're driving the Icefields Parkway in the Canadian Rockies, you can spot the moraines by a large ridge or pile that's situated in front or alongside the glacier. It's also an interesting way to spot how far the glacier used to be before it started receding.
Moraine Lake is so spectacular that it really doesn't matter how many times you've gone, looking out over the turquoise lakes at the Valley of 10 Peaks will take your breath away each and every time. If you're visiting Banff National Park in the Canadian Rockies, do yourself a favour and add Moraine Lake to your bucket list. You will not regret it.
SAVE TO PINTEREST FOR EASY REFERENCE