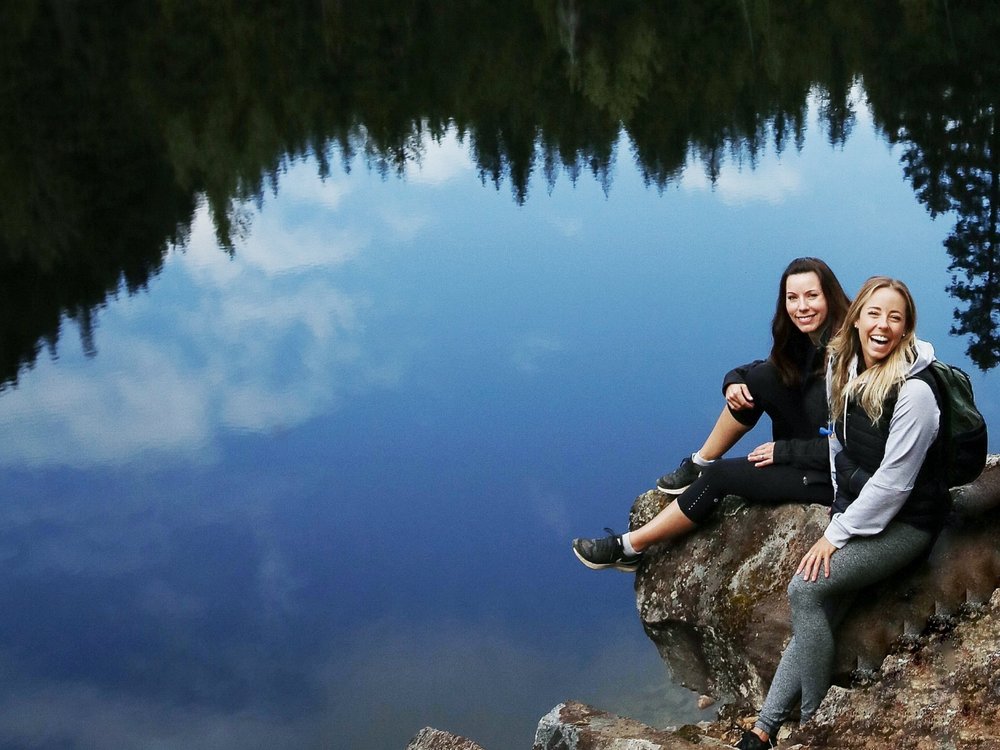 June-uary has arrived in Whistler and while it happens every year like clockwork, I cannot get used to the cool temperatures. For those who are unaware, May is usually quite hot in Whistler – between 25 and 30 degrees Celsius – then June tends to plummet to single digits again. Brrr! Regardless, Meaghan from Peak Training and I set off on our hike and I'm so glad we did. The rain held off and it ended up being a beautiful day, and we have the second instalment of our Summer Hike Series. (You can read the first one here.)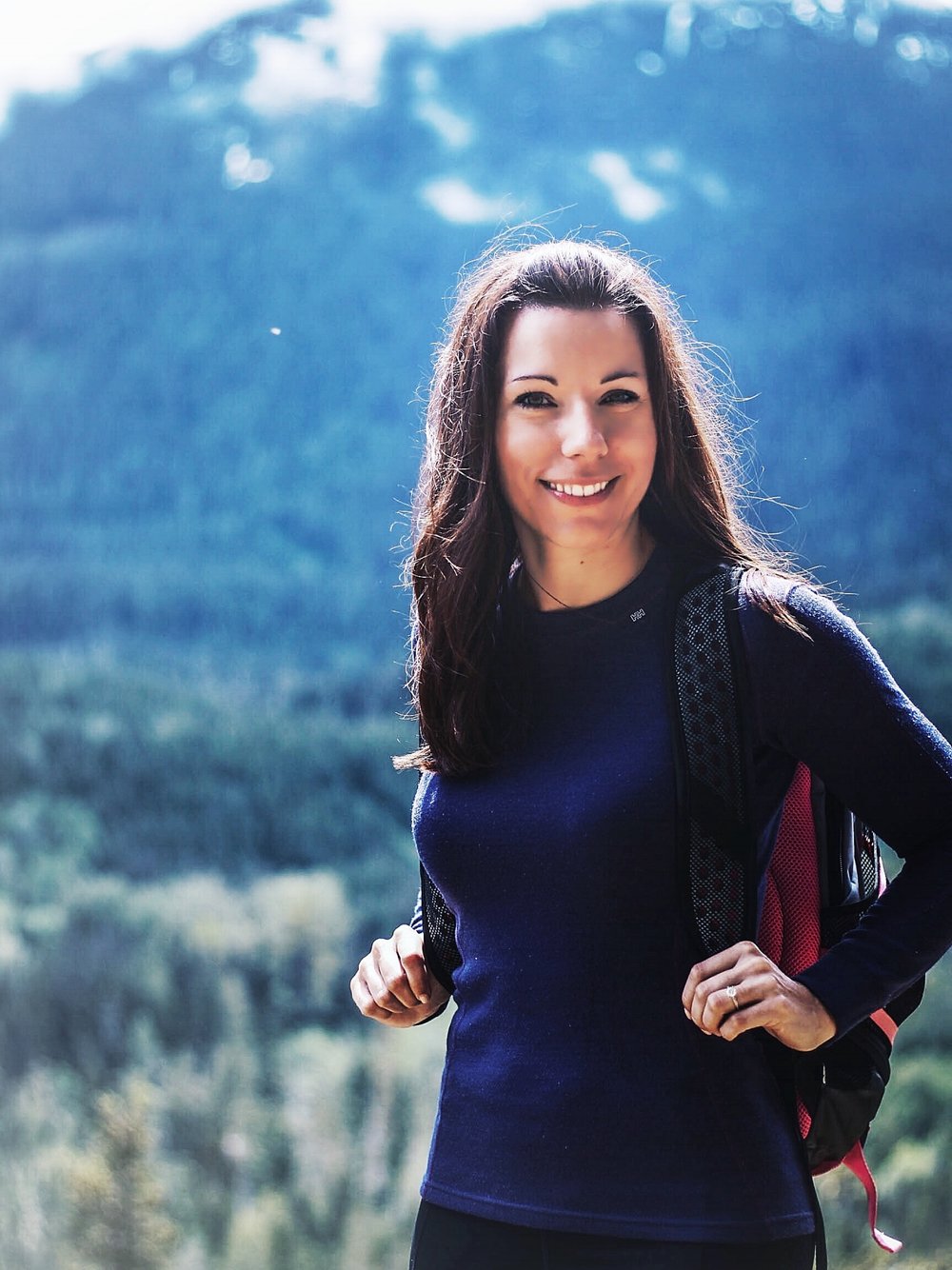 Given the abundance of hiking trails in the Whistler mountain area, you'd think we have unlimited options to choose from in June however the reality is there is a very limited number of intermediate hikes open right now. We had to do a lot of research to find an early season Whistler hike that did not require snowshoes. (Warning: do not even attempt to hike Garibaldi Lake in the spring or early summer.)
In my research, I learned that British Columbia is home to 18 dormant volcanoes and several of them are in close proximity to Whistler. How cool is that? Which brings us to an almost unknown Whistler hike called Crater Rim Trail. As the name alludes, the trail circumnavigates a volcanic crater which is filled with water and known as Loggers Lake. I'd classify this hike as Low Intermediate as it only takes about two hours round-trip. It has an elevation gain of 230 meters (or 76 floors according to my fitness app) over 4.5 kilometers.
Within the first couple minutes on the trail, you'll come to a sign that directs you left to Crater Rim Trail or straight to Logger's Lake. They're marked Difficult and Intermediate, respectively, but don't let that dissuade you. Crater Rim is highly accessible and offers incredible views. Onwards and upwards, hikers!
The first ten minutes of hiking go almost straight up but then you're immediately overlooking Loggers Lake. It's incredible to look down knowing that it was once an active volcano. The views are gorgeous however if you're afraid of heights, take care near the edge. It would be a painful and bumpy trip down.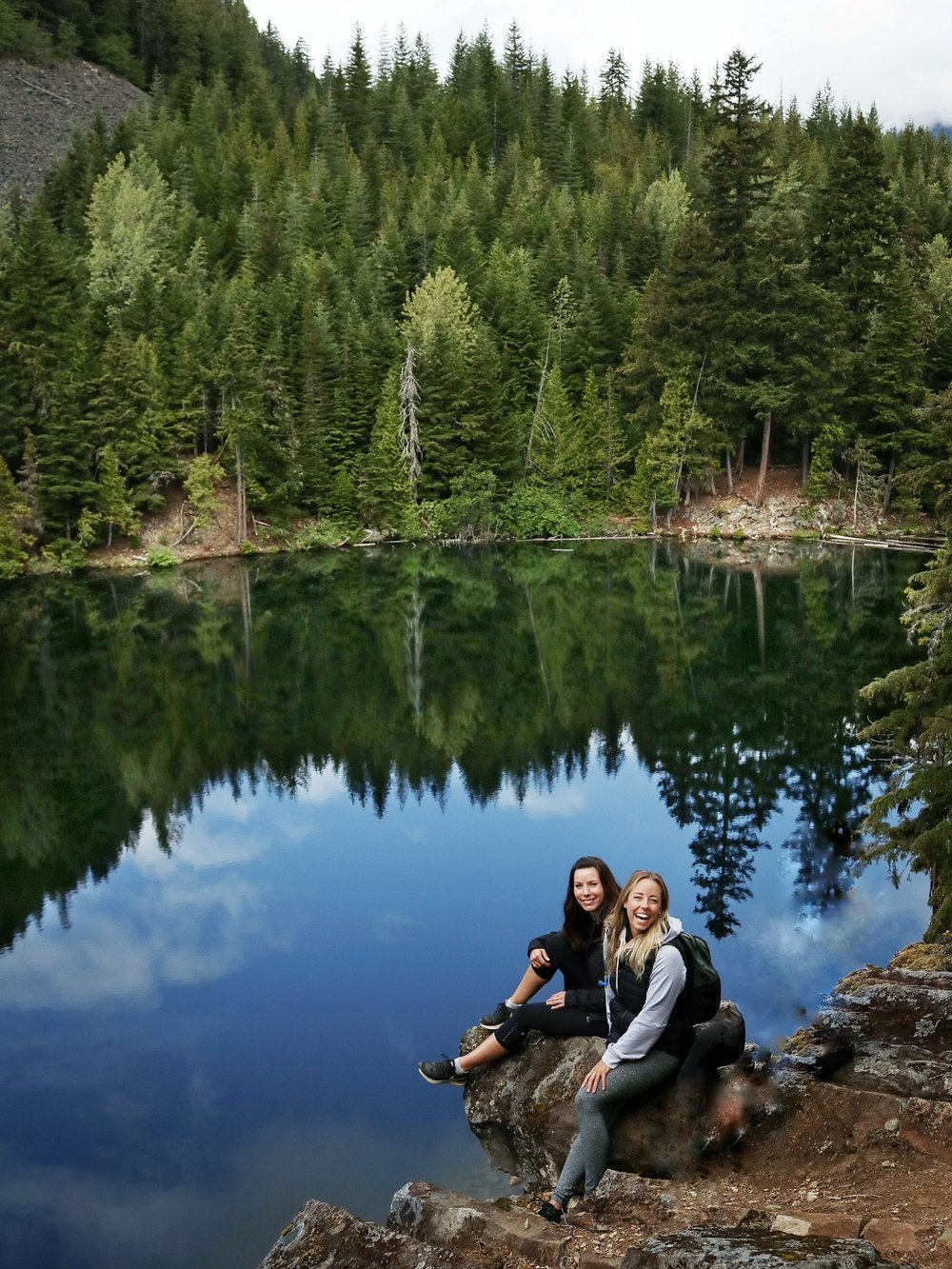 You'll continue to climb higher for another 30 minutes or so through a beautiful old growth forest for which British Columbia is renowned. I was surprised to hear a rushing of water which turns out to be Cheakamus River on the opposite side. It was incredible to stand up there looking out over the vast landscape – it looks unreal!
The Crater Rim Trail is a loop so you'll eventually come around the other side and it's so cool to look across to where you started. It makes you realize just how large From this side, you can see out over the mountain range and across the Sea to Sky highway. What a view!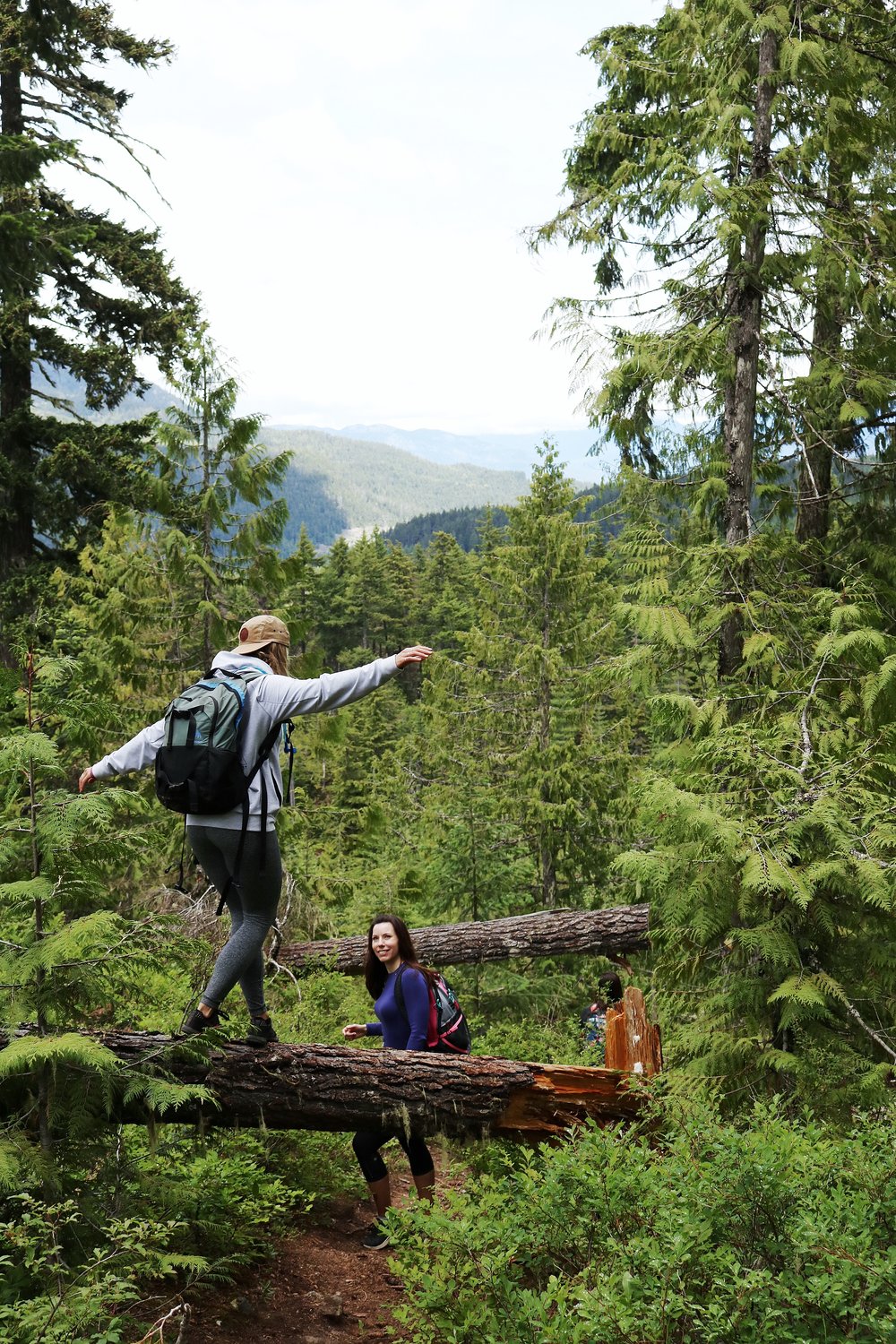 As we wound our way back down to the lake and came across a rope swing! We weren't nearly brave enough to jump in to the frigid waters but I can imagine on a hot day, it would be glorious!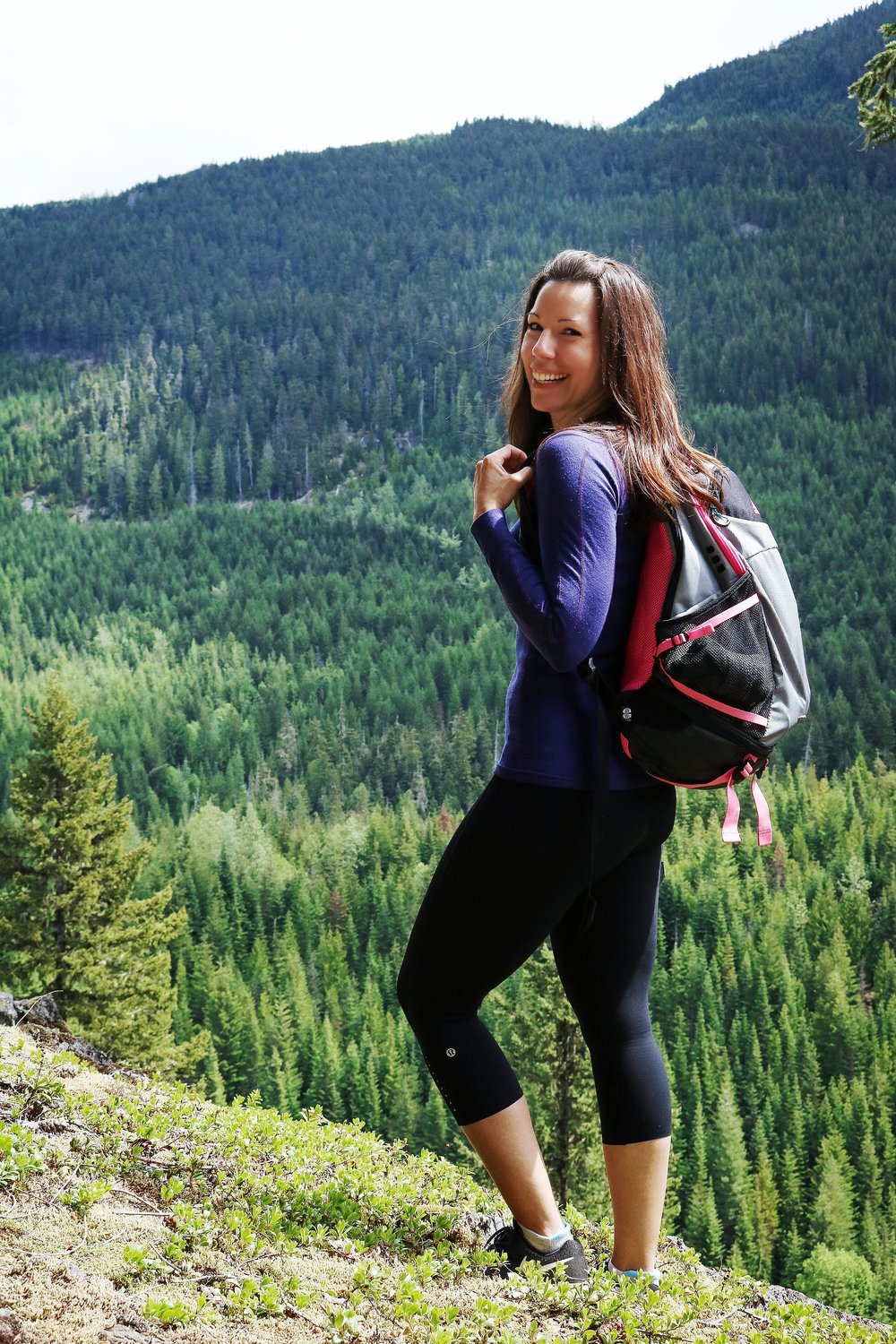 The fine print… At the Function Junction intersection, about 15 minutes south of Whistler, you'll turn onto Cheakamus Lake Road (East direction). This is the same way to Cheakamus Lake Hike except you almost immediately take a left turn at the fork, then right and over a small bridge. It's a short two kilometer drive to the Loggers Lake parking lot from here. An outhouse is available at the parking lot but it's one of the only ones in the vicinity so be sure to make use of it.
This is the second in a summer hiking series that Meaghan and I are doing. As the season progresses, I'll be giving you the inside scoop on where to hike in Whistler and how to prepare for each while Meaghan will be providing training tips so you're feeling strong and ready for each progressive hike. You can see her training tips for this hike here. So stay tuned to my blog for more hikes coming your way all summer long!
Do you have a favourite Whistler hike that you think should be on our list? Tell me below!
Photography by Bryn Peaker
DID YOU DO THE HIKE?
Don't forget to tag #PeakTraining and #WhatLynnLoves
in your post so we can follow your adventures!
#PTxWLL
SAVE THIS TO PINTEREST FOR EASY REFERENCE