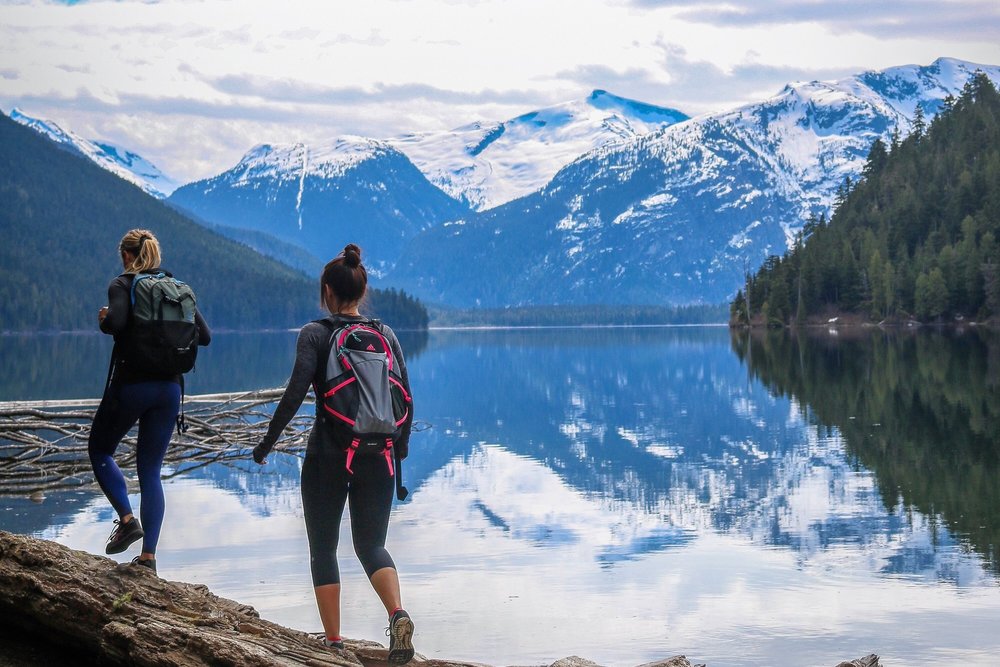 Cheakamus Lake may best be known as that beautiful turquoise Whistler lake glistening in the backdrop of any photo taken on Whistler Mountain in the summer.
But locals know that because of its low lying location, Cheakamus Lake offers is a great option for late spring or early summer hiking in Whistler, and because it's an easy hike it's an ideal way to warm up those hiking legs . For those wishing to get their pins in peak form before summer arrives, check out this blog post by Meaghan Sutter, founder of Peak Training Whistler.
The hike itself is incredibly accessible with very little elevation gain – only 80 meters (or just 20 floors according to my fitness app) over the 14 kilometers – and took us two hours and 20 minutes roundtrip.
The most treacherous part of the whole adventure is the road into Cheakamus Lake. It's accessible from the Function Junction intersection just south of Whistler and the drive in is a text book definition of a mountain road. Do not try this without snow tires and all-wheel drive if you're hiking in spring or early summer. Luckily I had both but I had to power through some heavy snow in parts. And where there isn't snow, there is massive potholes and large boulders. So consider yourself warned. It's a shame the gentleman we encountered along the way did not have this same advice – cars were blocked in either direction as everyone tried to dig him out of the snow.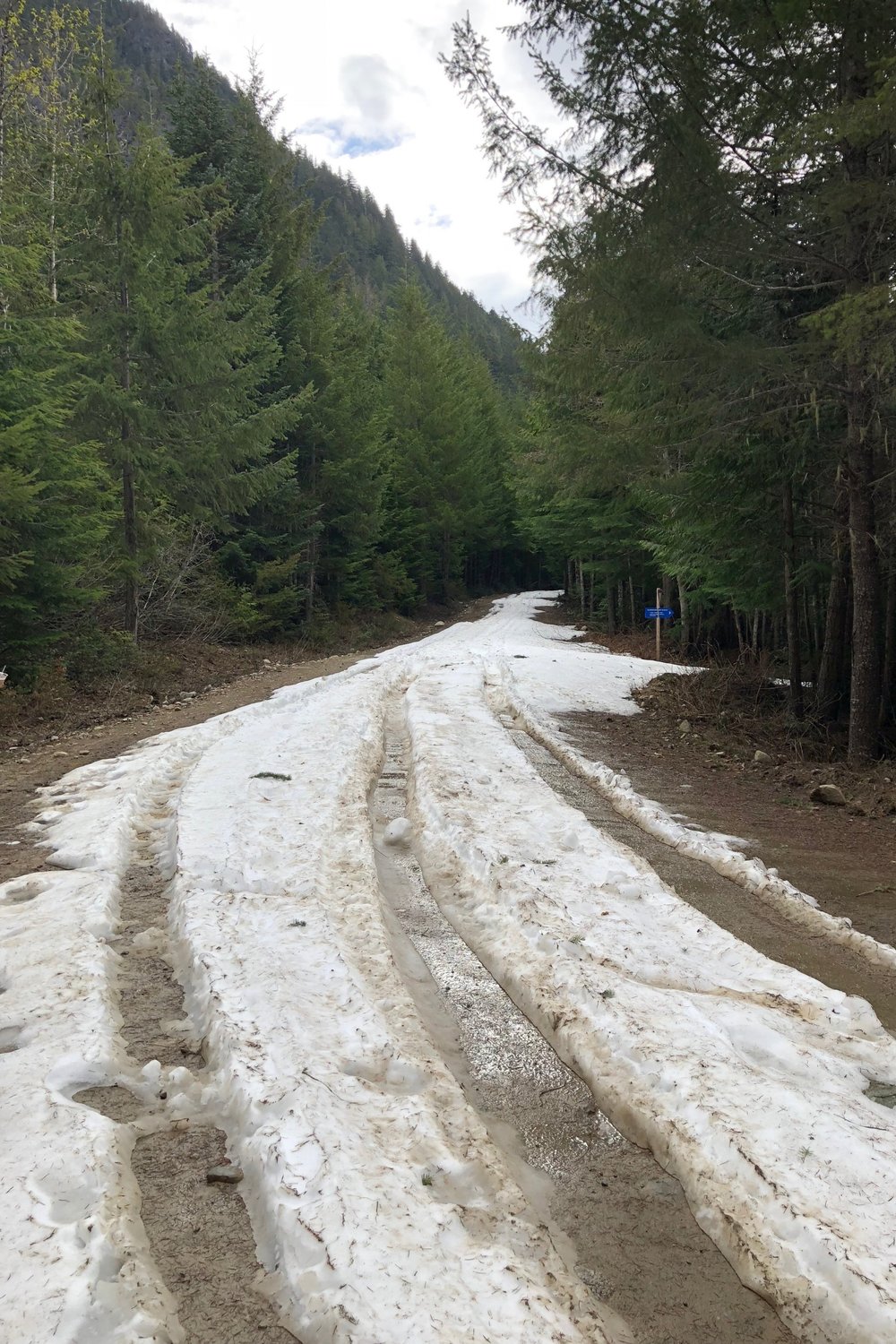 Now onto the fun part! The trail winds through Whistler's renowned old growth forest and I truly never tire of looking at these ancient giants with complete awe. Because we were there so early in the season, several of these absolutely behemoth trees which had fallen over the trail during the winter had not yet been cleared away so we had to scramble over and around them. But that just adds to the adventure if you ask me!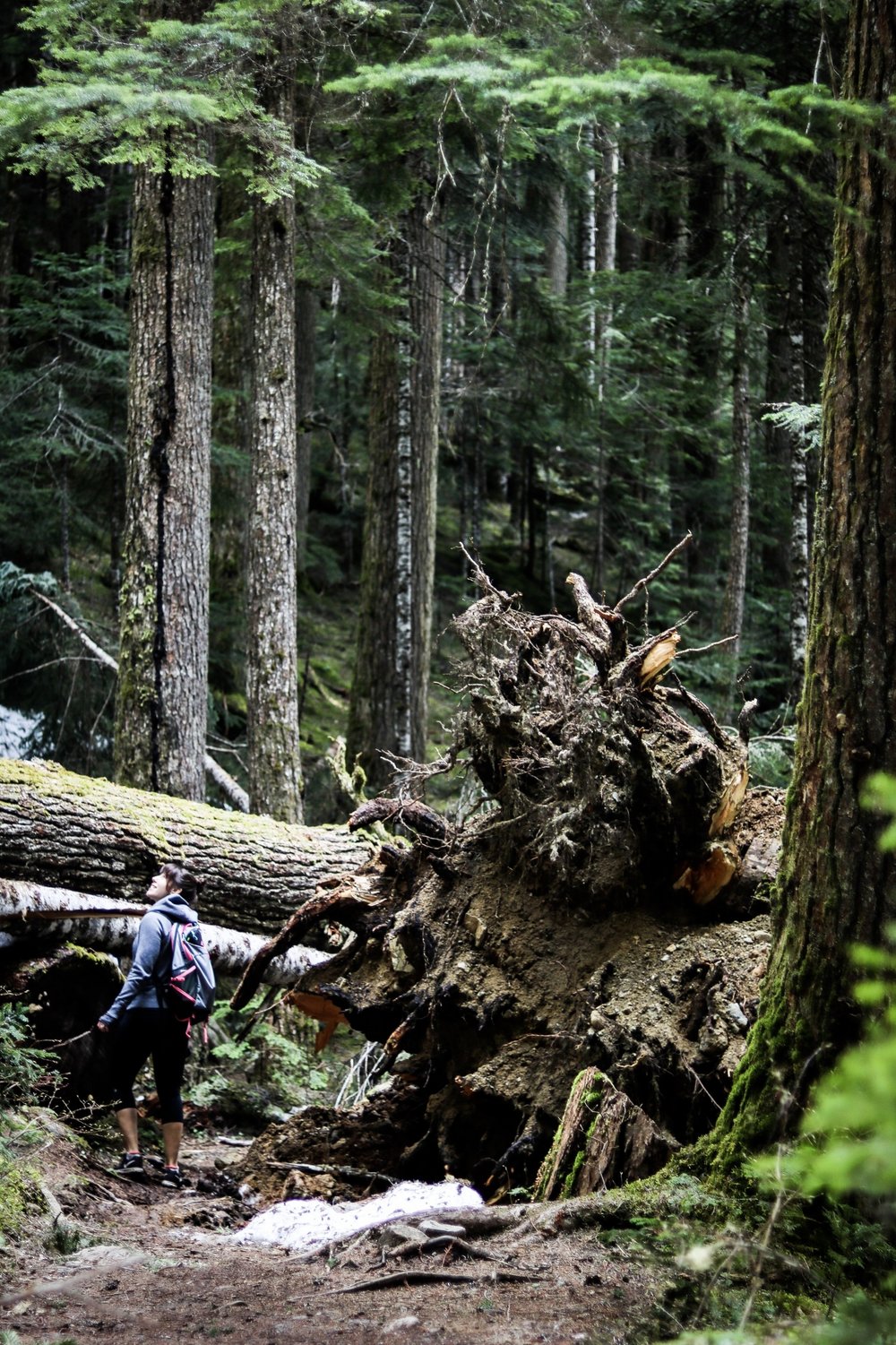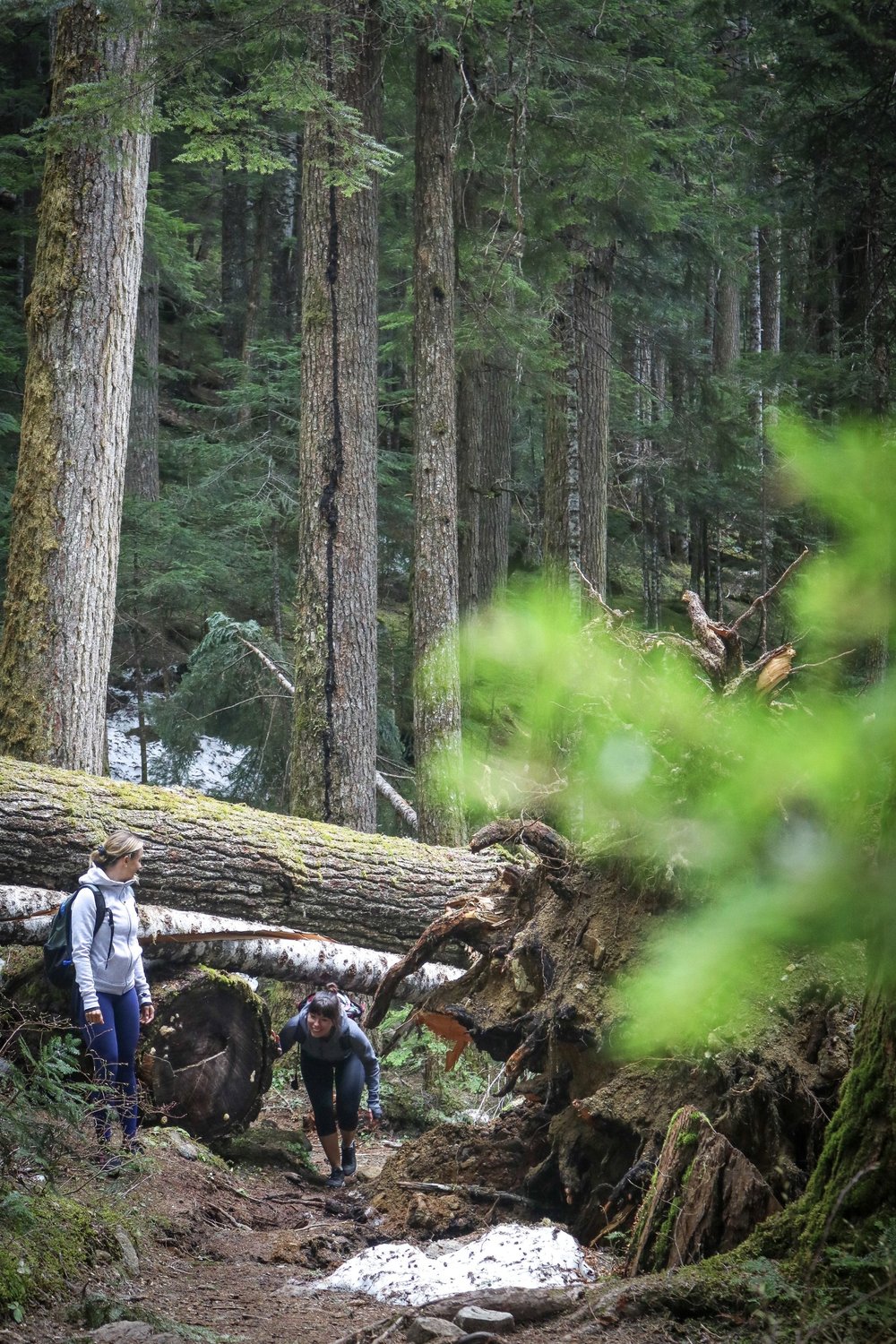 You'll hear the Cheakamus River before you see it. The run off in the spring is pretty epic as all the mountain snow melts and comes crashing down. This is the part where I always get a little giddy knowing that the lake is coming up soon.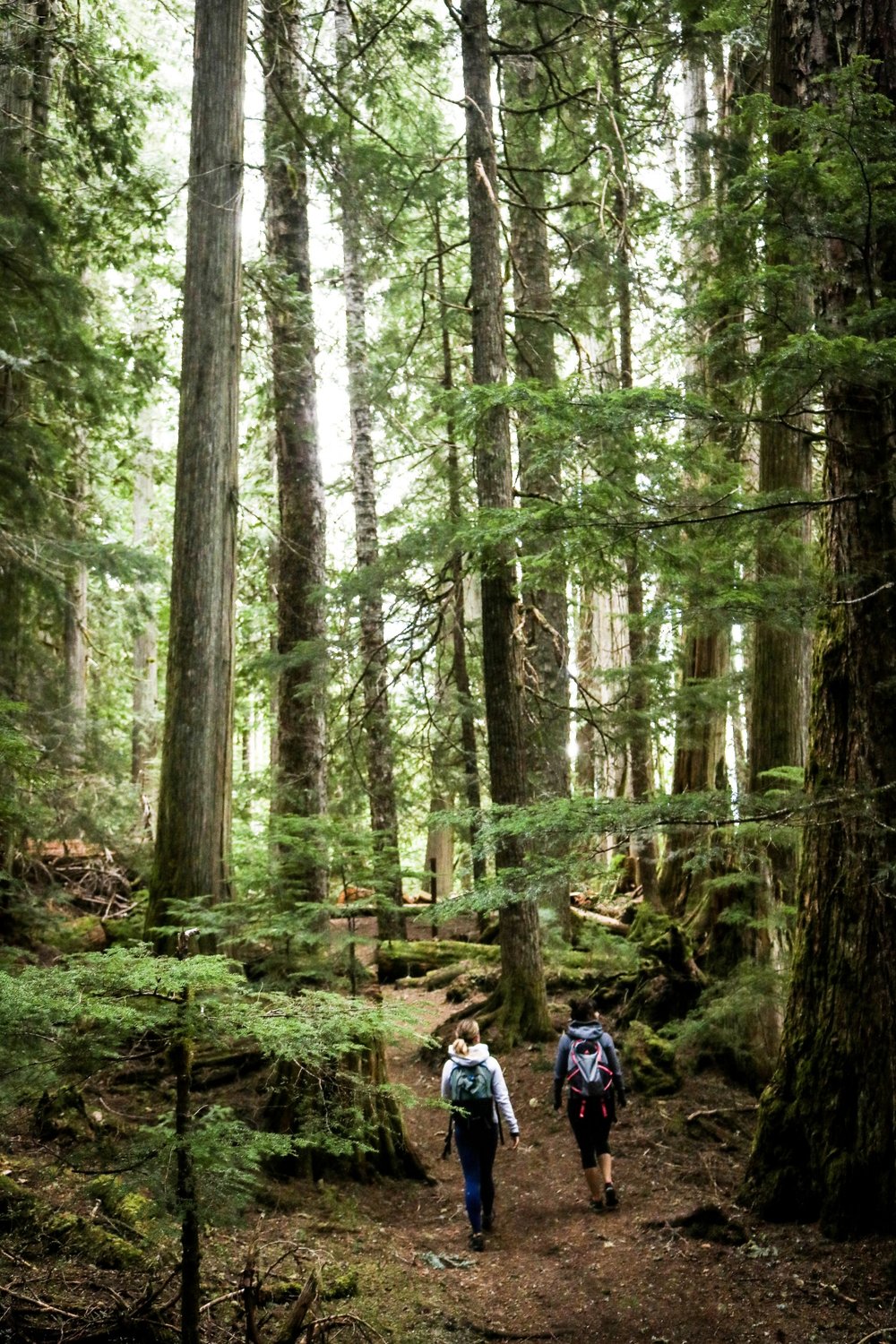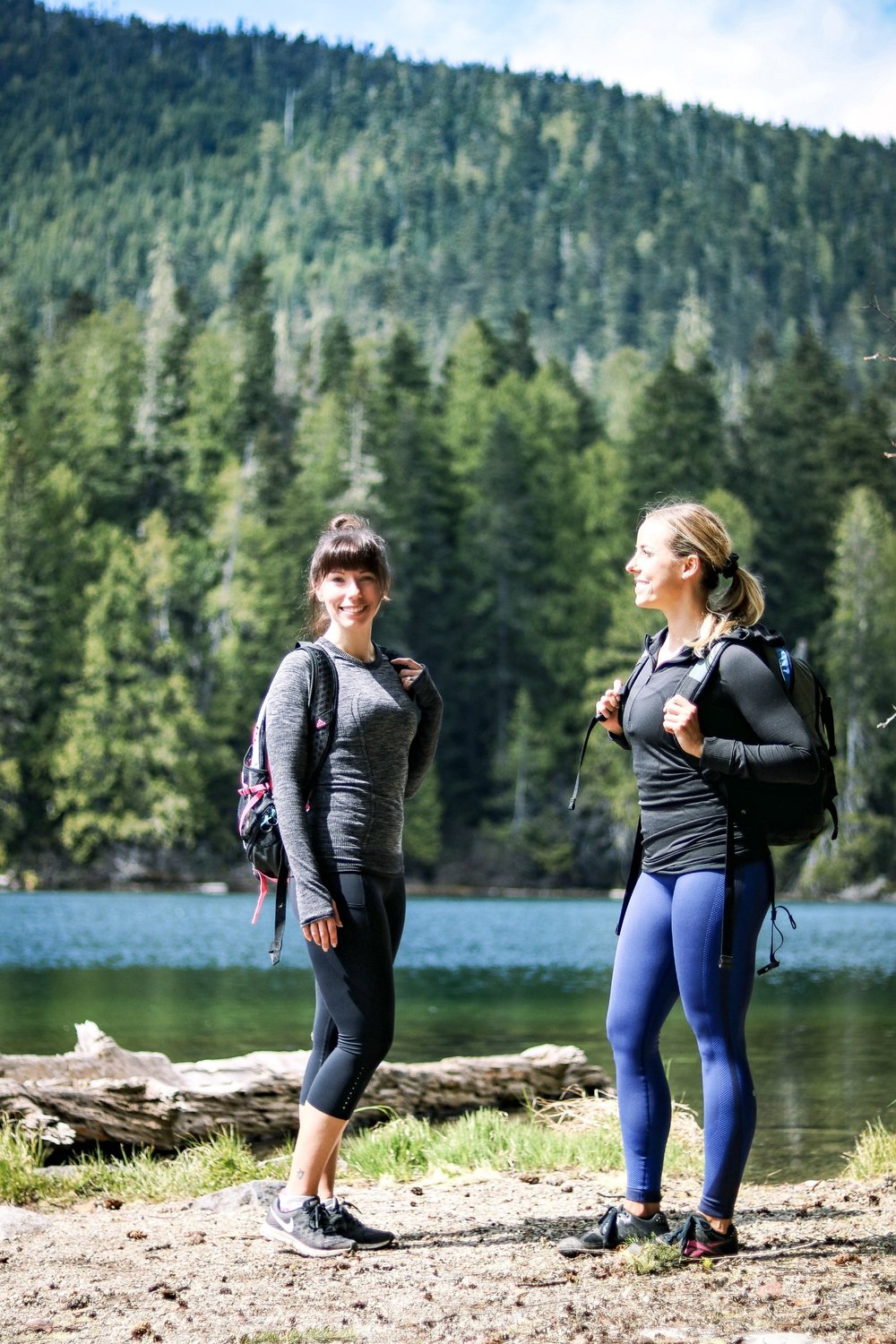 And then you arrive. When the winds are calm like they were when we approached the lake, it seems like you can see the entire world reflected in the lake's surface. My heart always grows a little bigger and I can breathe a little deeper when I arrive at Cheakamus Lake.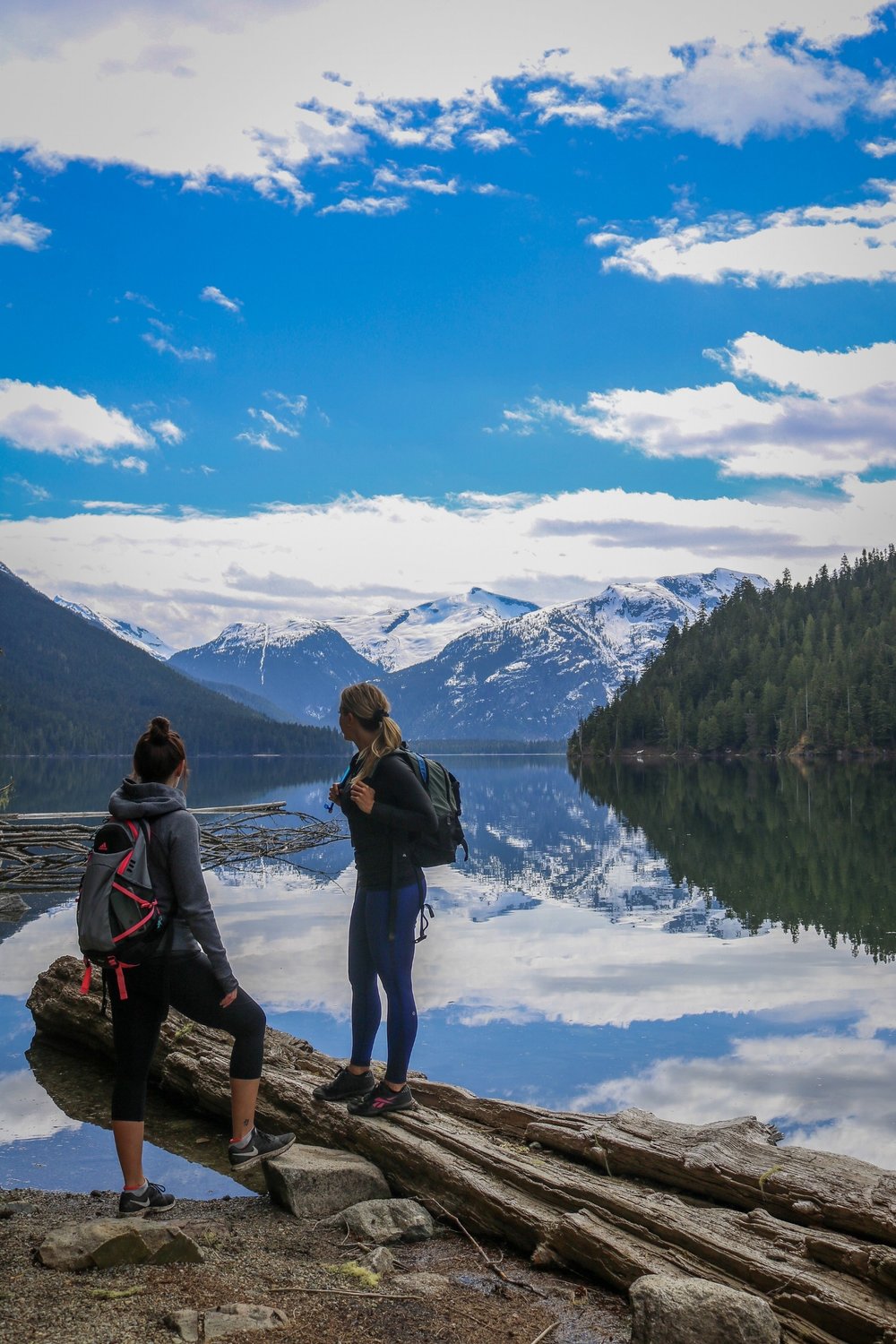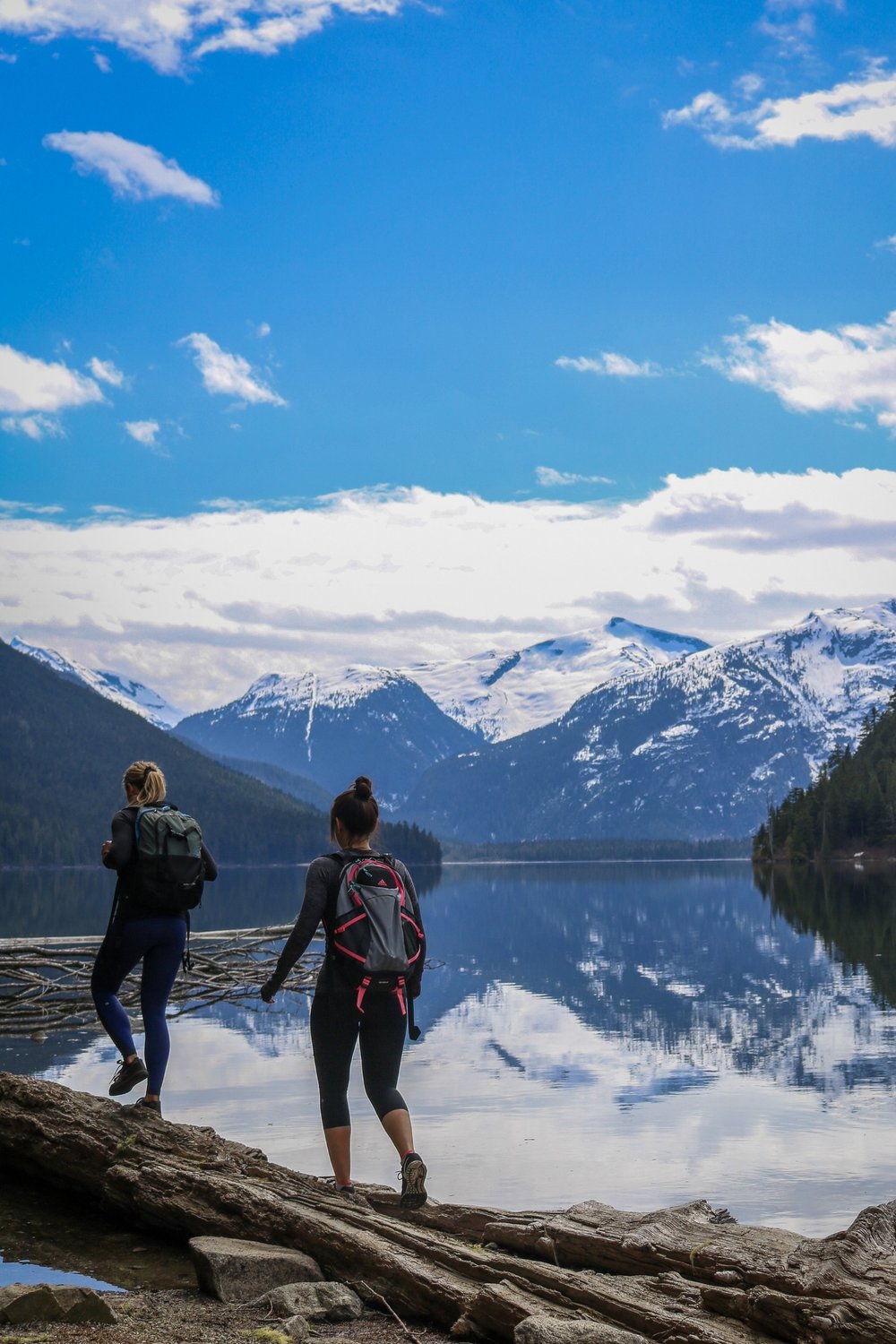 Now sit back, relax and drink in that gorgeous view. And if you're there early season like us, you will have this majestic scenery all to yourself.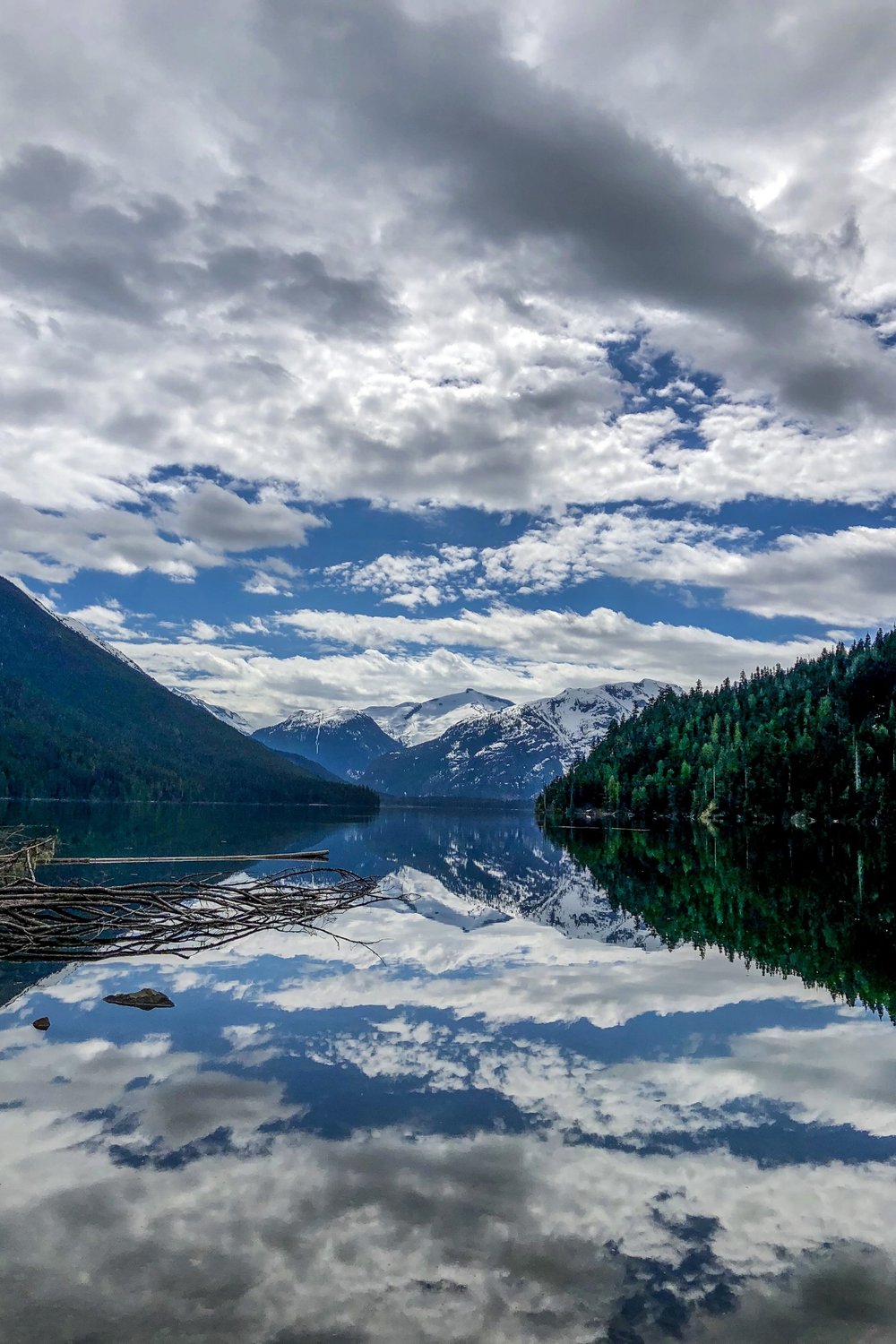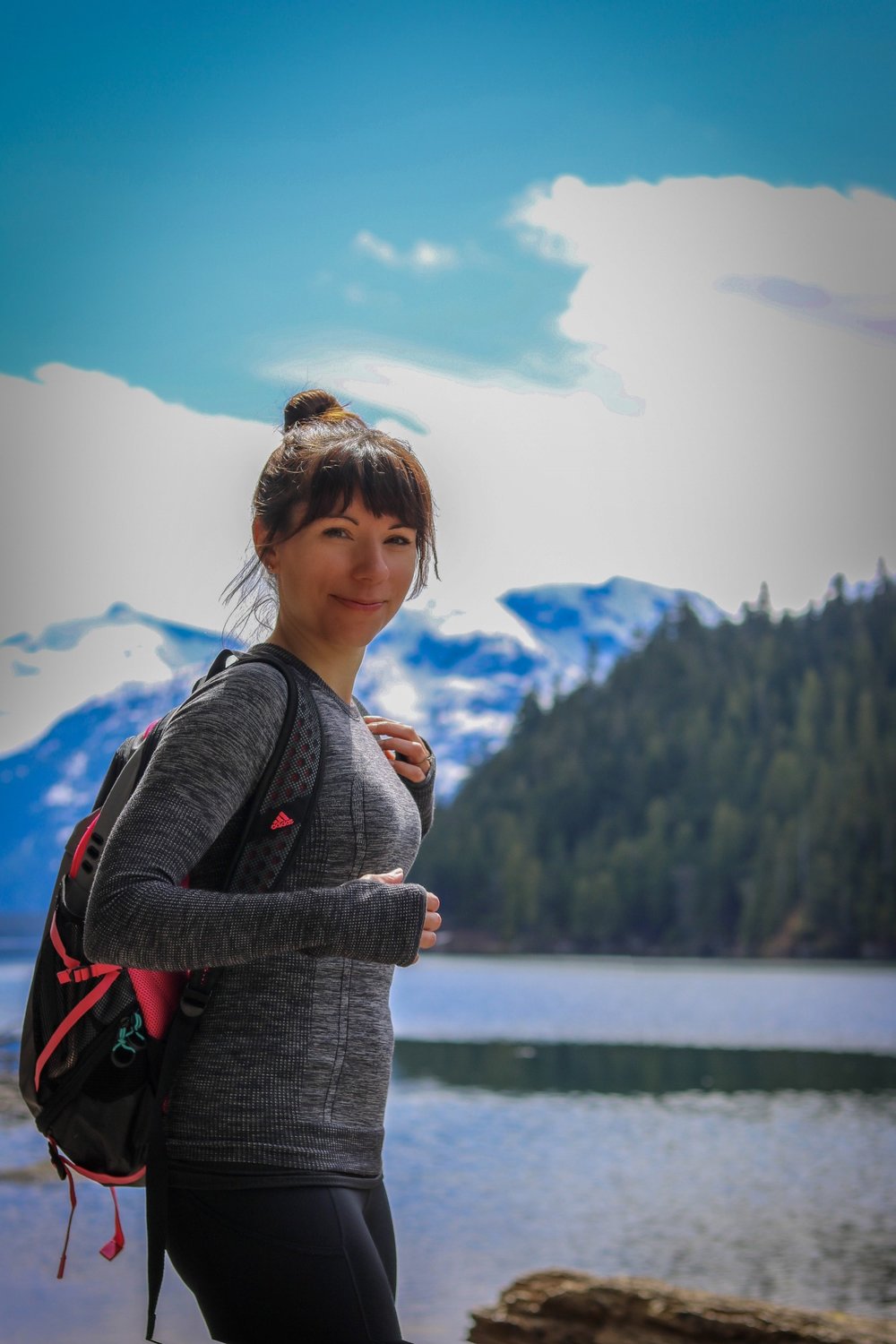 The fine print… there is an outhouse at the start of the trailhead and also at the lake. They're usually stocked with tissue however don't take your chances if you're hiking in the spring. We were glad we had brought our own! There is snow, slush and mud on the trail so ensure you have adequate footwear. Sturdy runners are fine but hiking boots would be better. Leave the sandals at home. Also, the mosquitoes are the size of small dogs and their bite is just as fierce so make sure you bring heavy duty bug spray and use it liberally. We did not do this and a week later, I'm still regretting it. Ouch.
This is the first in a summer hiking series that Meaghan and I will be doing. I'll be giving the ins and outs of where to hike in Whistler, when, and how to prepare for each while Meaghan will be providing training tips on how to ready yourself for each progressive hike. So stay tuned to my blog for more posts coming your way!
In the meantime, which hikes would you like to see us conquer and cover for you? Tell me below.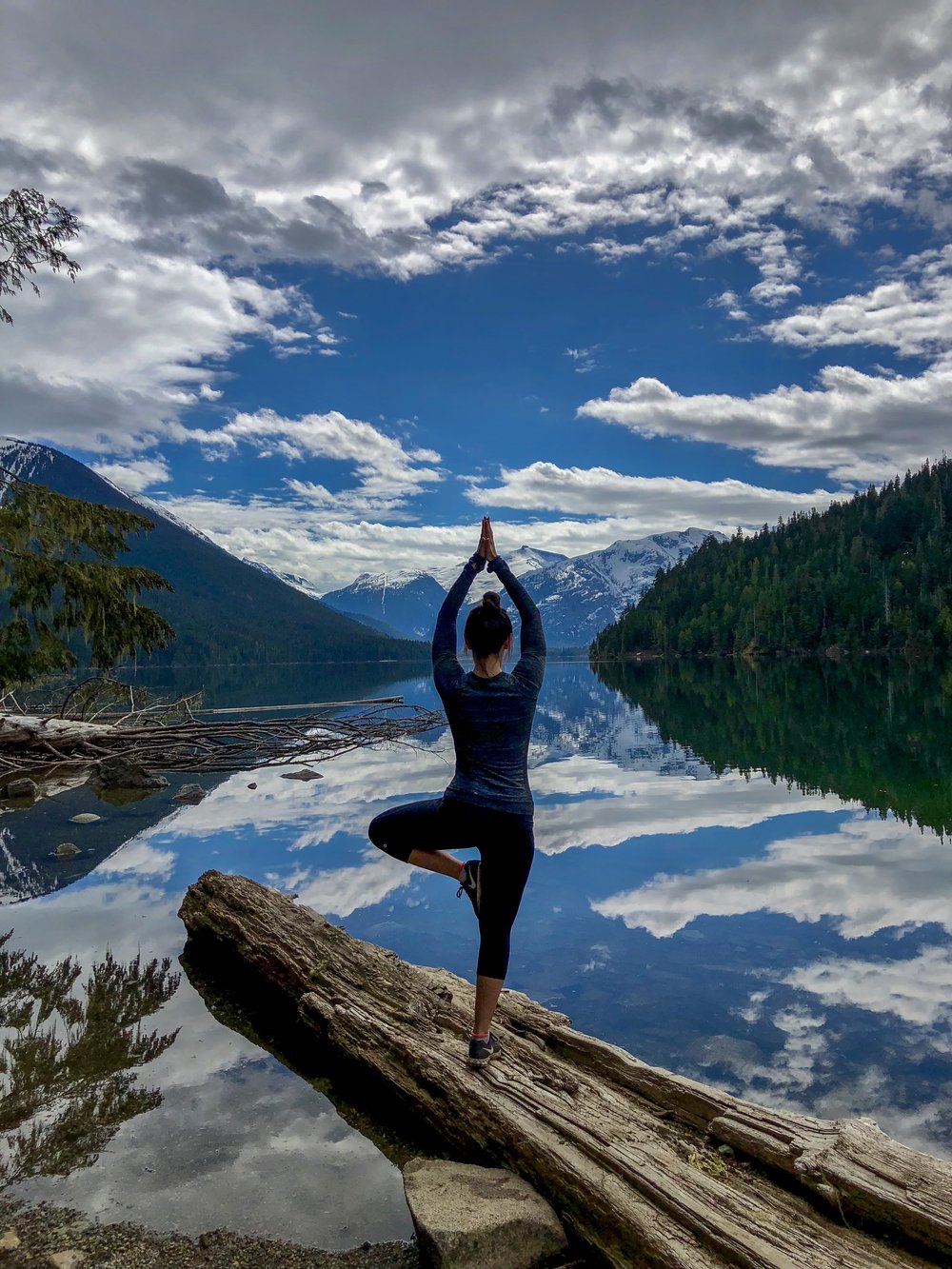 DID YOU DO THE HIKE?
Don't forget to tag #PeakTraining and #WhatLynnLoves
in your post so we can follow your adventures!
#PTxWLL
Photography by Bryn Peaker + Lynn Gervais