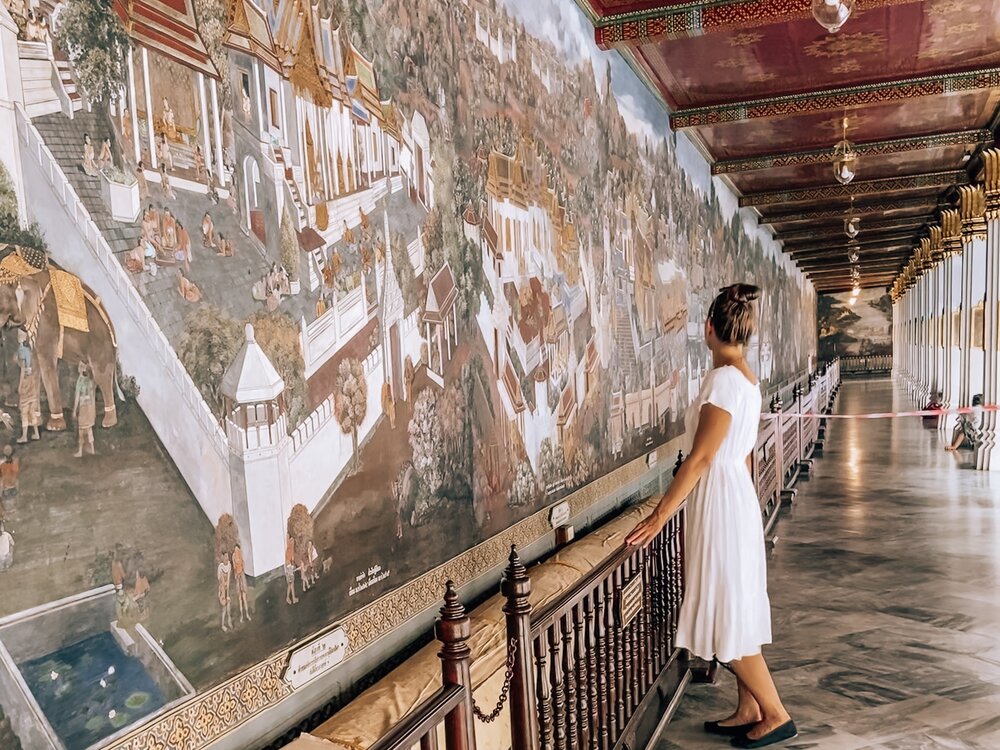 Bangkok has never really been high on my travel bucket list, if I'm being honest. Planning a beach vacation or holiday in the mountains is more my style than large cities however we decided that if we were spending a two weeks in Thailand then we should at least spend a couple nights in Bangkok. I have to admit, I really loved Bangkok! The city is much more lush than I expected and it's super walkable – both of which are really important to me. Naturally, there's a lot of pollution and seeing the amount of garbage in the river was truly shocking so brace yourself for that (and do your part to make smart eco-conscious choices).
GETTING AROUND BANGKOK
Taxis, Ubers and tuktuks are very safe and reliable in Bangkok however the train network is extraordinary and efficient. You can easily get from Suvarnabhumi Airport Bangkok Airport (BKK) to downtown Bangkok in about 30 minutes for just a couple dollars, as well as around to the temples and markets by train. There are also river boats and ferries that run through the city adding an interesting way to get around Bangkok and seeing the city. Downtown Bangkok is also easily walkable so I highly recommend staying in central Bangkok for this reason.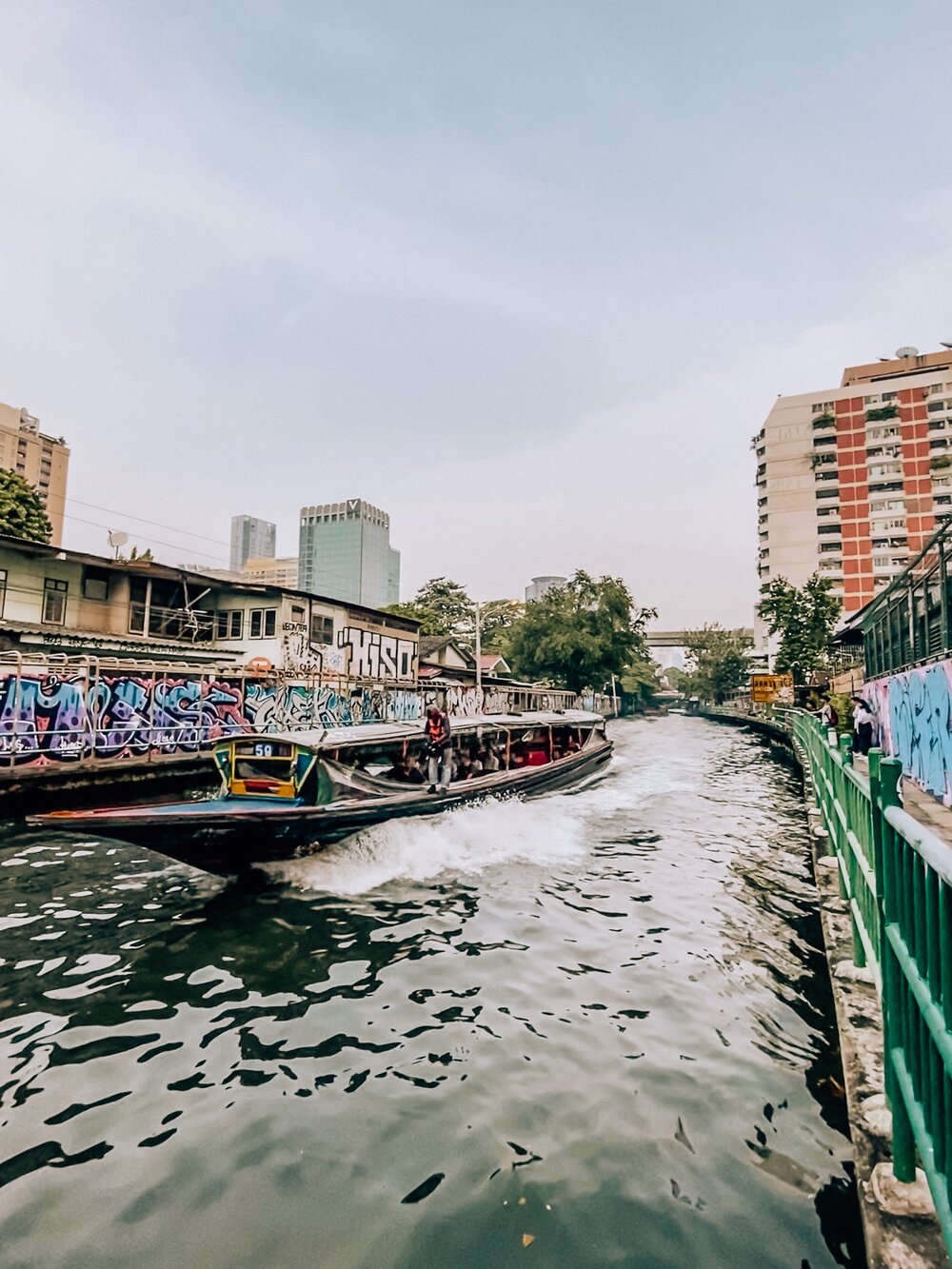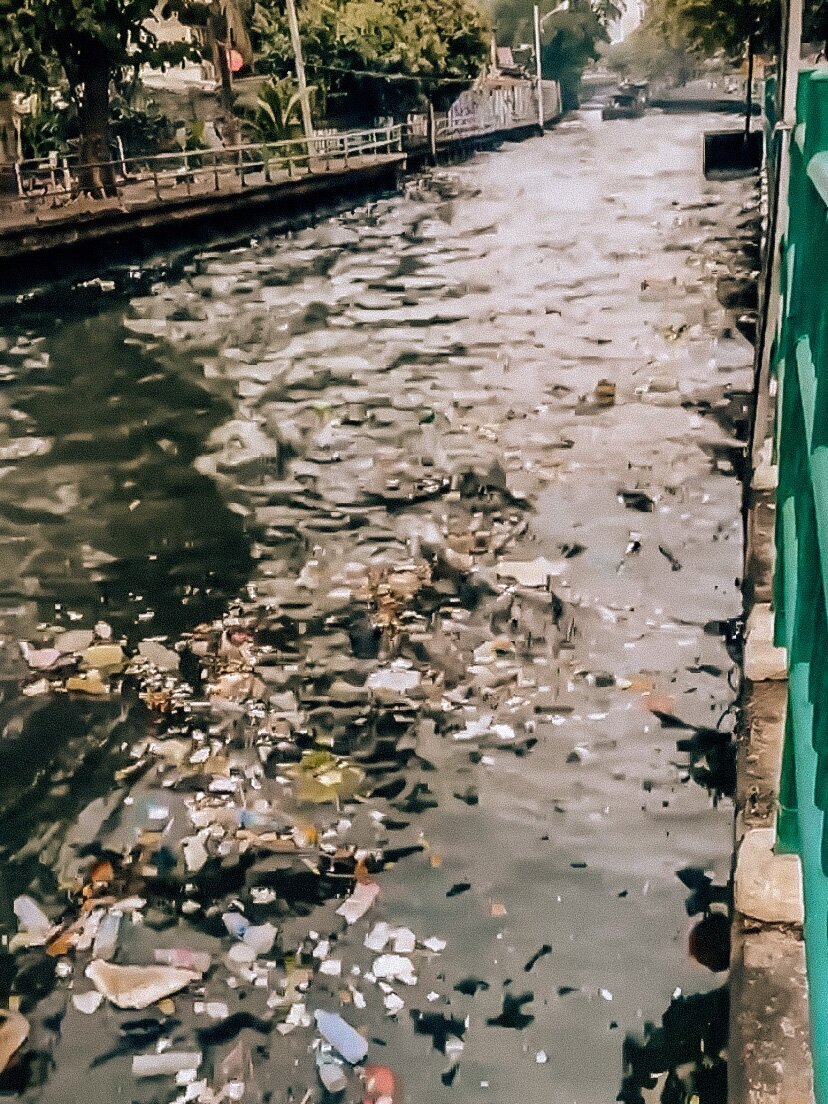 WHERE TO STAY
If you're looking for recommendations on where to stay in Bangkok, I highly recommend VIE Hotel Bangkok, MGallery Hotel Collection. The downtown Bangkok location is so ideal; it's super close to the Airport Rail Link train, walking distance to shopping and restaurants, and it's the perfect hotel for families. the VIE Hotel is a luxury five star Bangkok hotel that has gourmet restaurants, an award-winning spa, a rooftop infinity pool, and luxurious accommodations. Also, accommodation for families in Asia is challenging because most hotels have a maximum capacity of 3 guests which i've never understood however VIE Hotel Bangkok hotel rooms accommodate 4 guests.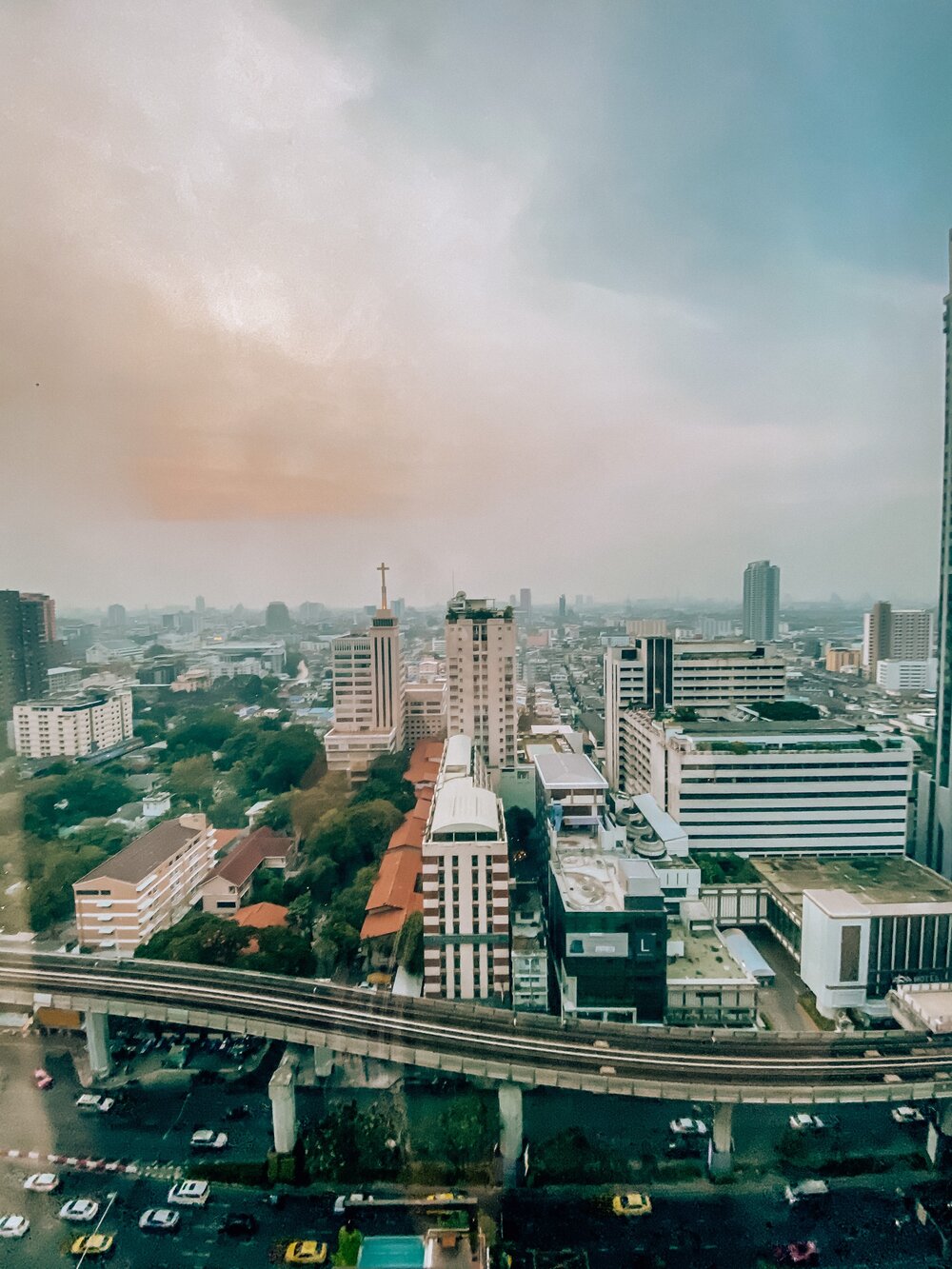 WHERE TO EAT
The best coffee cafe for breakfast in central Bangkok is Casa Lapin. They have excellent coffee, vegan breakfast bowls, eggs benny, and waffles among other things. However it is a bit pricey for Thailand and the service can be a touch slow which is fine if you're having a leisurely morning but be mindful if you're in a rush to get somewhere.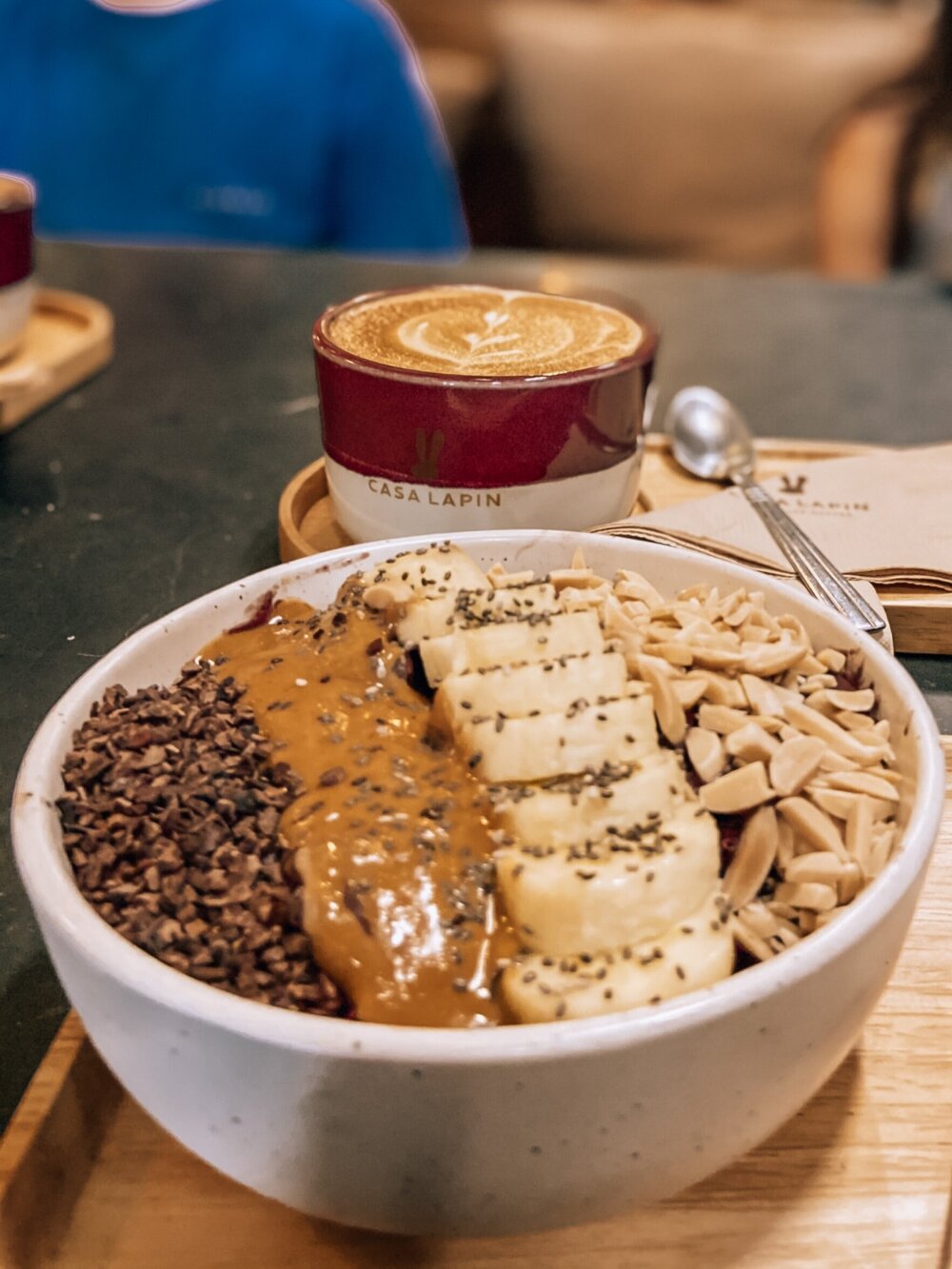 The best place to eat lunch in central Bangkok is B-Story Cafe. It is a charming 2-storey cafe that is full of whimsy and the perfect place to take Instagram photos, too. They offer an eclectic mix of western and Thai foods, and they make cute animal shapes with their lattes.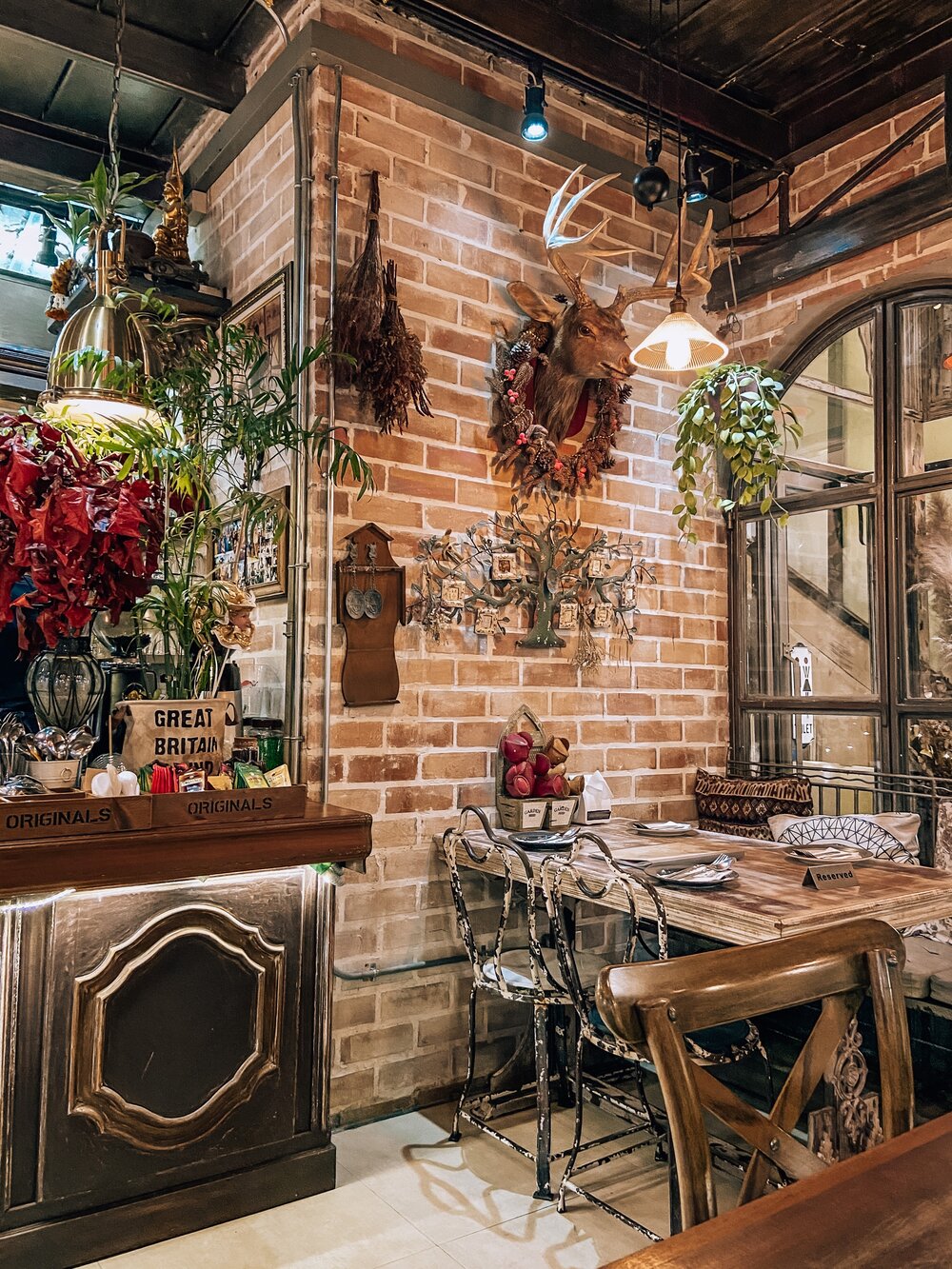 For the best Thai restaurant in downtown Bangkok, Ban Khun Mae is a must. This was one of the best meals I had on the trip and the menu was comprised of classic Thai dishes and innovative ones like Pineapple Fried Rice. And we literally ate the peanut sauce with a spoon. So good.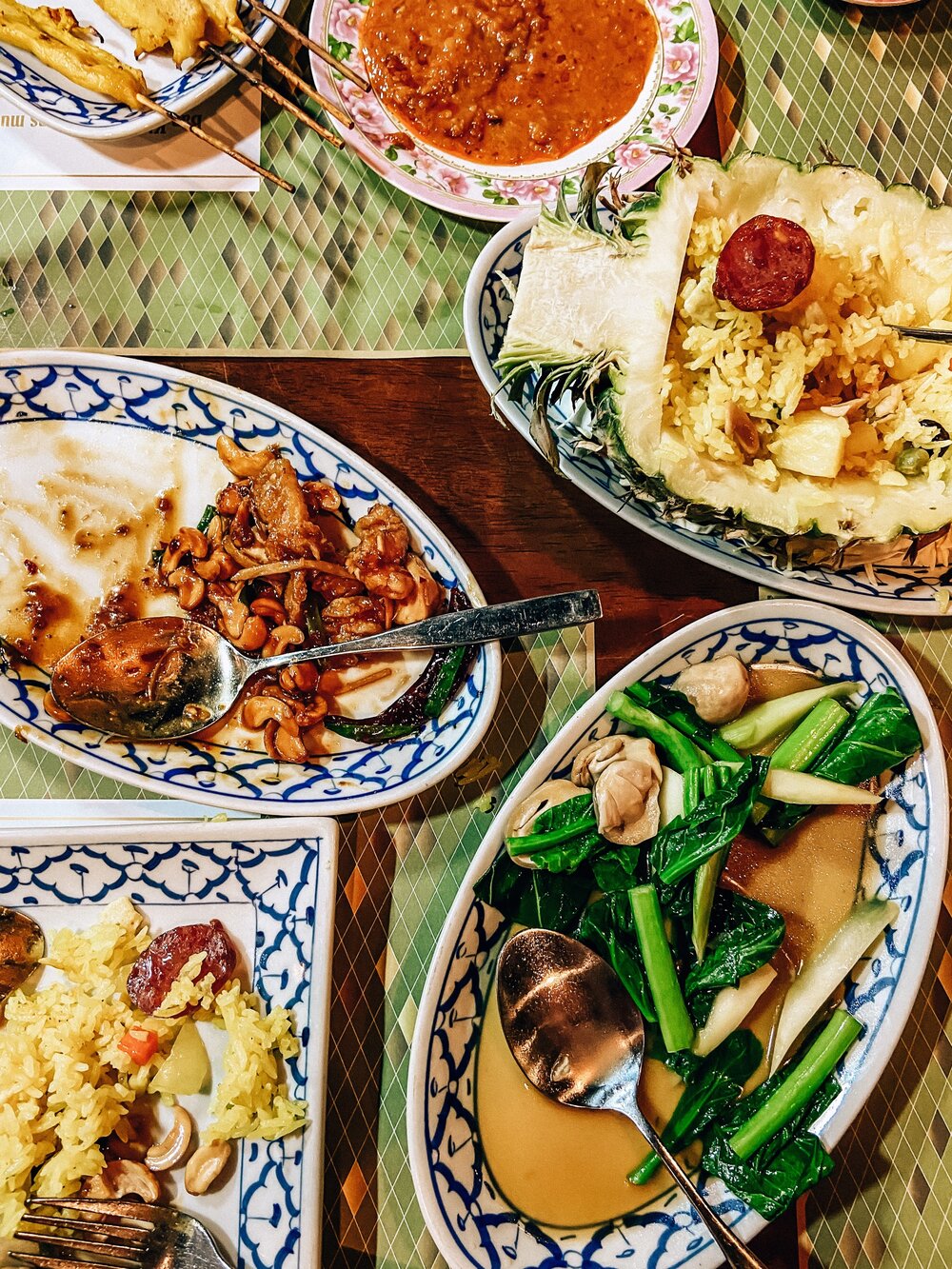 We were wondering where to go at night for dessert, and I am so glad we chose the Caturday Cat Cafe. It is so fun and unique. I mean, I could have chocolate while playing with kitties – what's not to love? The cafe design is quirky and another great Instagrammable spot in Bangkok.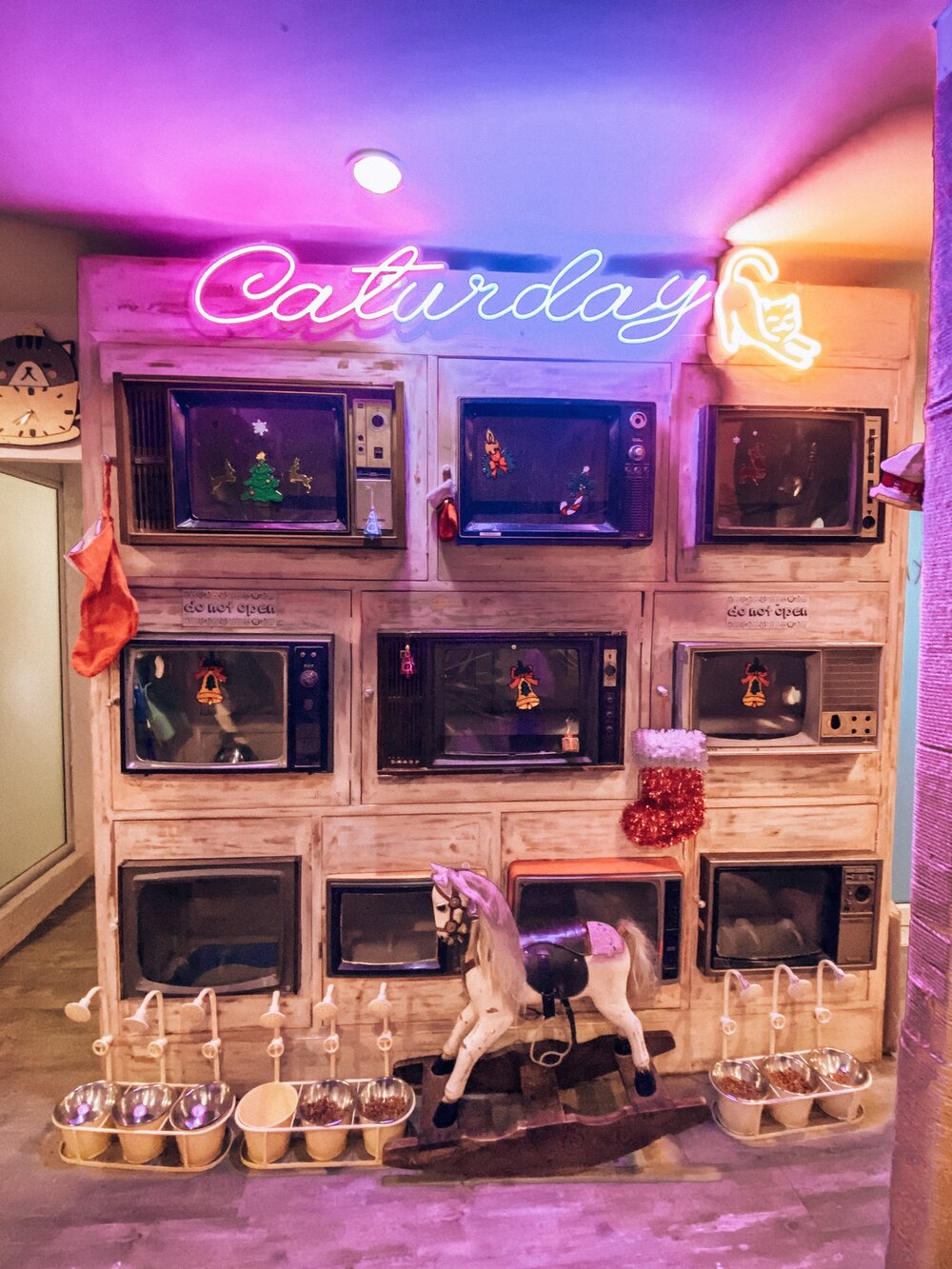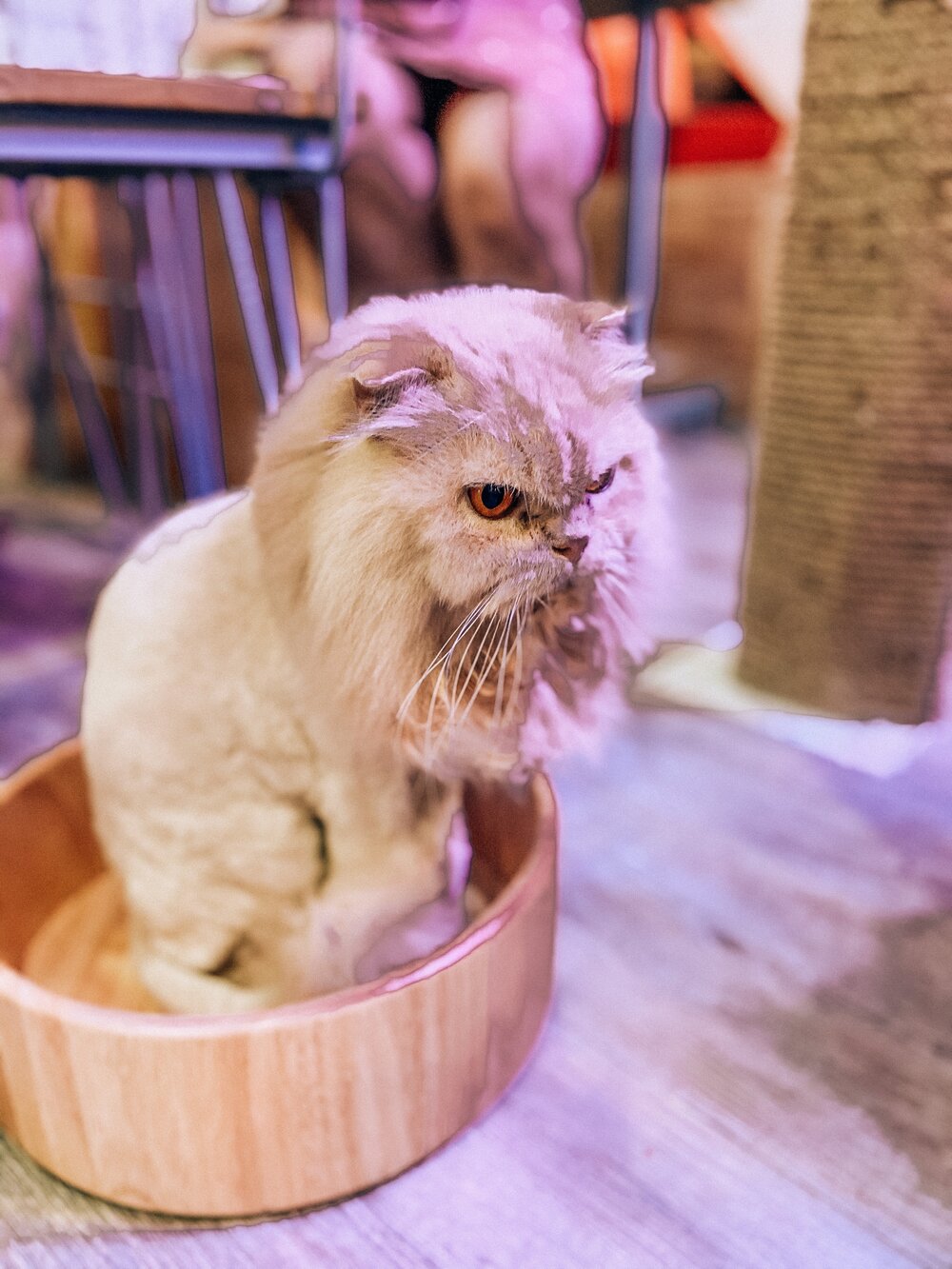 WHAT TO DO IN BANGKOK
The Grand Palace, former home of the Kings of Siam, is actually a collection of buildings and halls spread across numerous lawns and courtyards. It's absolutely stunning but consider yourself warn: it is a zoo. Honestly, mobs like this are my worst nightmare with travelling. Even though we went in the morning (we got their at about 10 am) and the masses of people were already so large that we could barely move around. We tried to get around everywhere and take photos but after about an hour, we cut our losses and left.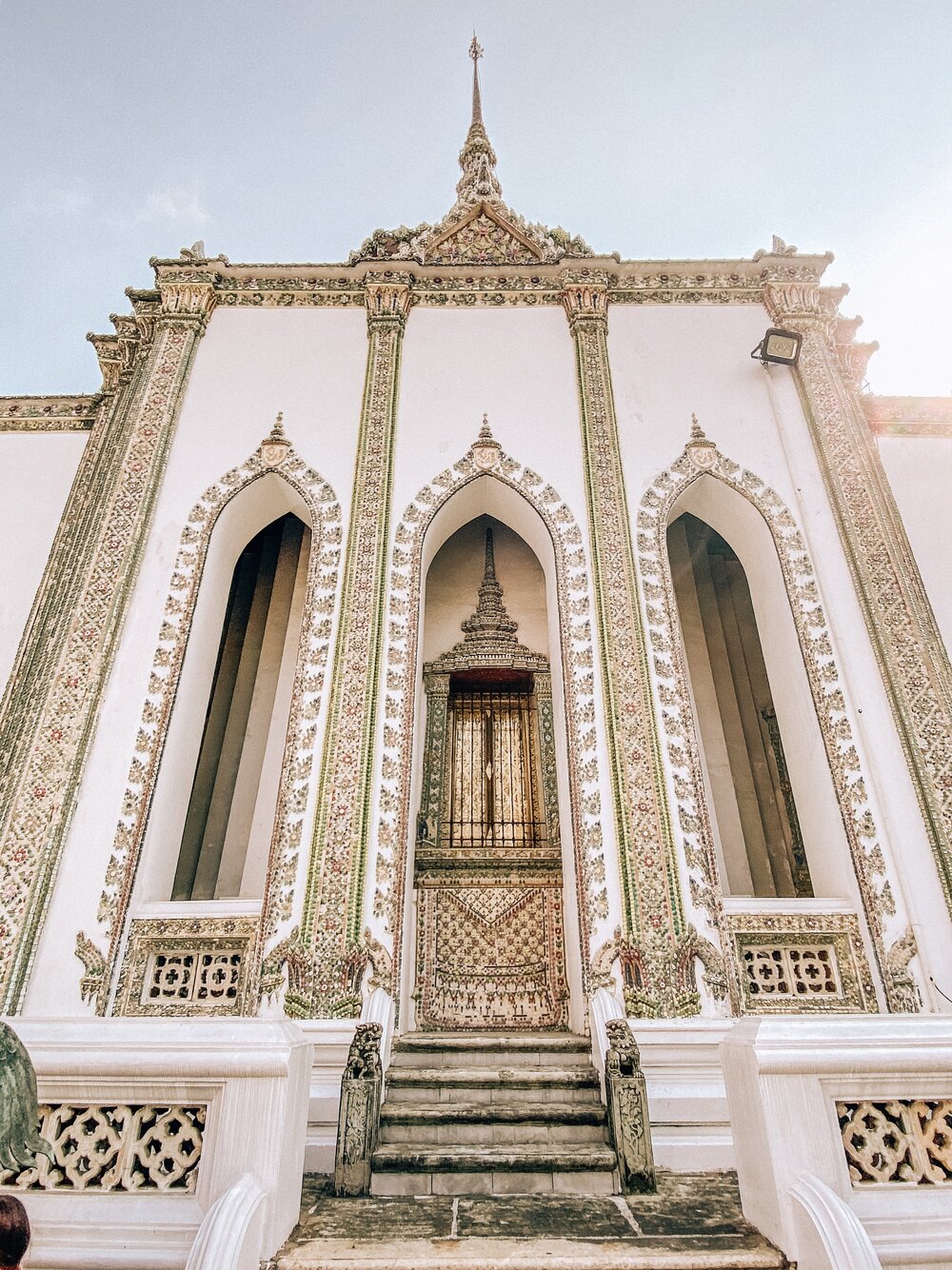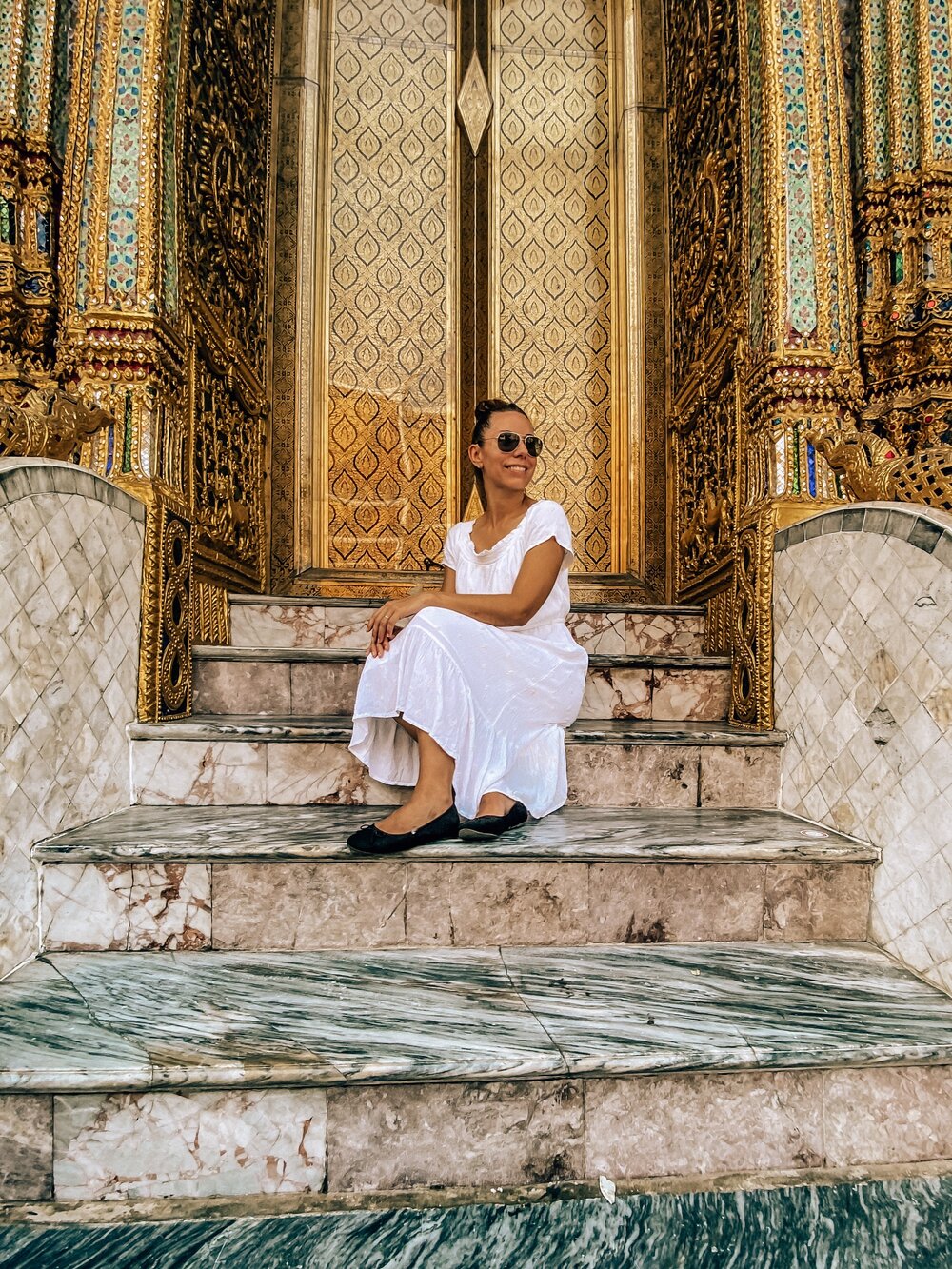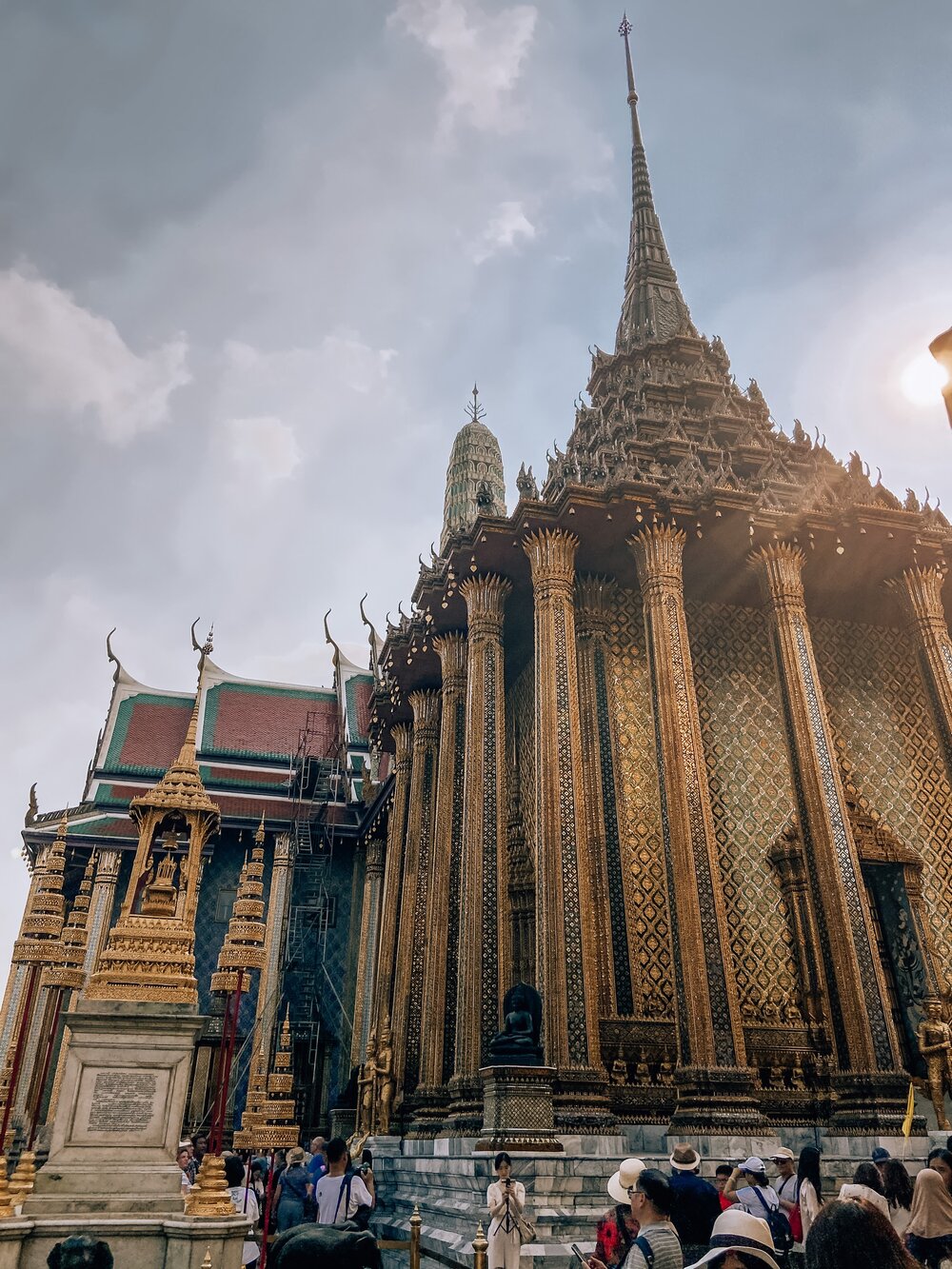 When in Thailand, you MUST treat yourself to a foot massage. Luckily for you, I tried two places because, you know, research. P. Plean Massage is directly across the street from Vie Hotel. It's about 200 Thai Baht (about $10), or less as they often have deals, for a one-hour foot, leg, and shoulder massage. Next to P.Plean Massage is another spa that's just called MASSAGE (you can't miss the gigantic sign). It's smaller but the staff are super friendly and equally good at massage. I actually took my husband and children here for massages as a family activity on our last day in Bangkok and they loved it! Neither of these places have websites but you can find them on TripAdvisor and Google Maps.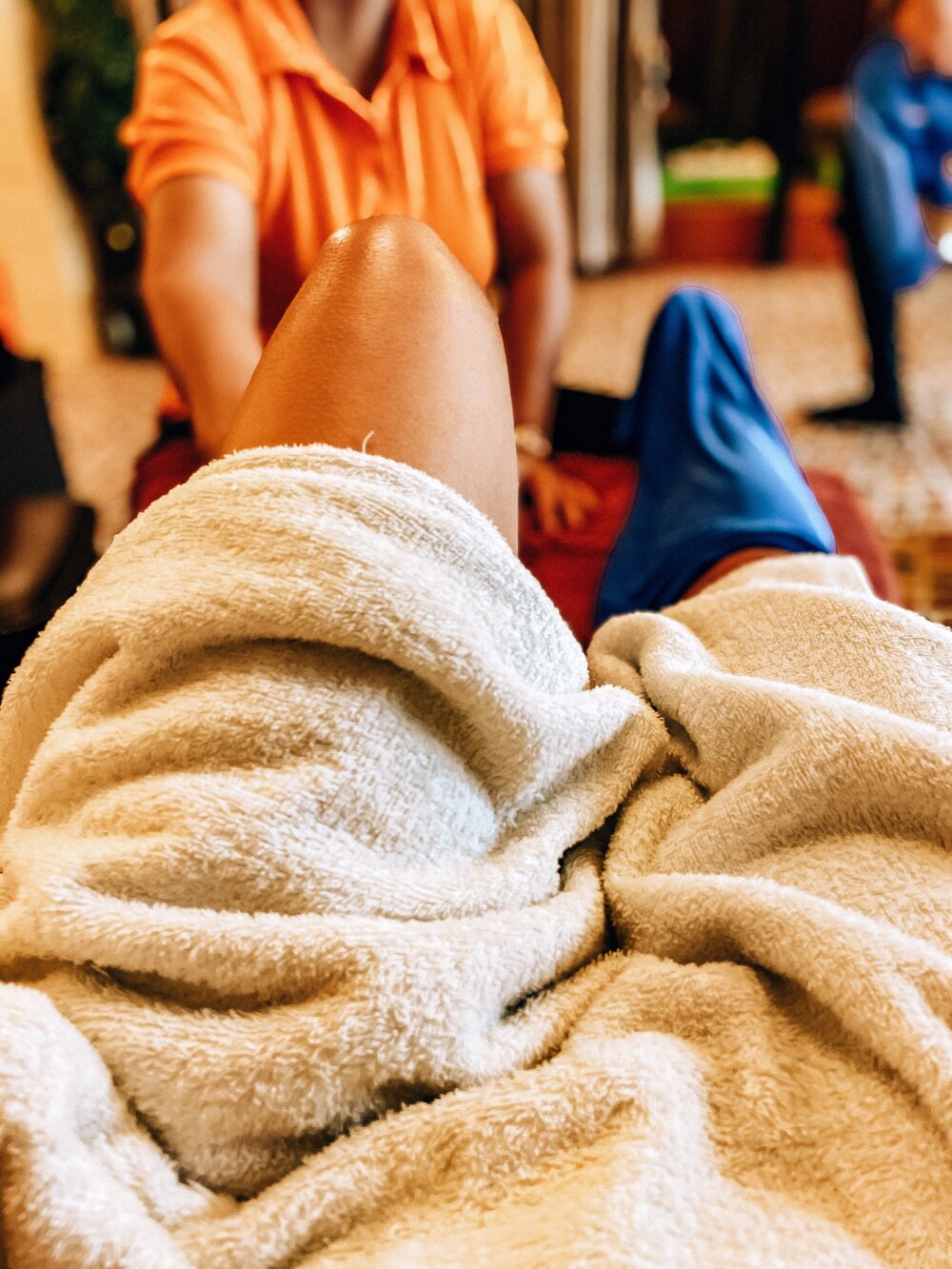 WHERE TO SHOP
Markets, markets, markets. I think Chatuchak Weekend Market is the best market in Bangkok. With 15,000 stalls over 35 acres, Chatuchak is one of the largest markets in Asia. If you're wondering where to buy souvenirs, shop for clothing and household goods, or eat street meat, you'll find everything you need here. Getting to Chatuchak Market is really easy, too. It's just 8 stops away from VIE Hotel on the BTS Skytrain, and only costs about $1.
If you're looking for unique, luxury shopping in Bangkok then visit the Jim Thompson House Museum. You can enjoy the gardens and cafe, visit the museum, or shop for luxury silk clothes and home decor. Jim Thompson House is in central Bangkok and about a 10 minute walk from VIE Hotel.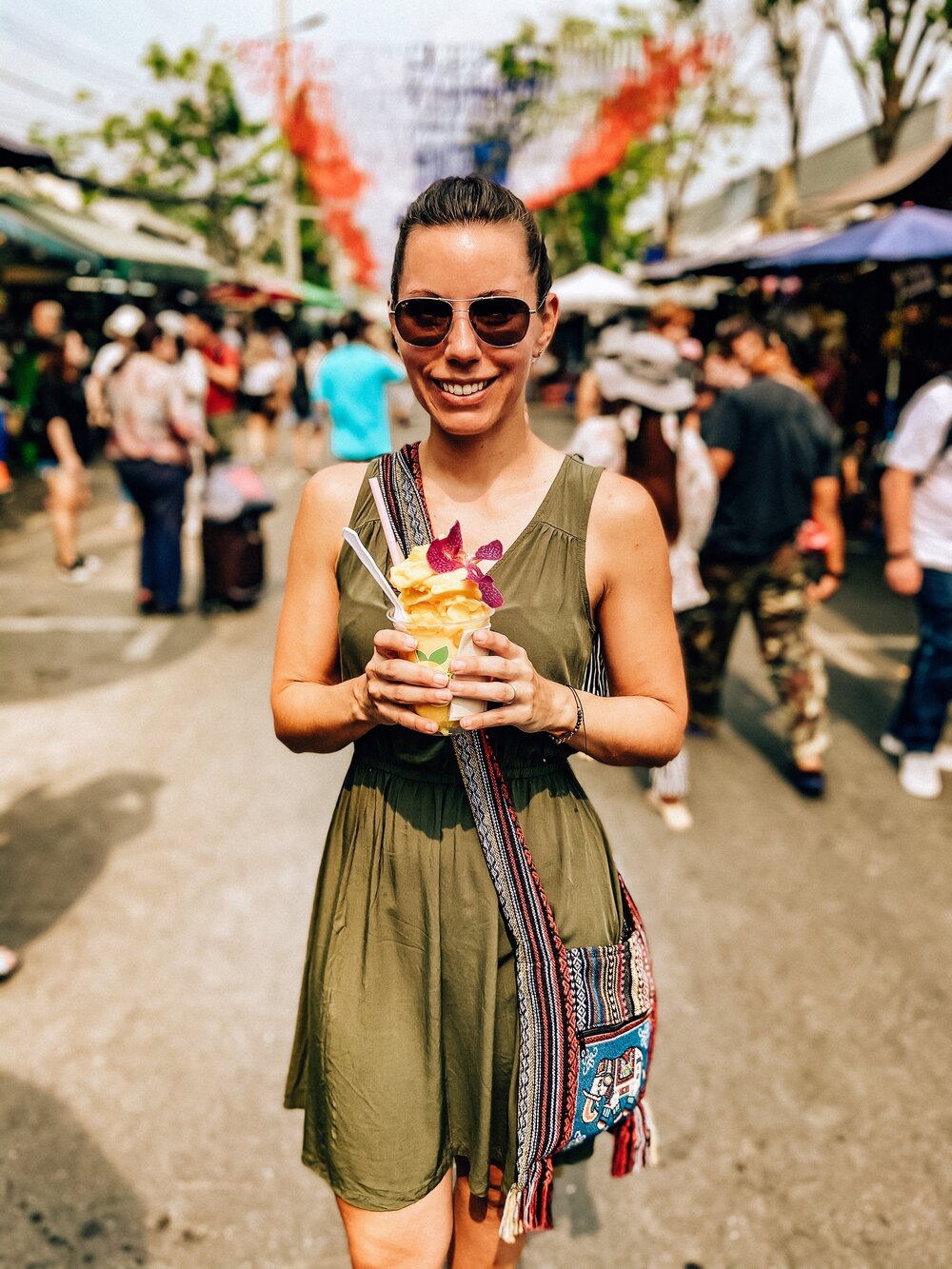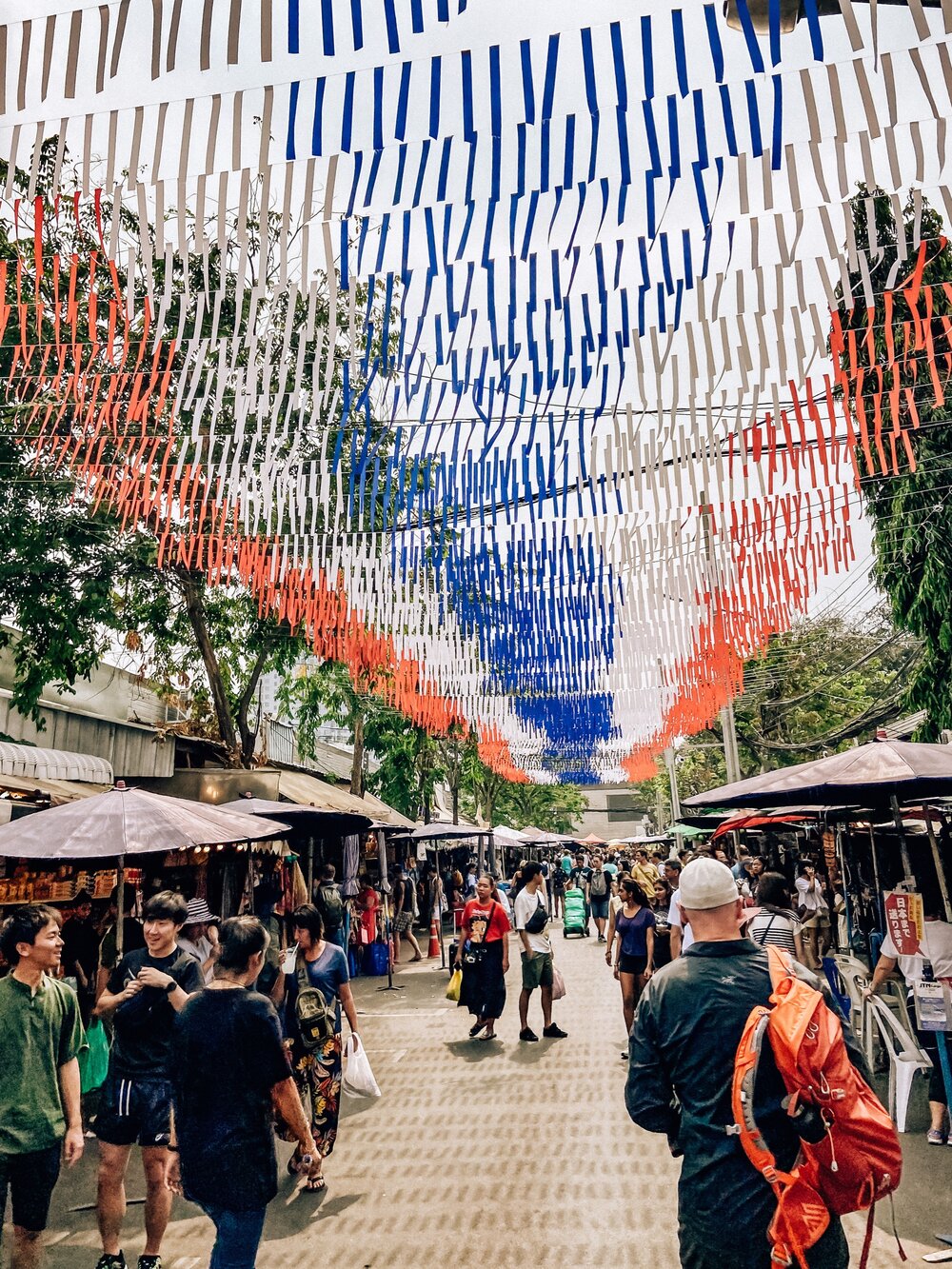 Have you been to Bangkok Thailand before and if not, is it on your bucketlist? I'd be curious to know your thoughts on why or why not.
SAVE TO PINTEREST FOR EASY REFERENCE