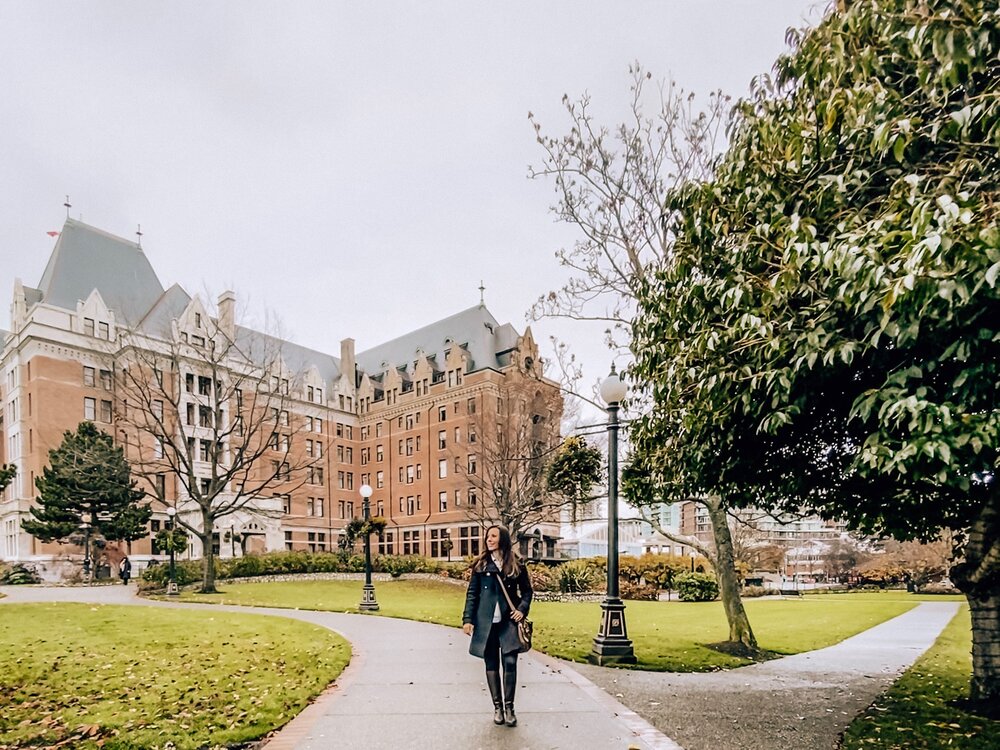 My stepdaughter recently turned ten years old and I wanted to treat her to a little getaway to mark the special occasion, being double digits and all. I decided a girls weekend to Victoria, Canada – including accommodation at the Fairmont Empress and the legendary Afternoon Tea at this iconic Vancouver Island hotel – would be the perfect birthday treat.
My absolute favourite way to travel from Vancouver to Vancouver Island is by seaplane.
Harbour Air flies from downtown Vancouver to Victoria harbour, literally steps away from the Fairmont Empress. The flight is only 35 minutes and so incredibly scenic. You can also fly from the south terminal at Vancouver International Airport – so convenient!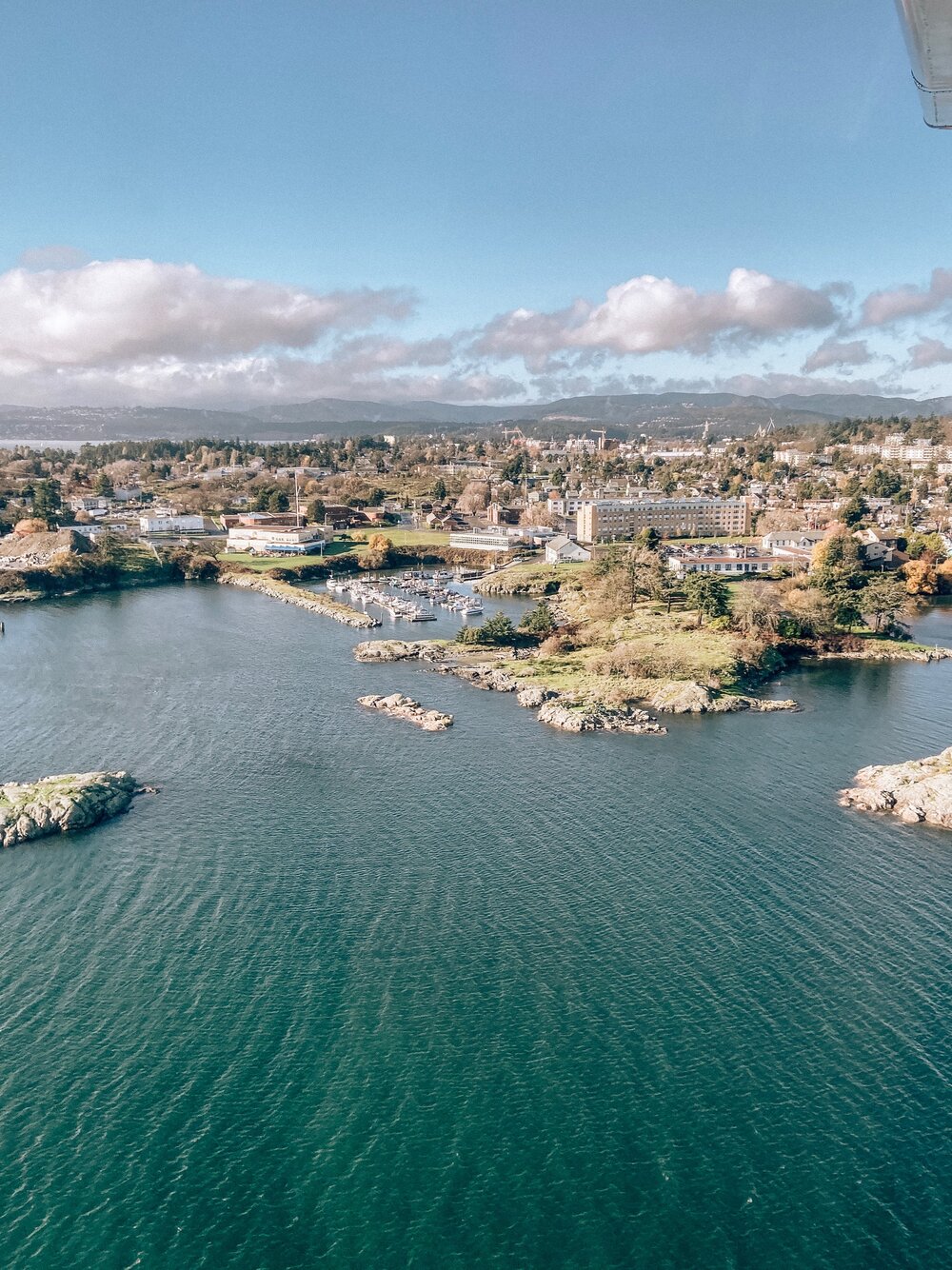 When we arrived, our room wasn't quite ready yet so we explored the hotel. The Fairmont Empress is super kid friendly and gave us a really cool scavenger hunt to do around the hotel. It's such a great way to keep kids busy and educate them, too! Once completed, they can bring it to the Front Desk to collect a prize. Pure brilliance if you're in Victoria for a family getaway and looking for things to do for your kids.
Once we checked into our room, we couldn't believe the views! We were on the sixth floor and had incredible views of Victoria harbour. Our room at the Empress was really spacious with a king bed, pull out sofa, and two televisions. There was also a birthday cake and other goodies awaiting our arrival, which was so sweet! By the way, the Fairmont in Victoria recently completed a $60-million renovation in modern art deco and pure luxury (like this chandelier in the lobby made of 250,000 crystals) – it is STUNNING.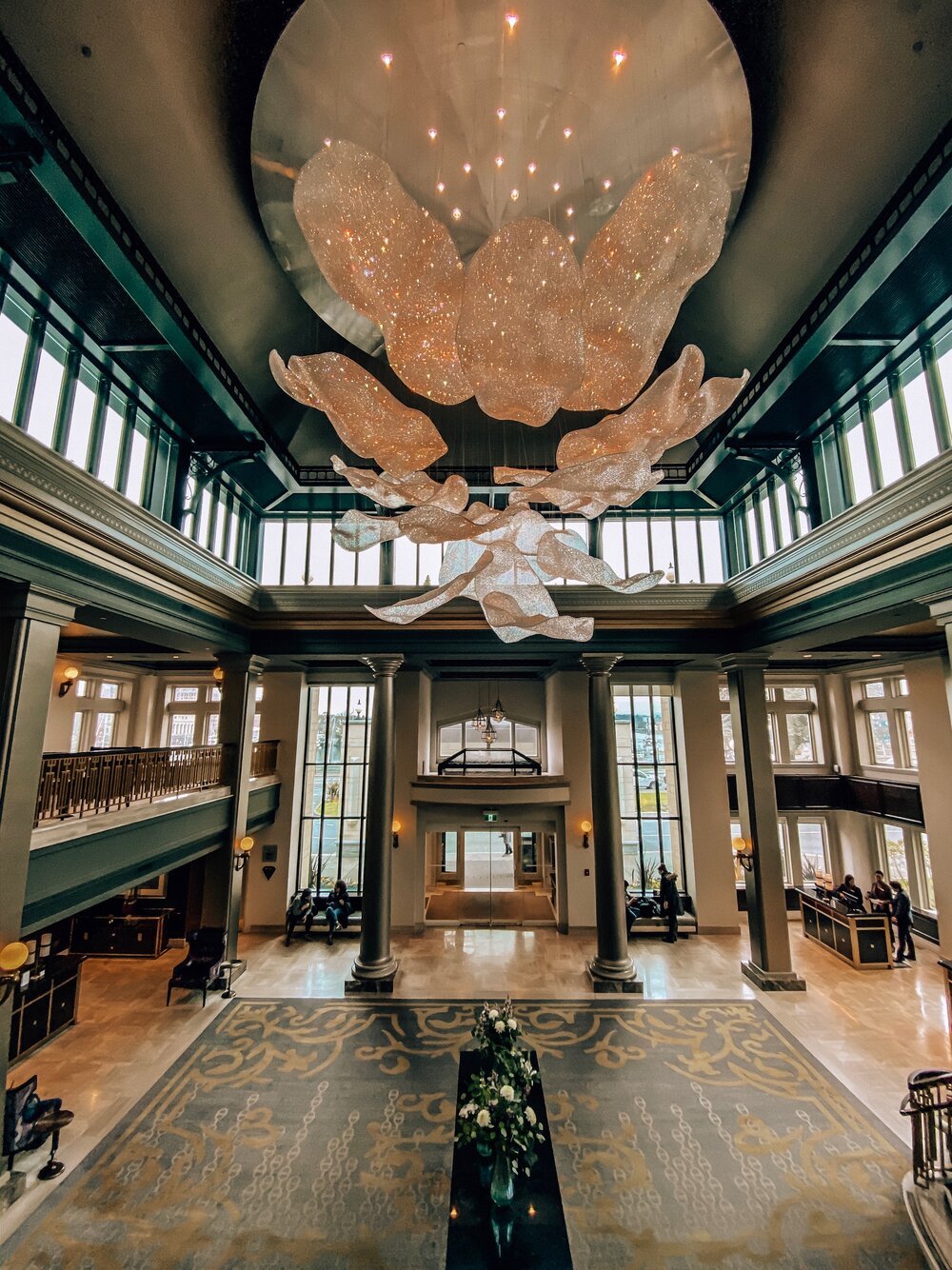 Afternoon Tea at the Empress is a must for anyone visiting Victoria, British Columbia. The Fairmont serves more afternoon tea in a day than most hotels in London – and for good reason. This has been part of the Empress experience for over a hundred years and the china used was designed specifically for King George VI and Queen Elizabeth during their visit in 1939.
When we arrived at the Lobby Lounge, we were presented with a birthday gift: two tiaras to wear during our Afternoon Tea! The amazing staff then explained the entire tea process to us, and naturally they also offer Children's Afternoon Tea at the Empress – it's called the Prince or Princess Indulgence. We certainly felt like royalty.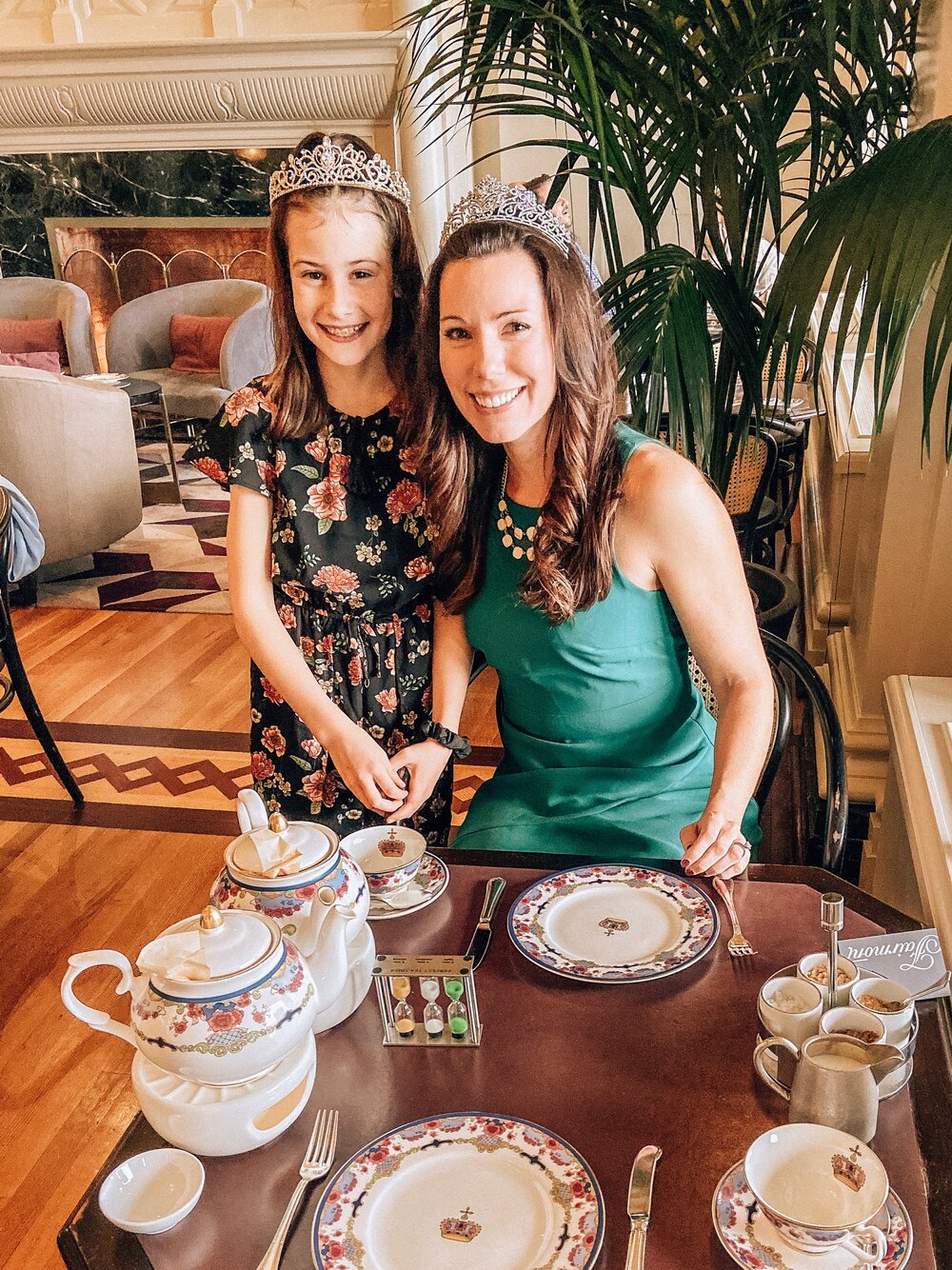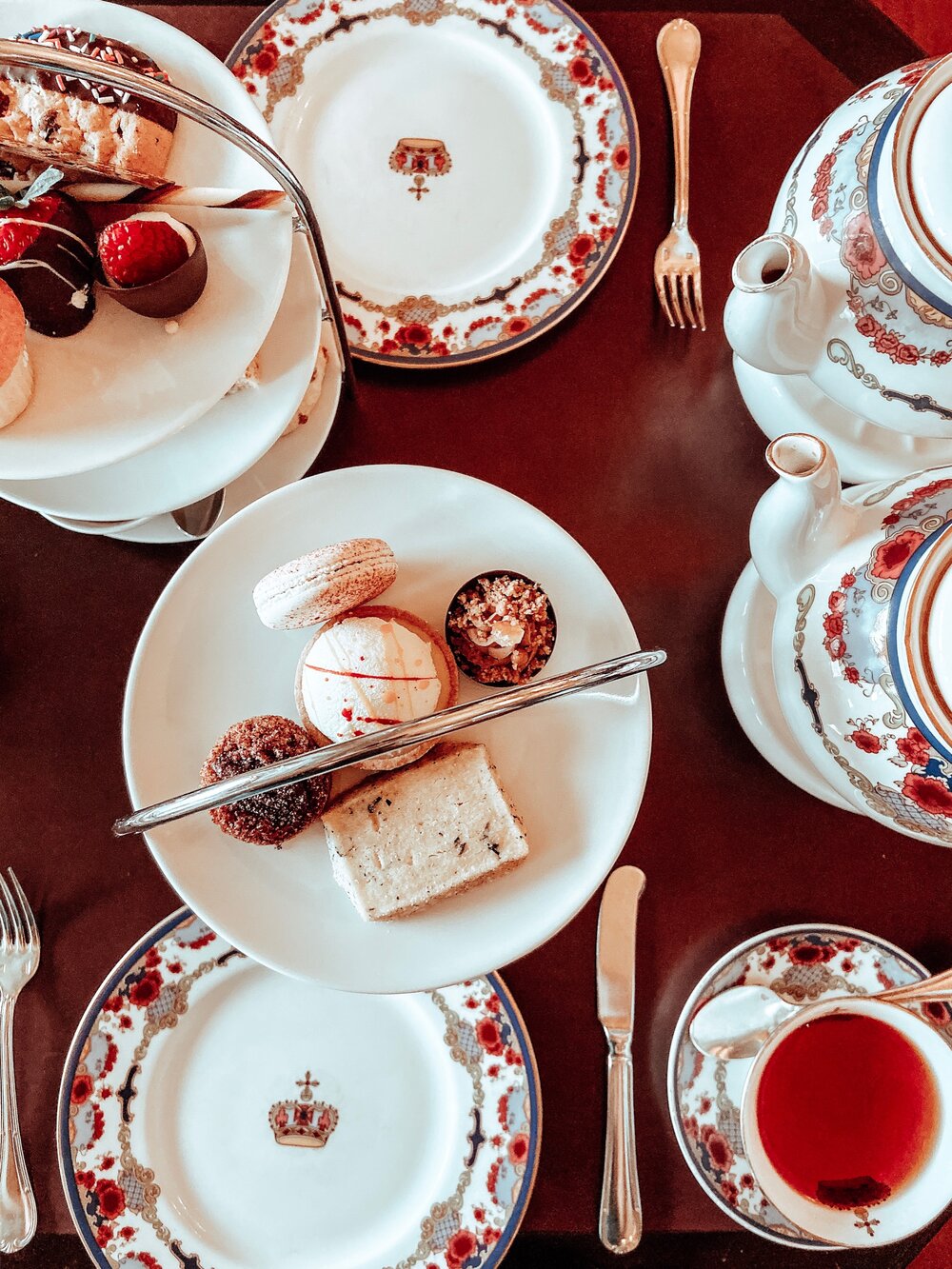 A stay at the Fairmont Empress deserves a trip to the Willow Stream Spa, or at very least a swim in the beautiful pool and soak in the hot tub. We did our best to live our best #RobeLife (she more than I) and we agreed that we need to return when we have more than 24 hours in Victoria. Whether you choose the spa, the pool, or both one thing is certain – you'll be much more relaxed afterwards.
We enjoyed room service dinner that night and movies in bed. Considering how often I stay in hotels (around 25%-50% of the time these days), this is such a rarity for me and was a real treat.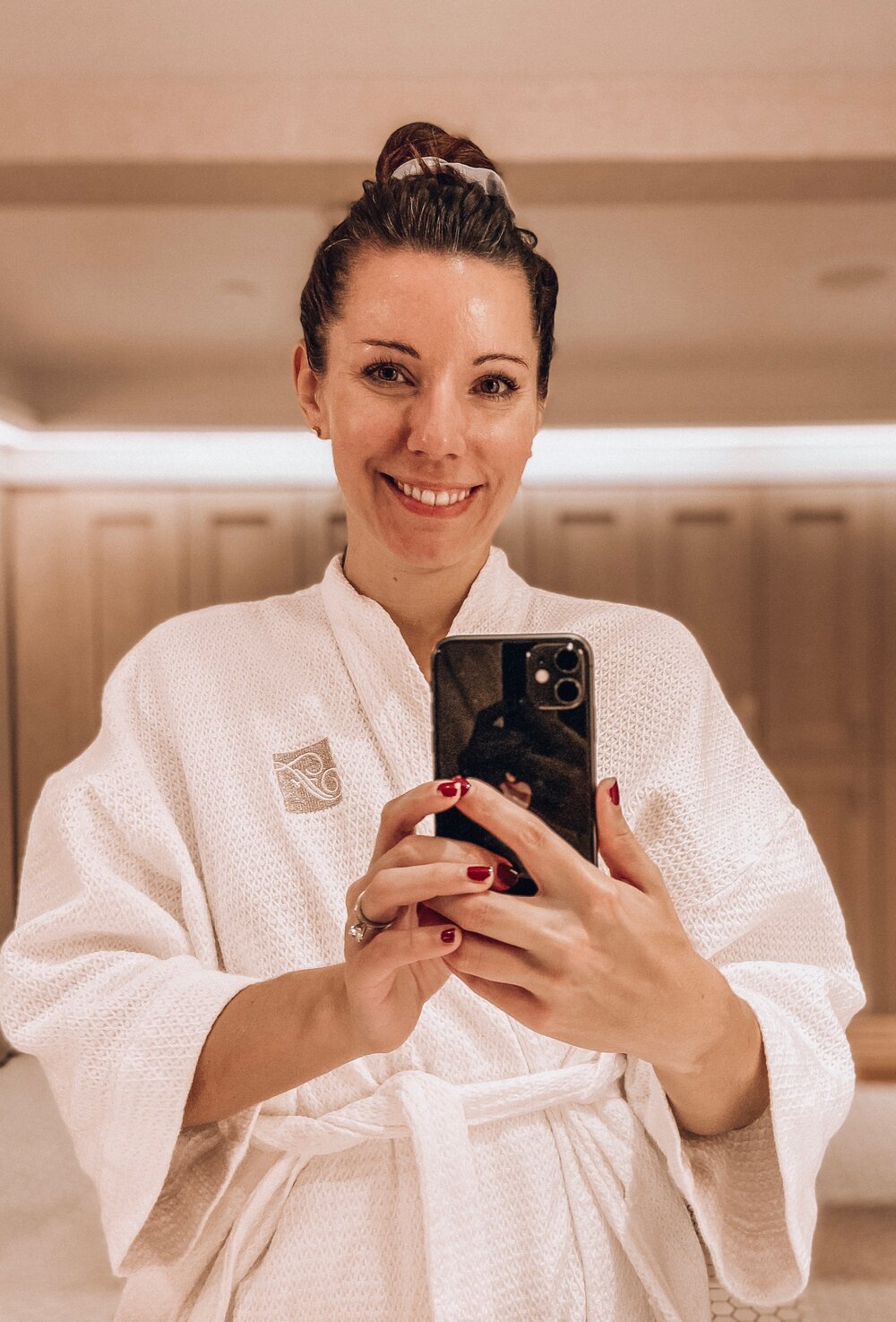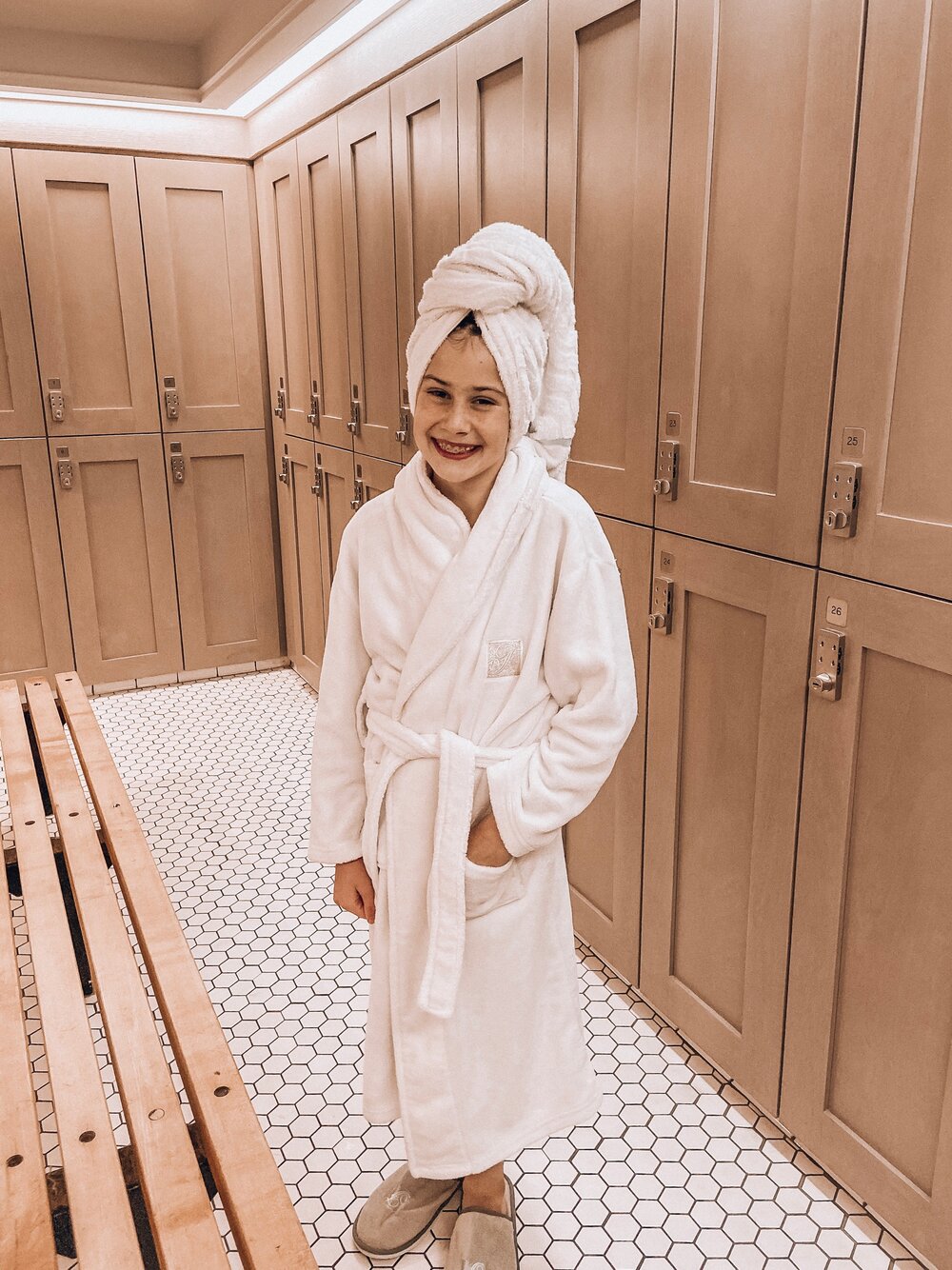 There are so many fantastic family friendly activities in downtown Victoria, literally less than a block from the Fairmont Empress. We chose to check out the Royal BC Museum, which has a very cool Maya exhibit on currently, because it was pouring outside and felt like the perfect rainy day activity on Vancouver Island. If we'd had more time, we would have visited the Victoria Bug Museum and the Parliament Buildings in Victoria but we'll just have to go back.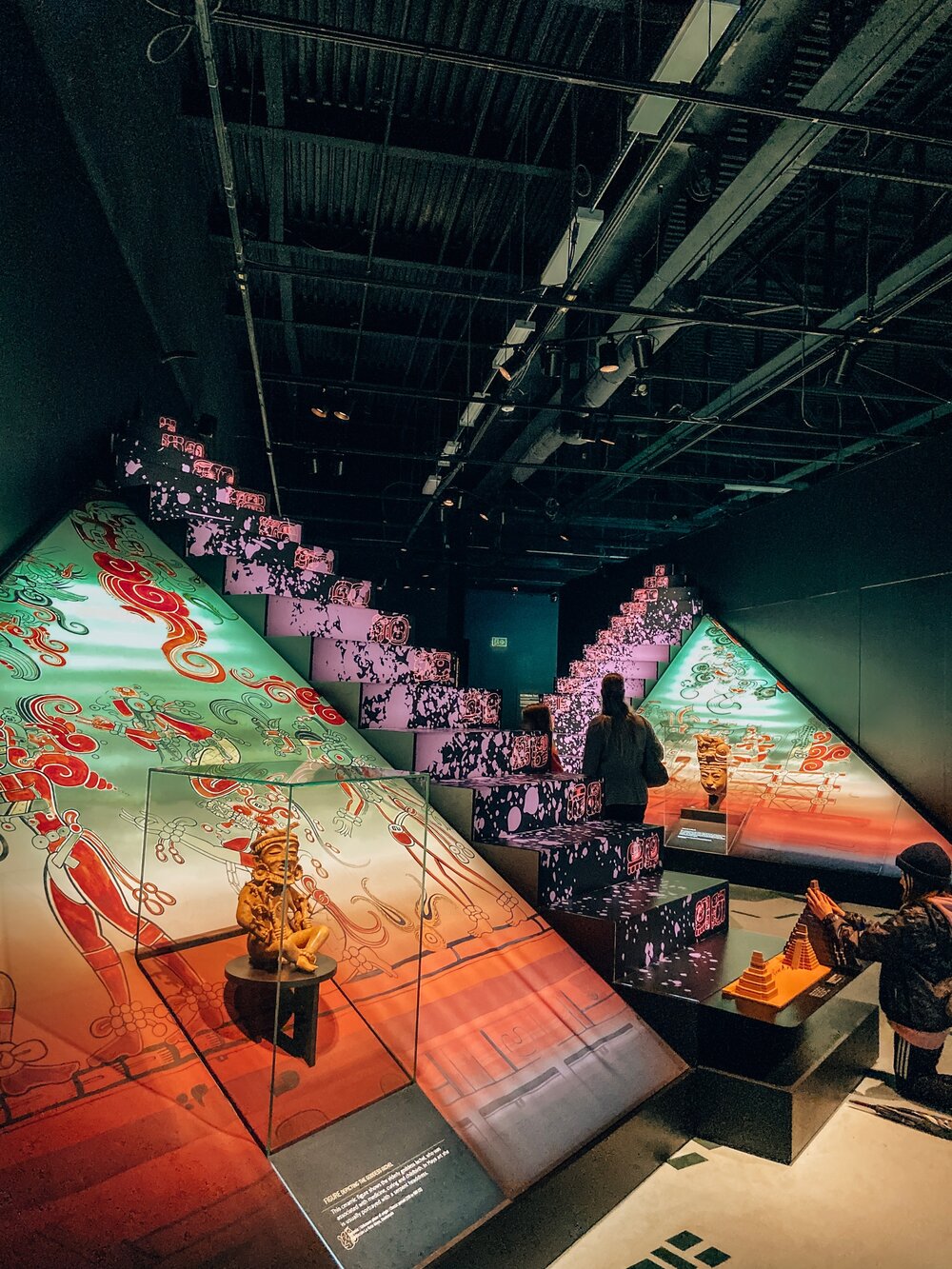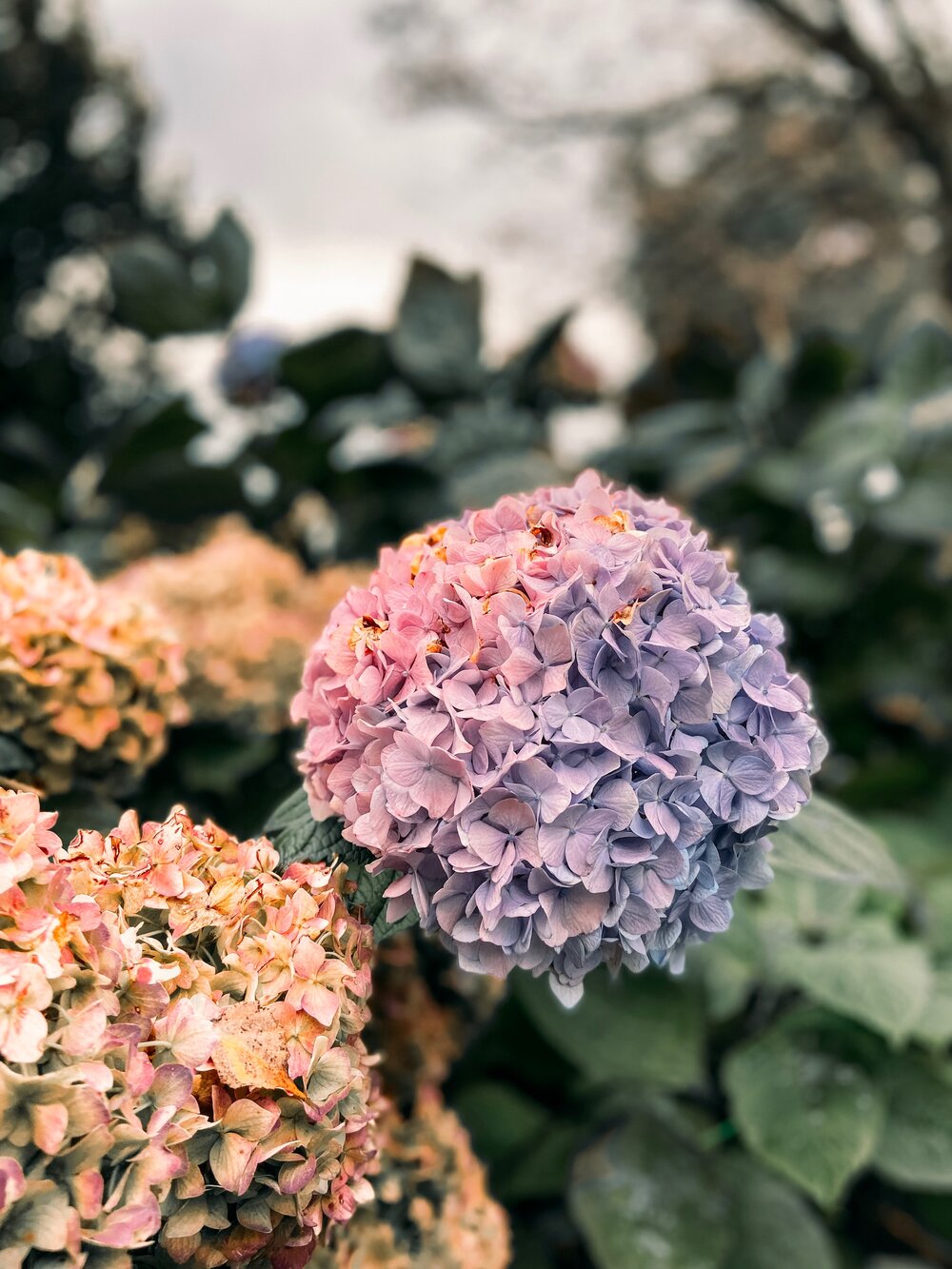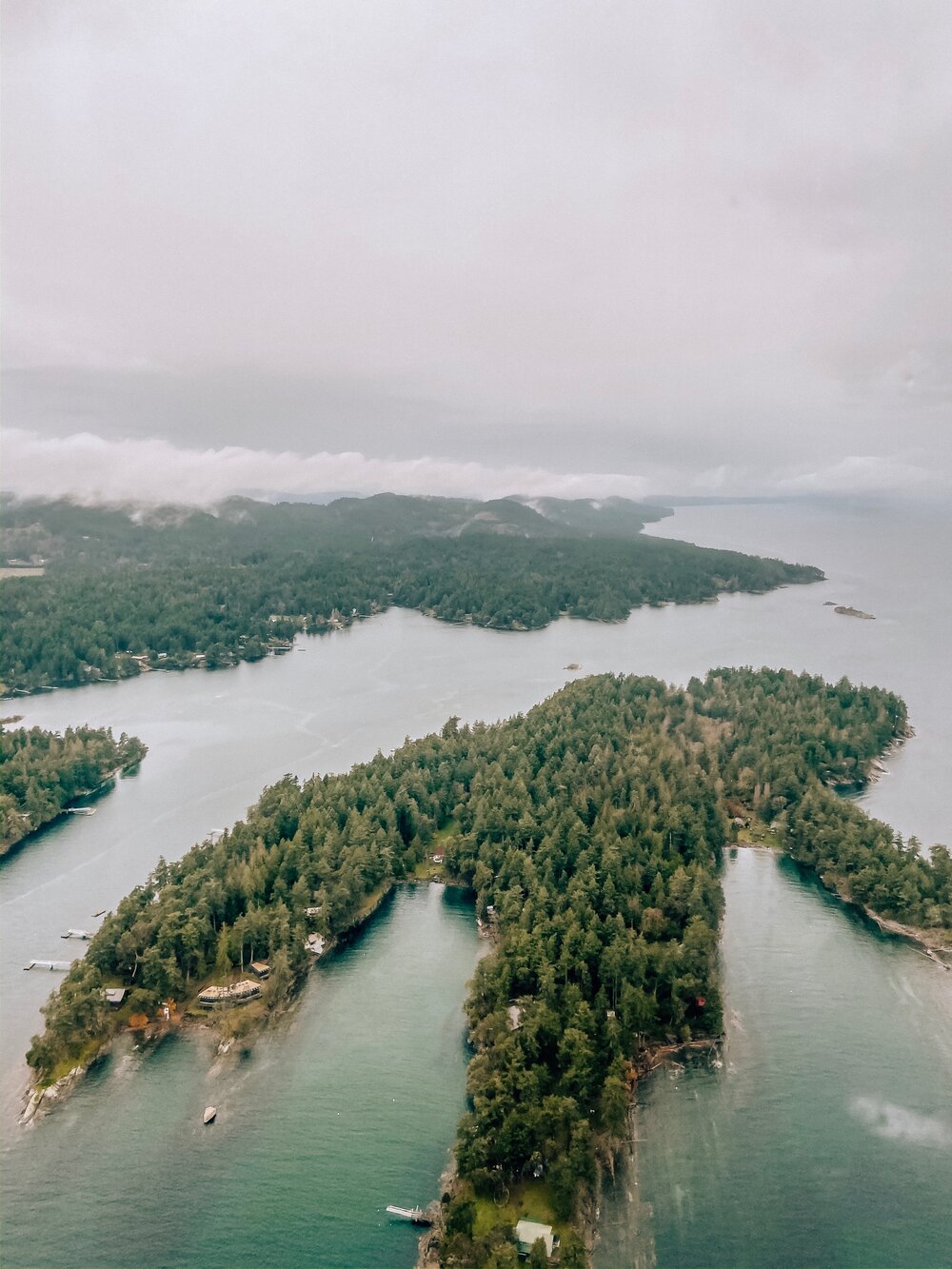 After a delicious breakfast at Q at the Empress, the hotel's all day dining restaurant, we spent a little bit of time explore the centennial gardens of the hotel. The also happens to be where they keep their bee hives that produce the hotel's honey.
Before we knew it, it was time to march back across the street and hop our seaplane home again after an incredible girls weekend in Victoria.
Have you been to Victoria, British Columbia before? I'd love to hear your recommendations of things to see and do, your favourite restaurants (give me all those food recos!), and whether you went in summer or winter.
SAVE TO PINTEREST FOR EASY REFERENCE