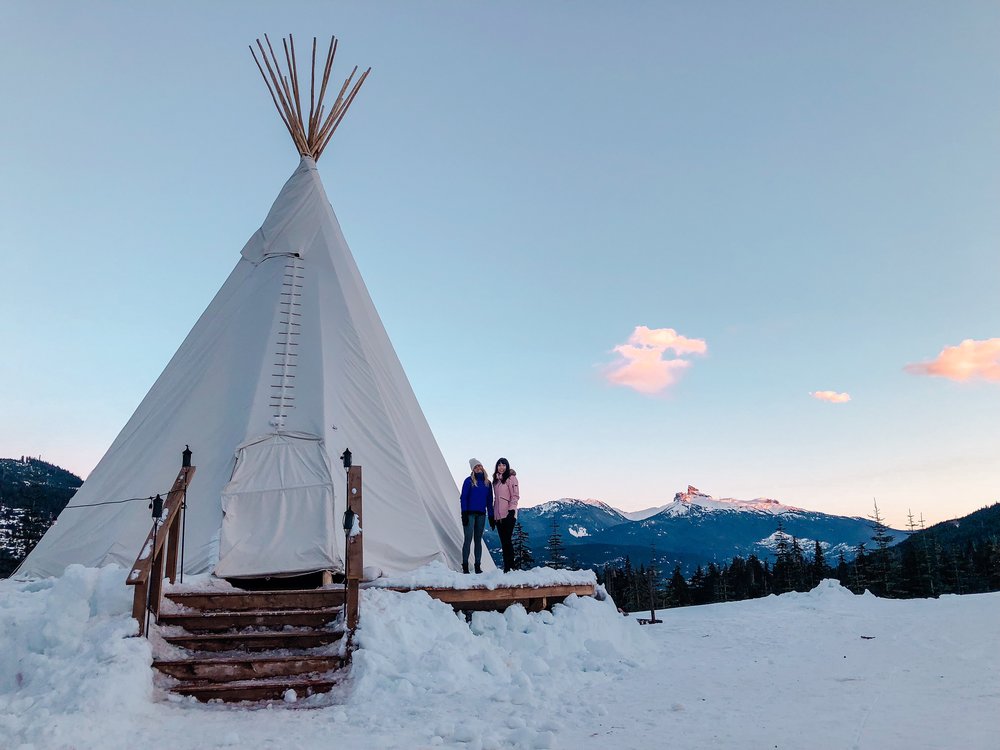 Whistler is known for it's cool outdoor adventures and now there's a new one to try! Blackcomb Snowmobile – known for snowmobiling, dog-sledding, and snowcat tours – now offers snowshoeing tours to a custom teepee. Literally the coolest new activity to arrive in Whistler this winter.
We were on the Après Teepee Tour which leaves from Whistler village at 3:30 p.m. (you can be collected from your hotel if required), and you're transported out to Callaghan Valley which is about a 15 minute drive south of Whistler. We arrived at the base where the activities start at. We were offered additional winter gear like gloves, pants and jackets so not to worry, you'll be toasty warm if you don't have your own.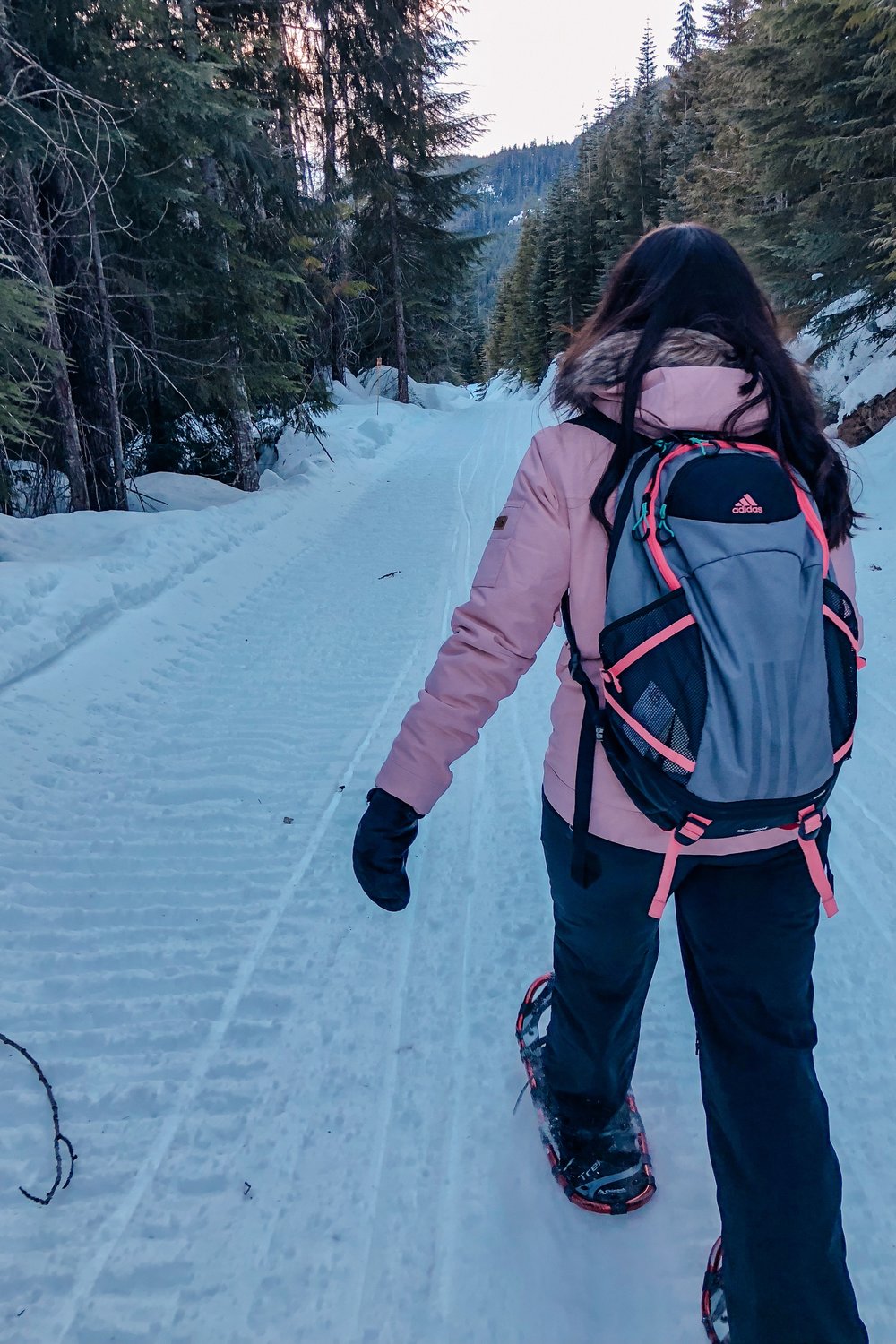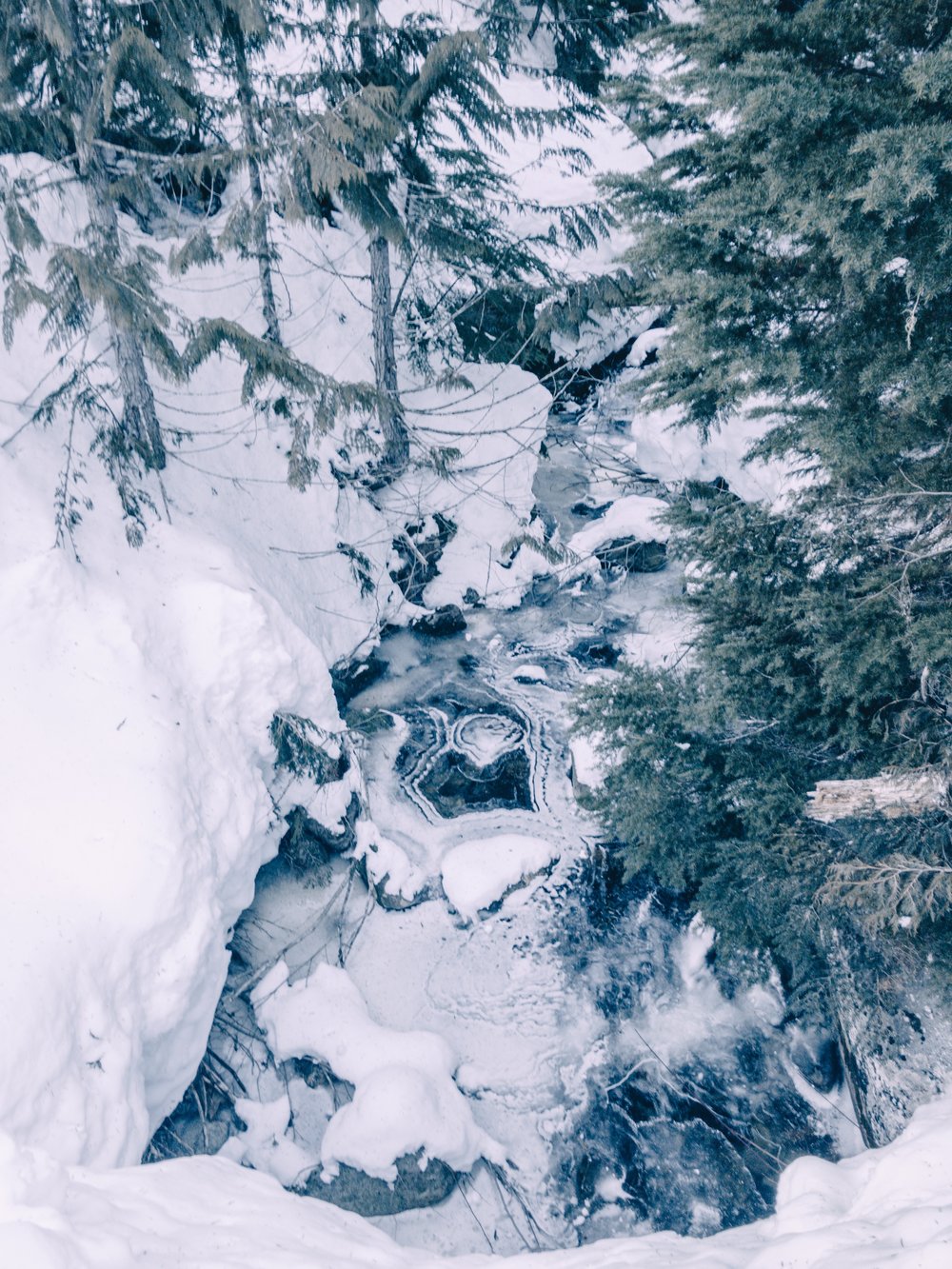 We then strapped into our snowshoes and set off! The snowshoe is super easy and there's really only one small hill on the 20 minute hike. There hasn't been fresh snow in Whistler for over a week (which is ages by Whistler standards) so while everything was still covered in plenty of snow, I imagine it would be even more incredible to be snowshoeing over pillows of fresh powder. Nonetheless, we were super grateful to be out enjoying the sunshine and fresh air. Along the way we even saw some tracks from wild animals, like the Snowshoe Hare, funnily enough.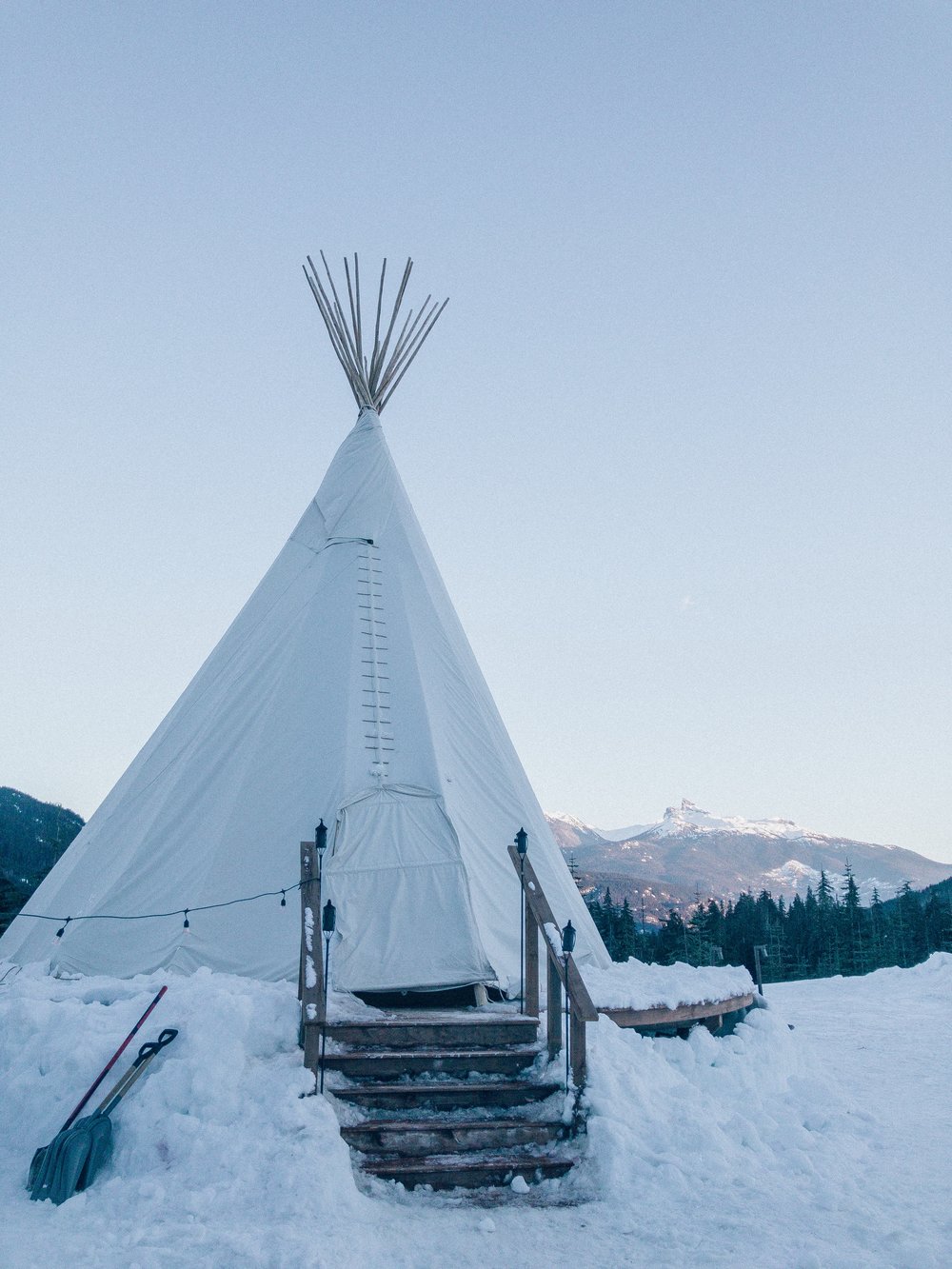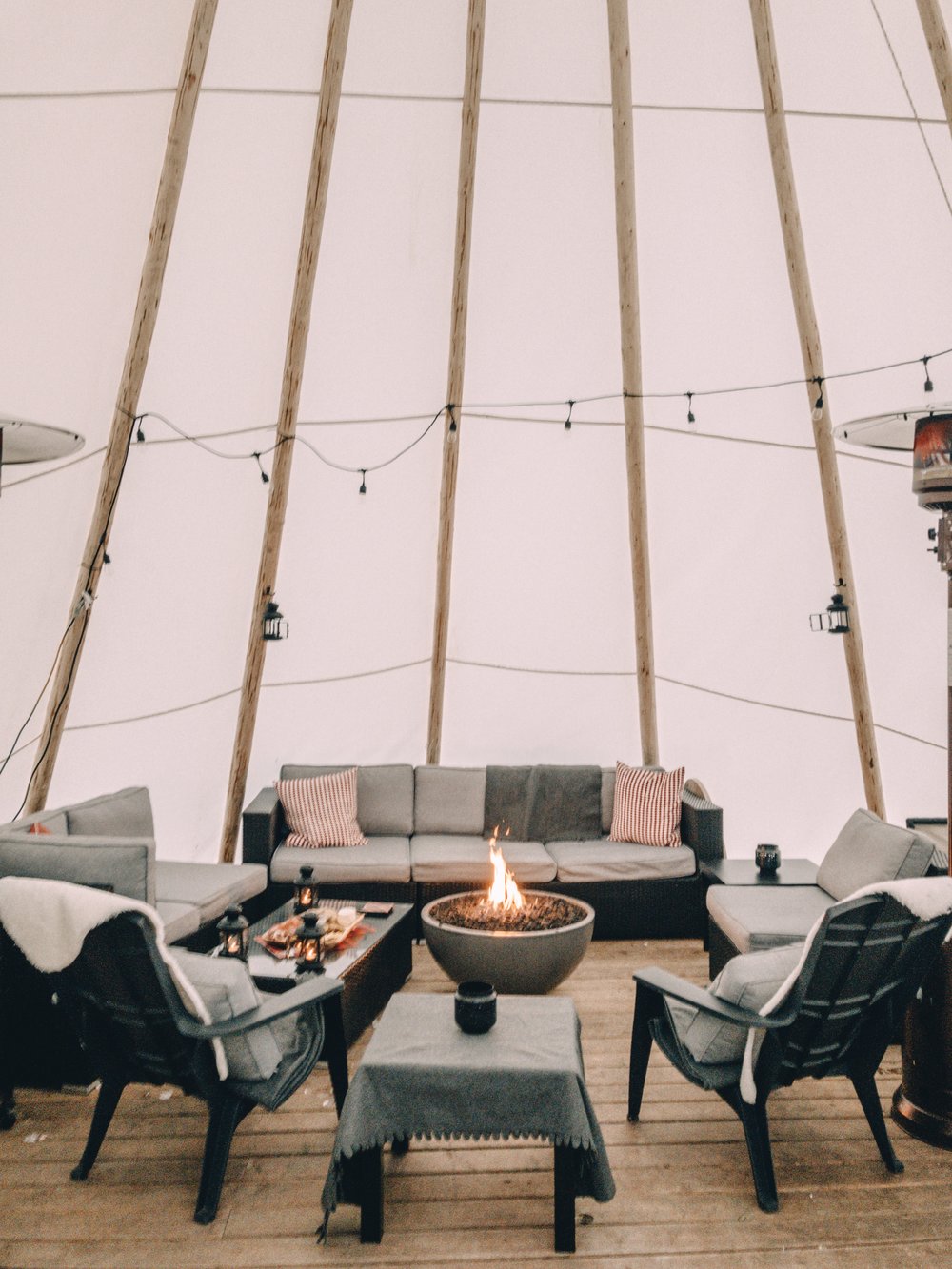 As we come around the last bend, an incredible teepee was awaiting our arrival, with the iconic Blacktusk in the distance. This is hands-down my favourite view in Whistler. If you can tear yourself away from the view, there's mulled wine, hot apple cider, and cheese and charcuterie waiting inside. It's heated in the teepee and there's even an indoor fire – so cozy!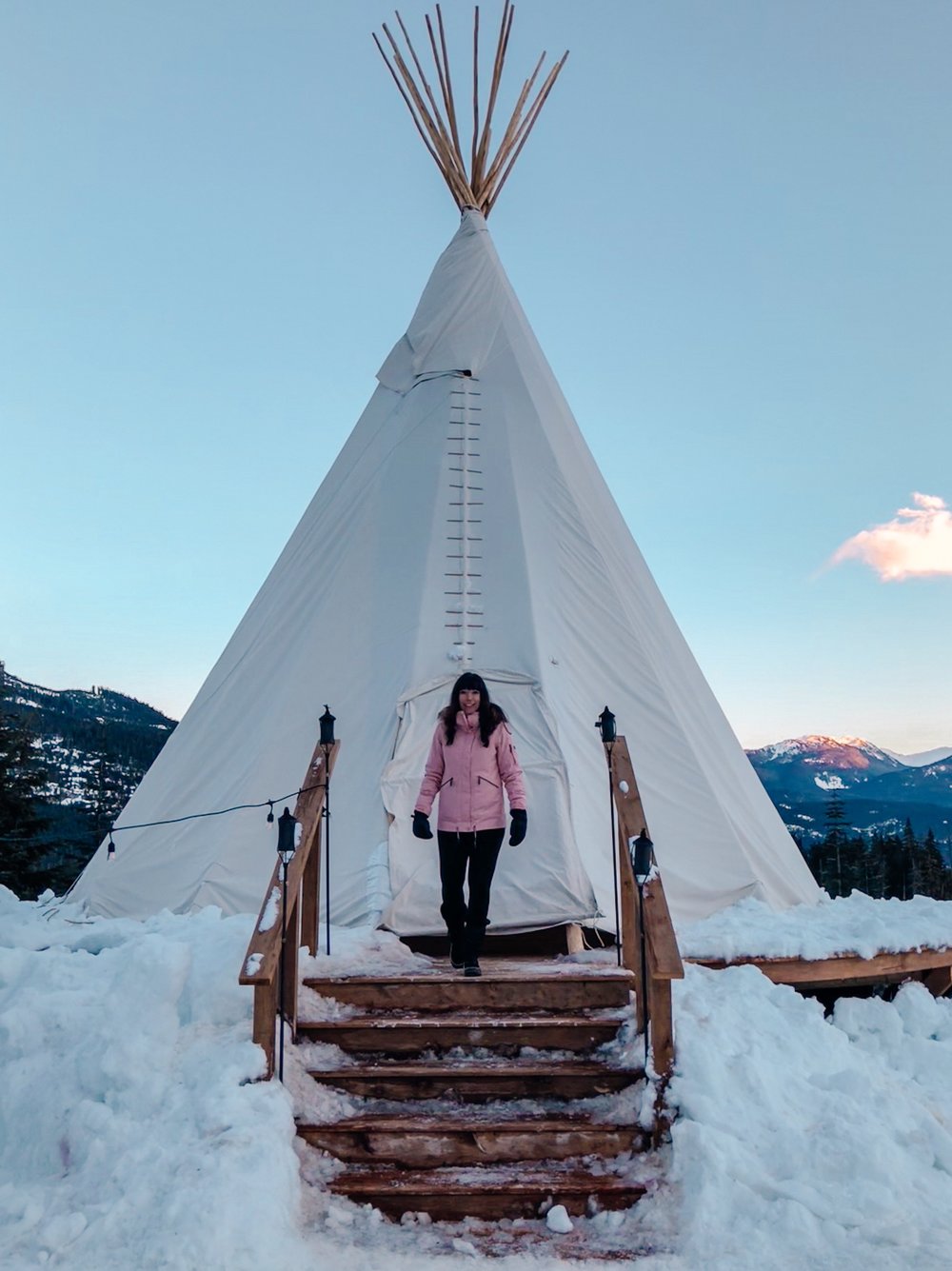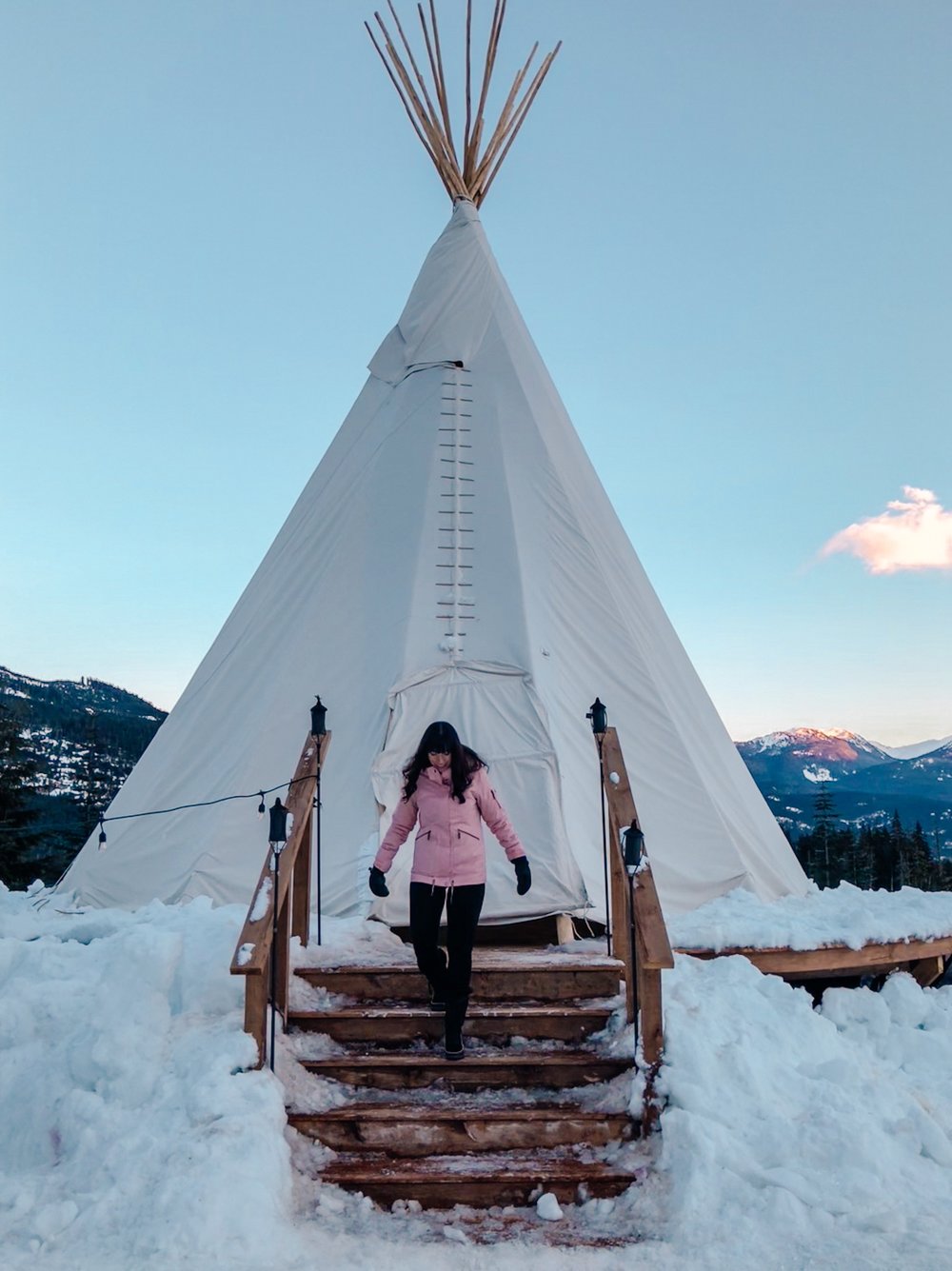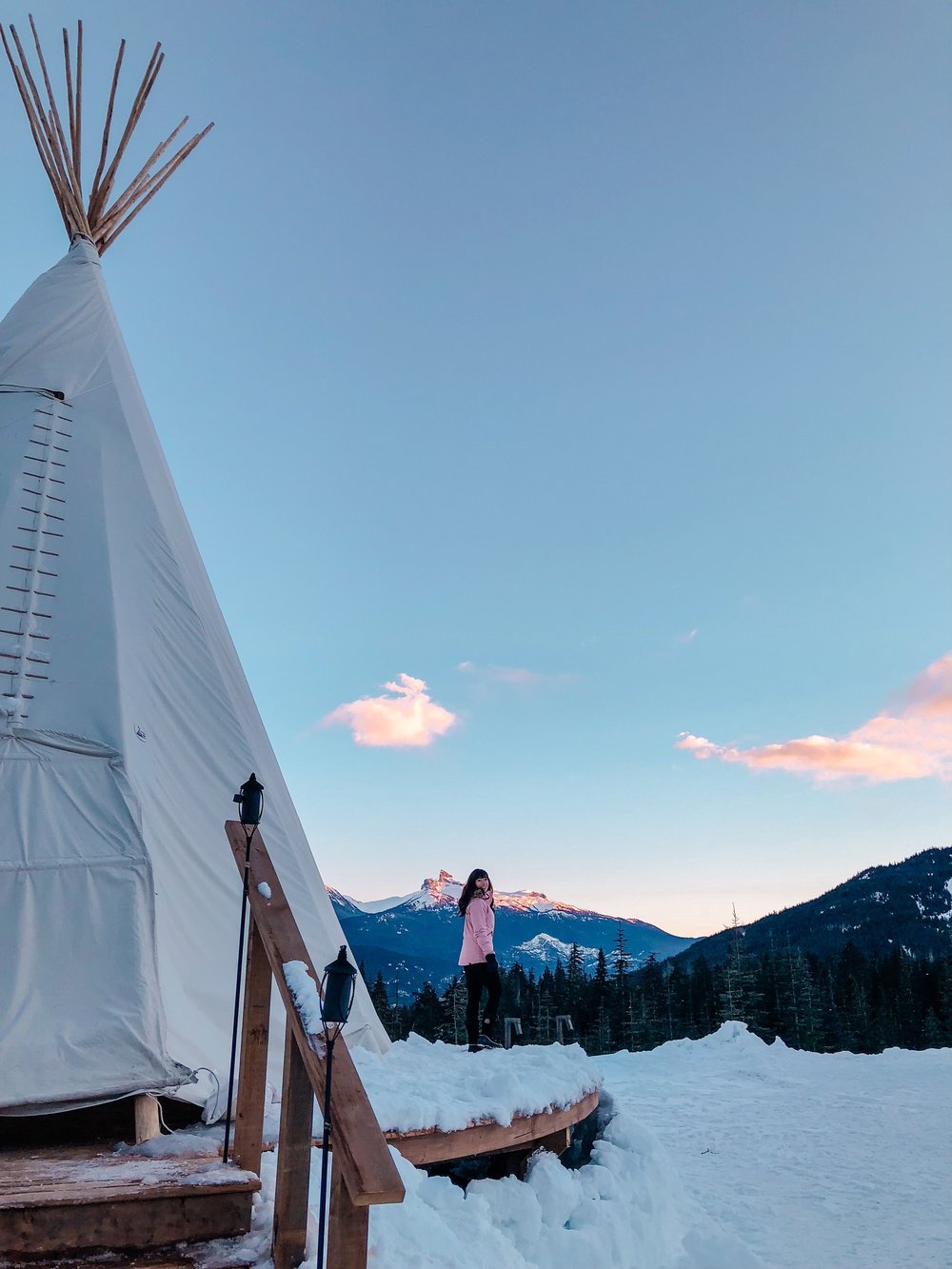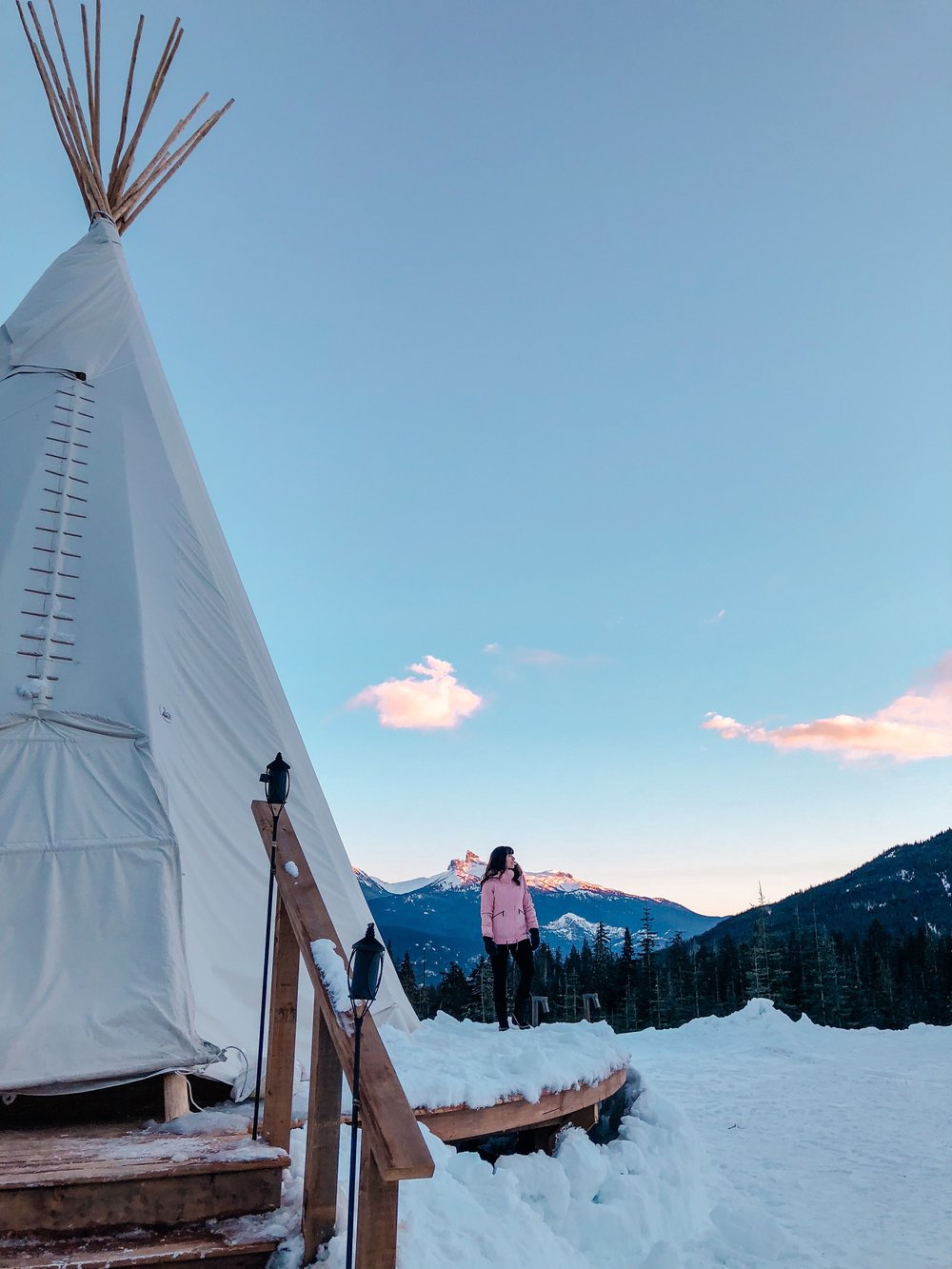 We had a chance to relax here and chat with the other people on the snowshoe teepee tour, then before too long we were on our way back. The après tour is such a perfect way to end your day as the sun is kissing the mountain tops and throwing that gorgeous pink alpine glow into the blue and purple sky. It makes me feel so lucky to live here.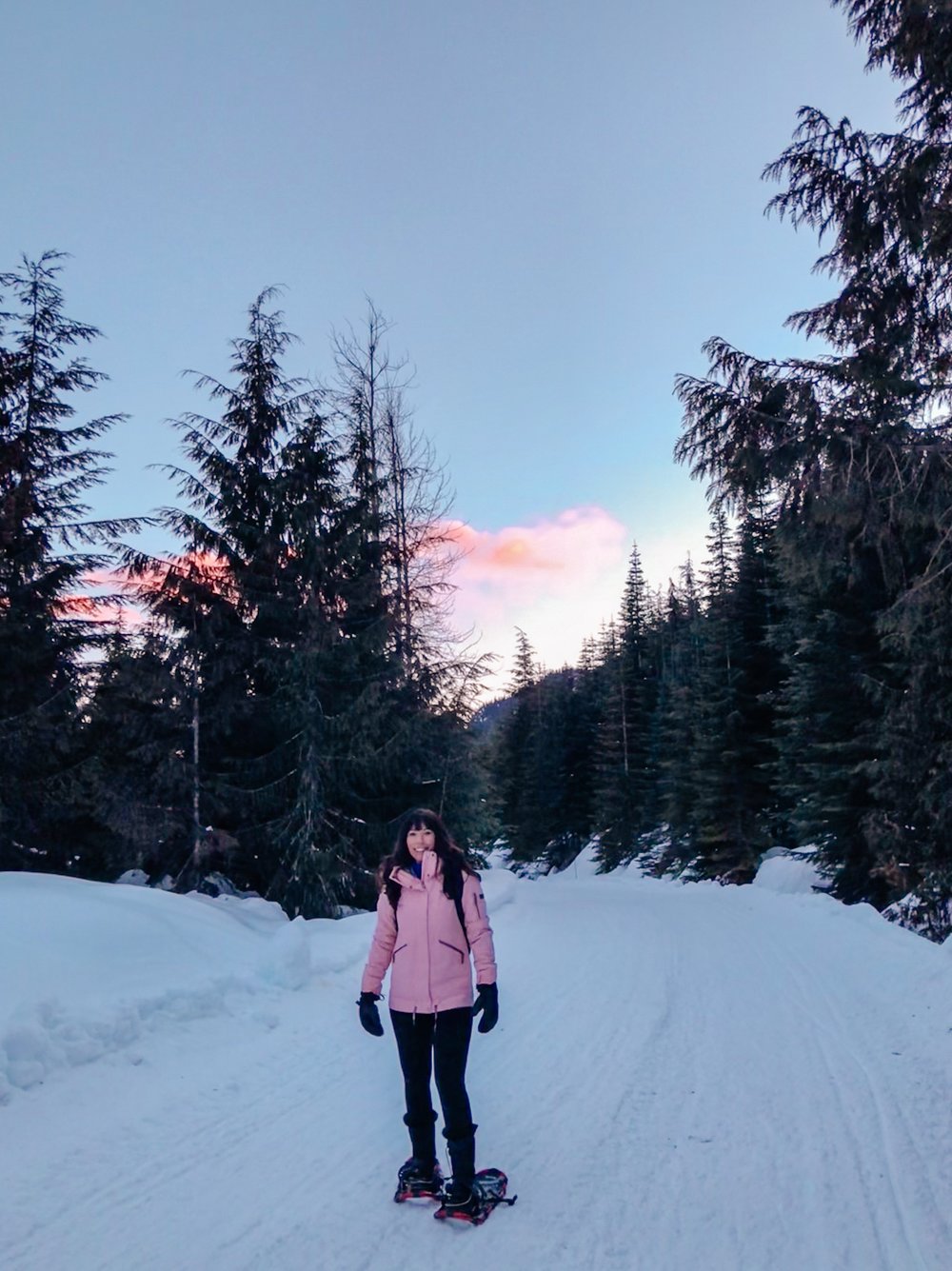 In addition to the tour we went on, there is also an Après Teepee Tour at 5:00 p.m. Or if it suits your schedule better, there's Daytime Teepee Tours earlier in the day.
Have you been snowshoeing before? Or would you like to? Tell me in the comments below!
SAVE THIS TO PINTEREST FOR EASY REFERENCE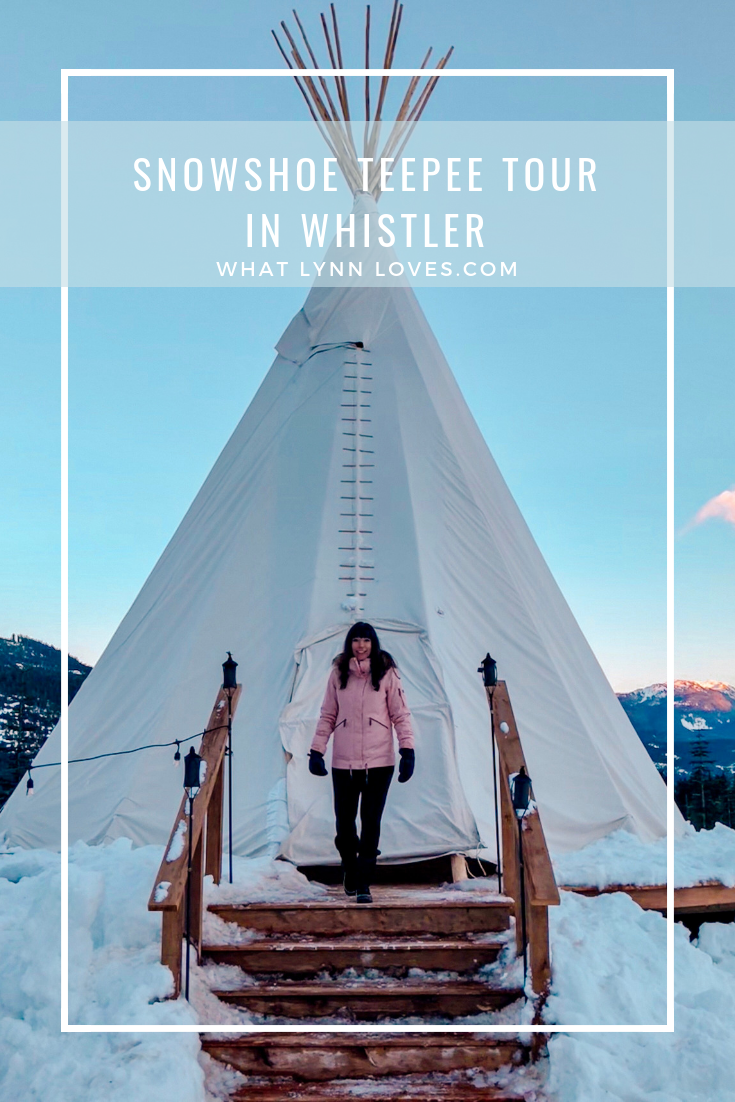 This post may contain affiliate links. This means that at no extra cost to you, I earn a small commission if you make a purchase. Thank you for your support!